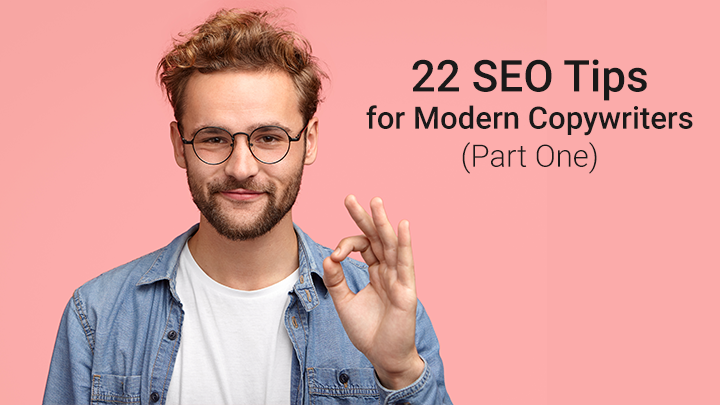 1. What Is SEO Writing and Where Does It Start?

The foremost step any SEO copywriter must follow is structure. An outline is essential when it comes to writing for SEO because this is how the piece will become readable and structured. It is also advisable in web copywriting to design a clickable outline for long articles at the beginning, which is quite liked by Googlebot.
2. Engaging Your Readers
One of the most effective SEO best practices is building a trusting relationship with your audience. Being honest and emotionally present is the best gift the writer can offer. Knowing how to write SEO articles well means engaging your audience with hook phrases, jokes, emotional storytelling, and catchy headlines. It's also possible to order high-quality SEO content which will already have all these features.
3. Relevance Matters
In SEO best practices, it's important to pay special attention to relevance. Remaining relevant should be the goal of every SEO copywriter. This means that products advertised on the website must have up-to-date descriptions. The appropriate information is vital for your customers, because without it, they may get lost and confused while surfing your site.
4. Make Your Copy Informative
Besides being relevant, it's important to provide all information, without hiding any facts. High quality SEO optimization will happen only with the full range of facts provided to the readers. A great SEO copywriter is responsible for gathering and sharing all possible pieces of the puzzle with the audience. This is where engagement and relevance come into play – and this engagement is easy to achieve by simply being informed and informative.
5. Take into Consideration Word Count
Any recent and relevant SEO guidebook will teach you that longer posts generate better engagement. And this is completely logical: as long as the post is substantial and informative, it will pique the interest of the readers. More specifically, posts with 300 words and more are considered engaging (of course, assuming that content is great, too) but there is significant evidence to state that 3000+ words posts perform very well lately.
6. Skimmable Content is Quality Content
It's important to understand that content is not just text – today, content has both written and visual value. Web copywriting has come to mean a lot of different things, including images, videos, and even the visual factor of the text itself. Segments, subheads, short yet informative paragraphs, bulleted lists, and some white space in the middle of text are all your friends. In short, the content must be easy to skim and friendly to the reader's eye.
7. Remember the Main Purpose
Among the list of our SEO best practices, there is one more that deserves special attention: focus. The SEO copywriter's main goal is selling a product, and this should be clear from the content on the site.
8. Come up with Right Keywords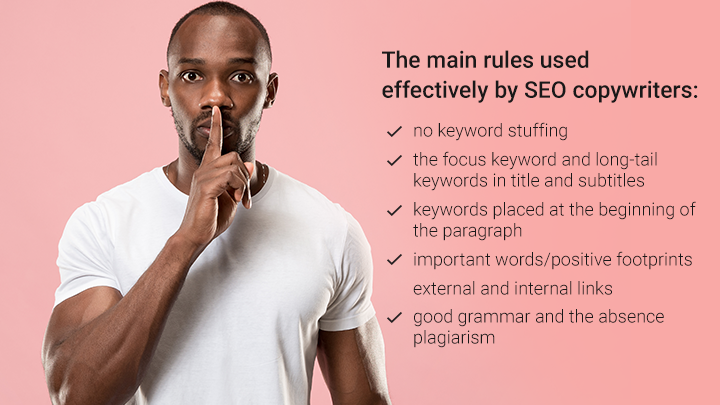 SEO best practices are all about content. And the focus, as well as relevance or informativeness of the piece, will all depend on the narrowed down list of keywords used throughout the piece. The ability of Google read and write determines the ranking of content compared to the competition based on such factors as correct keyword use. Here are the main rules used effectively by SEO copywriters lately:
no keyword stuffing;
the focus keyword and long-tail keywords in title and subtitles;
keywords placed at the beginning of the paragraph;
important words/positive footprints (more info on this in the second part);
external and internal links;
good grammar and the absence plagiarism.