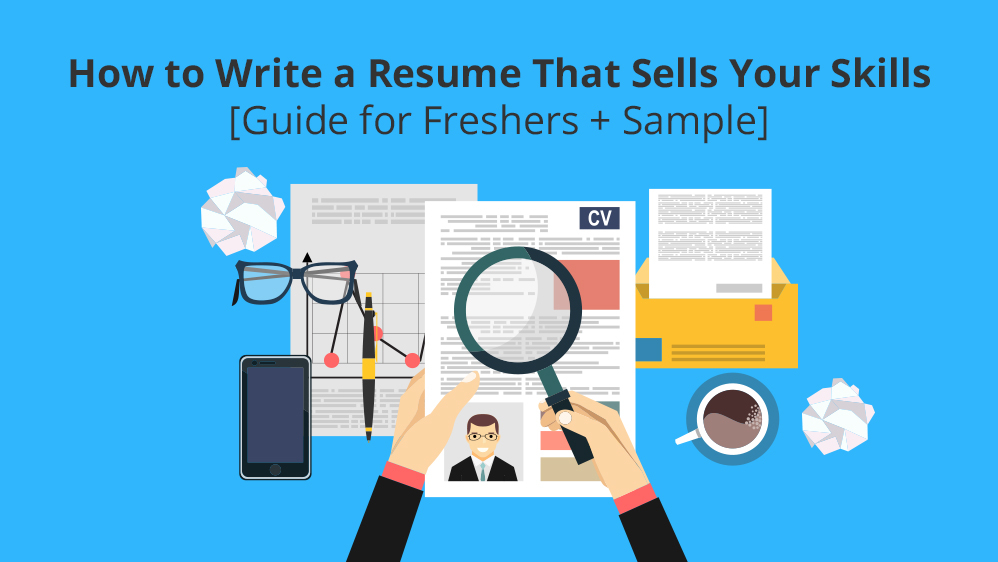 Regardless of whether you are a recent graduate, seasoned expert looking for another career challenge, or a professional looking to change careers, you will need a resume to help you land a job. The problem is that today simply having a resume is not enough. Due to the fact that competition on the jobs market is constantly growing, candidates should offer more than just a resume (if they are serious about their job search efforts). If applied to a good position, in average you will be competing against two hundreds of other applications.
Therefore, job seekers have to learn how to sell their skills and qualifications with the help of their main marketing document. How to write a simple resume is not a question people should be asking. How to write an effective resume that will sell your skills is the question that should drive the entire resume writing process.
How to Create a Resume: Brief Guide
Writing a resume isn't that difficult if you have a plan. It may sound weird, but many job seekers don't really have a plan. They just sit down to quickly draft a document that will contain their employment history and educations in order to send out the final product to multiple companies. While such approach is still used by many people today, it will not be an exaggeration to say that in most cases this is nothing but a waste of time.
There are those who take it one step further and surf through free resume samples and basic resume examples. This is better but still not effective enough if you don't understand how this all works together. Below, we will try to list some basic steps in creating an effective resume that will sell your skills to employers. This guide should also help you strategize your main marketing document to land those jobs that you are targeting.
Step 1. Identify your target job. This shouldn't be a job title like "manager" or "engineer" because these are too generic. You should find specific job opening posted by a specific company you would like to apply for.
Step 2. Study the job requirements. Before writing anything, carefully study all of the job requirements. Knowing what employers are looking for will help you understand what skills to highlight in order to get noticed.
Step 3. Identify relevant strengths. Jot down everything that will meet the employer's requirements. Work experience, educational credentials, volunteering, project work, memberships, etc. – anything that can speak to the needs of the company will help. Essentially, that's what really matters to those making hiring decisions.
Step 4. Organize your content. Personal and contact information, work experience, and education are basic resume sections. Additionally, you may have sections like volunteering, memberships, training, certifications, skills, etc. You should arrange these sections starting from the most important (for employers) and relevant in regards to job requirements.
Step 5. Proofread. Make sure that your resume doesn't contain typos or grammatical errors. You can ask your friends or relatives to help and proofread the document for you too.
How Long Should a Resume Be?
There are many ongoing debates about different aspects of how this marketing document should be written. What are the best fonts for a resume? What is the right resume font size? Should one include a resume title (sometimes called a resume header)? How to write a resume with little experience? Should I include resume references? There are obviously many other issues so the list could go on and on. But one of the most debatable issues is still the length of a resume…
One page? Two pages? Five pages? Job seekers keep asking what the ideal resume length is… The truth of the matter that there is no one-size-fits all answer. Depending on how many years of experience you have as well as where you worked, it can be one page or even six pages. Obviously, employers don't like to read lengthy documents if they contain fluff. But if you have 25 years of experience and you have some important (and relevant!) things to say, don't limit yourself to 1 or 2 pages. The rule of the thumb is to be relevant and brief. Sometimes, it means you will have one page, sometimes, it means you will have more than that.
Should My Resume Take Up an Entire Page?
The answer to that can be "yes" and the answer to that can be "no". If you don't have much to say, there is obviously no need to stretch it to a full page. It is always better to have less quality information rather than have a whole bunch of statements that are of no use to the prospective employer.
Therefore, everything should go through this employer-oriented filter: if the information you want to include will help address the job requirements then go ahead and add it to your resume. If it's just generic information, you may want to leave it out. Only then, you will be able to see what length your resume will be. The content defines the optimal length, not vice versa.
What Is The Difference Between CV and Resume?
Many job seekers don't really know the difference between a CV and a resume. One of the reasons is because these are the terms sometimes used interchangeably. Nevertheless, there is a difference and it is helpful to know when to write a CV vs resume. A Curriculum Vitae is used mostly in Europe, Asia, the Middle East, and Africa.
In the US, this term is used when people apply for jobs in academia or sometimes within the medical field. So CVs are to be used when applying for medical, academic, scientific or international positions. A CV should include your personal and contact information along with education, experience, skills memberships, and other career details.
When it comes to resume writing, it all about summarizing your work experience, education, and qualifications in a way that would be appealing to employers. With a resume, you have more freedom to add or remove information customizing it to match the needs of a specific employer. People primarily use resumes for job application purposes.
What Skills to Put On a Resume?
Job seekers have been looking for some resume secrets that will help them win more job interviews. However, there are no secrets. There is no magic about resume writing. People search for top 100 words to use in a resume, secret action words or skills that will convince the employers to give that interview call… However, the keys to a great resume is honesty and hard work.
First of all, you have to be honest about what you have to offer to prospective employers. There is no point in lying only to get caught later during an interview or even worse – after you are hired. Secondly, you have to work hard to understand what skills a particular employer is after and to match them against what you have. Those skills that are relevant must take the prominent spot on your resume. Don't simply list them under the skills section but rather show how you actually used those skills throughout your work experience.
How to Write a Resume for the First Time?
Writing your first resume is a challenge because you probably don't have much to offer at this stage of your career. How can you sell yourself to employers if you don't even have work experience? But there are some things you still can do to improve your chances of being hired.
First and foremost, think and jot down any type of casual jobs you had, including lawn mowing, babysitting, shoveling snow, etc. Don't forget about volunteer work, youth organizations, etc. In other words, check on your life experiences that can be applicable to the job search because those things probably helped you develop skills that might be valuable to your potential employer. You have a lot more to offer than you think.
Secondly, there should be something in your studies that you can show too, such as relevant coursework, projects or other activities that would relate to the target job. Focus on those academic and after-school experiences that have prepared you for that first career step. Obviously, it is difficult to bring all of this information into your head and write an effective resume. It takes time and efforts to do that.
But, to help those starting out their career, we have prepared a resume sample. If you are a college student or recent graduate seeking to land your first job, you may find the sample above very helpful.
How to Write a Resume That Will Result in an Interview?
You can save your time and efforts by delivering the important task of creating a resume to professional writers at Writology. We have proved to be experts in the field of resume writing since 95% of the customers who have ordered our services are satisfied with works delivered. One of the best writers will start the task right after you place the order and will do everything possible to provide you with a resume that will result in an interview at your dream company.