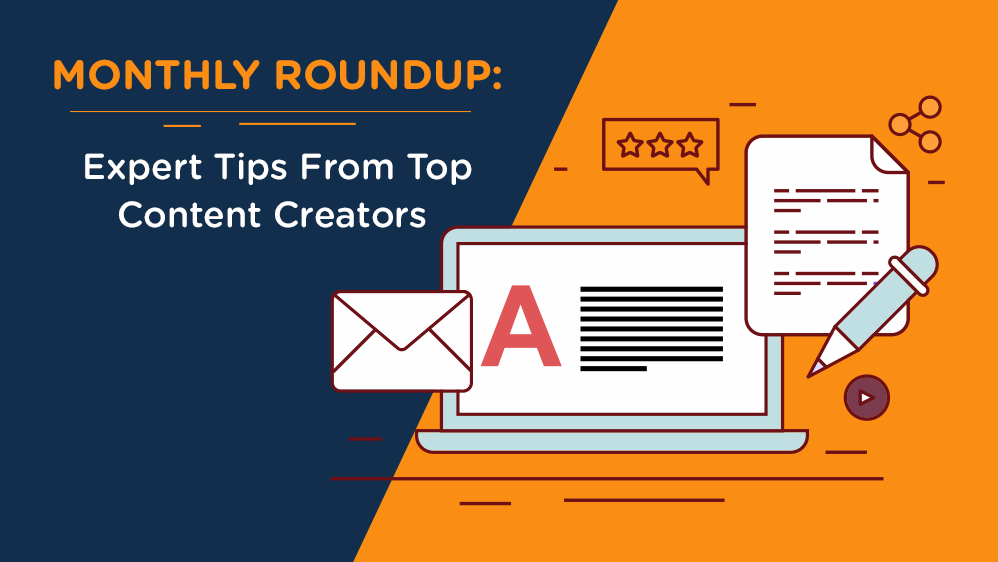 Fall is a perfect time to slow down, enjoy a cup of hot cocoa, and take a fresh look at your content marketing. Maybe the beauty of this season will inspire you to come up with new ideas for blog posts, impress your readers with a whitepaper or an awesome infographic. For all of you content marketers and copywriters out there, here is the newest selection of the best resources on content creation published in October!
Writing Headlines that Serve SEO, Social Media, and Website Visitors All Together – Whiteboard Friday – Moz
Headlines are, undoubtedly, one of the most important yet troublesome aspects of copywriting. First of all, a strong headline is able to spark interest in your audience and ensure more clicks. Secondly, headlines are extremely important in terms of SEO. In one of the newest episodes of Whiteboard Friday, Rand Fishkin explains how to create effective headlines that serve both of these purposes. Don't miss this!
The Most Effective Number in Article Headlines [Infographic] – Marketing Profs
Every copywriter knows that numbers in headlines work perfectly if you need to increase readership and win more views for your article. But what exact numbers should you be using? Do certain numbers work better than others? What numbers should you never use and why? Make sure to check this awesome infographic on Marketingprofs and learn how to get the most out of numbers in headlines!
6 Lesser Known Tools to Power Your Content Marketing – Search Engine Watch
If you are a content marketer, you know how much more effective your work can get if you're using the right tools. And surely you've heard of BuzzSumo, Answerthepublic, Yoast, and Klout. In her article at Searchenginewatch, Ann Smarty shares not so trivial tools that can help you optimize your content, monitor competitors, organize your leads, and send better emails. Some of those are worth gold, so make sure to check this piece!
The Best Way to Write Sales Case Studies that Get Leads – Coschedule
Have you ever considered including case studies in your content marketing strategy? If you haven't, you should, since this type of content is proven to generate tons of leads (if written properly, of course). Aaron Agius explains the ins and the outs of the process and offers an in-depth guide into the essentials of creating, designing, and promoting your case study. This monster post is a must-read for every content marketer and copywriter.
4 Steps to Creating a Successful B2B Infographic – Marketing Insider Group
If you want to impress the visitors of your website and increase time on page, it is important to make your content visually appealing. So, it's no wonder that infographics gained so much popularity: they are both informative and nice to look at. If you work in the B2B sphere, make sure to check this article by Mark Schmuckler and learn how to create infographics that generate leads and sales.
12 Types of Awesome Visual Content You Can Use in Your Blog Posts – Content Marketing Institute
Website content is not only about texts, right? Various graphics and images are as important as textual content, as it is visuals that capture our attention, not boring blocks of text. But what types of visual content can you use apart from images and infographics? Check out this article by Robert Katai and learn about 12 awesome types of visual content you can use in your blog posts.
8 Ways to Make Old and Boring Topics Feel New and Exciting Again – Smart Blogger
In your head, the content you create is always fresh, exciting, and extremely interesting for others. But what do you do if in reality it bores people to death? Read this epic article on Smartblogger and you'll never ask this question again. Miranda Hill explains in detail how to breathe new life into old and boring topics and keep readers' eyes glued to your content.
How to Create Informative Blog Posts Even If You're Not Good at Writing – Shoutmeloud
Writing is an art not everyone can master. Even the best writers out there sometimes doubt their own writing abilities. But, fortunately, you don't have to be William Shakespeare in order to create engaging blog posts. Harsh Agrawal shares his own story and offers several techniques you should master in order to create informative articles that excite and inspire. Why not learn from one of the most renowned bloggers out there?
Staying Creative: A Non-Marketing Booklist For Content Creators – Skyword
Burnout. Every writer is familiar with this world. What can you do apart from recharging your batteries to be able to create again? Enjoy the selection of the best books that will teach you to understand your audience, get disciplined, and master your craft. The creative insight that authors of those book offer will help you to stay inspired for months to come.
Was It Something I Said? The Danger Words That Can Kill Your Conversions – Business2Community
You've written hundreds of CTAs already, but did you ever think one word can bring all your efforts to nothing? The most tricky thing is that most of those words actually look very innocent, but instead of driving conversions they kill them. Jonathan Chan provides the list of danger words you should be aware of in his article on Business2community and explains what to use instead.