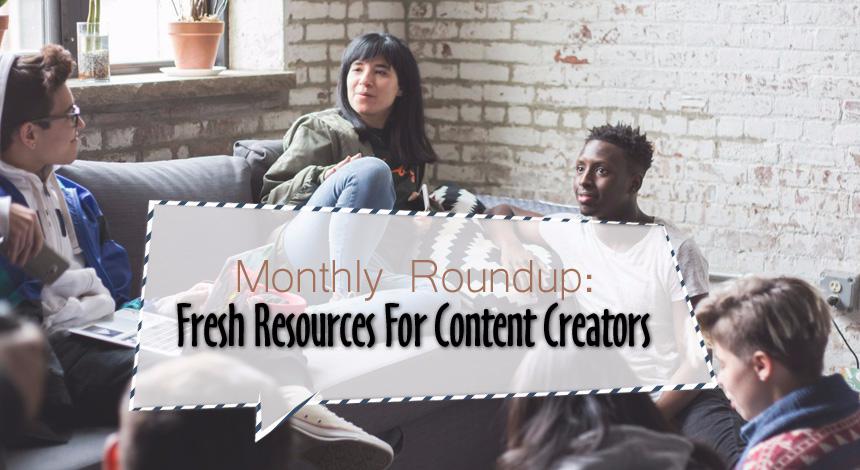 The more content marketing evolves the harder it gets to create share-worthy content that captures the hearts and minds of your readers. With new trends appearing almost every day one needs to be constantly on the watch in order not to miss out on the recent findings and changes in the industry. But worry not – Writology roundup is here again, this time with the freshest resources for content creators. Enjoy!
The Lazy Writer's Guide to 30-Minute Keyword Research – Moz
Every content creation process starts with proper keyword research. Brittney Muller believes that this activity should not take more than 30 minutes and shares her secrets with us, fellow SEOs, digital marketers, and content creators. In her article, you will find real life examples, keyword research tools suggestions, and a step-by-step guide on how to use them. A must-read for every content creator.
Marketing With Intent: The Combined Power of SEO and Content – Searchenginewatch
SEO vs Content: who wins in this ultimate fight for who rules? The answer is simple: both, when united. "By combining SEO and content marketing efforts into one function, marketers can influence consumers whether they are in the discovery phase or purchase stage," believes Jim Yu, the CEO of BrightEdge. Want to learn how to tame those two beasts and make them work for you? Make sure to check out this article on Searchenginewatch!
The Art of Stroking the Ego: How to Get Your Subject Matter Experts Creating Content – Skyword
Getting influencers and industry experts contribute content to your blog is a surefire way to establish yourself as an authority in the niche and build credibility for your brand. The problem is, not every influencer is that easy to reach, let alone convince to share a piece of advice with you. Do not despair, though: everything is fixable. Learn how to deal with the movers and shakers of this world from Lauren McMenemy's article on Skyword.
More Content, Less Traffic: Part 2 – Searchengineland
Does more always mean better? Apparently, when it comes to digital marketing more website content only means less traffic. Why is it so and what is the ideal amount of content one should produce to make both Google and website visitors happy? Conrad Saam shares his own experience and gives valuable advice in this amazing article on Searchengineland.
5 Ways to Increase Efficiency in Content Production – Marketinginsidergroup
So, now that we know that producing more content will not help us drive more traffic, a new question arises: how to improve the content quality? How to make content effective, impactful, and engaging? How to create a content strategy that would actually work? A recent article on Marketinginsidergroup will give you answers to many questions.
How We Went Viral: Lessons in Promoting Content With Influencers, Ads, and PR – Buzzsumo
Learning from the mistakes of others is great, but so is learning from their achievements. One of the recent Buzzsumo posts went viral (100 000 views, 10 000 shares, over 100 backlinks – not bad, huh?), and now we have a chance to take a sneak peek at the exact strategies and methods the team used to achieve such results! A truly epic post from Steve Rayson and a lot to learn for every marketer.
The Business Case for Behavior – Changing Content: Five Rules of Engagement – Marketingprofs
"Engaging content is content that people care about — content that gets their attention, captures their interest, and, in best-case scenarios, brings them back, time and time again". If you want to produce such content, you absolutely need to know the 5 rules of engagement that Tara Nicholle Nelson talks about in her article on Marketingprofs. Make sure to check it out and apply this knowledge to win a whole lot of new customers!
3 Tell-Tale Signs Your Content Is Boring the Life Out of People – JeffBullas
Does your content make your readers jump in excitement or does it bore them to tears? Would you like to know for sure? Andrew Warner lays out the three main signs that your content is boring and most importantly gives actionable advice and tips on how to fix the situation. Mastering the art of writing content that amazes your audience is a must for every copywriter and content marketer, so do not miss this article!
Comparing Content Production Models: Which Is Right For Your Business – Marketingland
When it comes to content production, content marketers are often faced with the problem of choosing the right model. The two most popular ones are the Hub-and-spoke model and the Skyscraper technique. But which one is right for you? Learn more about the peculiarities of each model, their pros and cons, and decide for yourself!
15 Ways to Create Shareable Content That Will Explode Your Traffic – Coschedule
When we create content, we want it to become talked about, receive tons of shares, and spark conversation online. We dream of it becoming viral and receiving the traction it deserves. But, unfortunately, very often we end up with a couple of dozen views and even less Facebook shares. If you want to change that, check out Breonna Bergstrom's article on Coschedule.