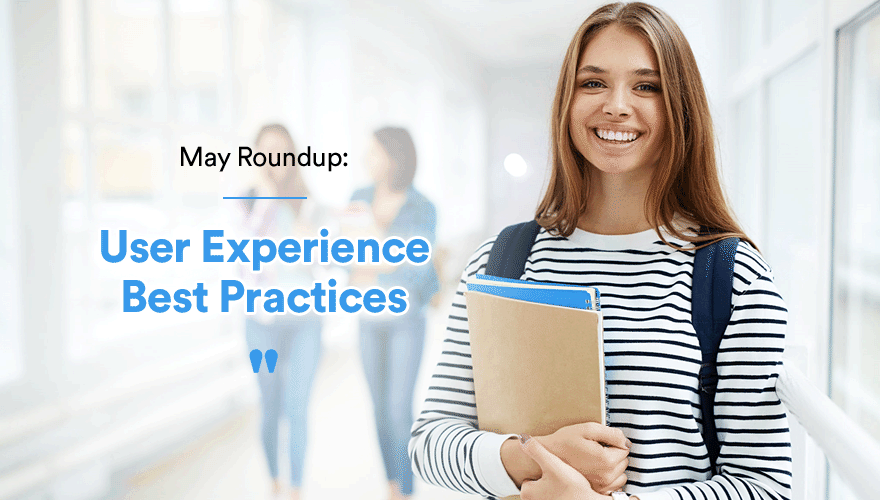 Every website owner sooner or later comes to a point when the question of User Experience pops in. However, is it only about design or are there any other points to consider? Here at Writology, we were carefully monitoring what experts were saying and gathered the most epic content on UX published in May for you to enjoy!
How do you think your customers feel about ads they see online? How many of them are using ad blockers? How many actually believe popups and banners that saturate modern web space? If you have an ad-heavy website or are simply considering running an advertising campaign, this article on Choozle is definitely for you.
Digital Advertising Impacting User Experience Survey – Choozle
When designing a mobile app, you definitely want it to be user-friendly and easy to navigate. In his article, Nick Babich talks about 5 basic navigation patterns for mobile apps and explains pros and cons of using each of them. Learn about hamburger menus, tab bars, Priority+ patterns, floating action buttons, and full-screen navigation.
Basic Patterns For Mobile Navigation: Pros And Cons – Smashingmagazine
Even though website design might seem like something not worth investing in, think twice prior to hiring a cheaper web designer. Why? Because the consequences might be disastrous. Learn how to spot ineffective web design and which measures should be taken to prevent it from harming your business from Thomas Metz's article on Usabilitygeek.
The Real Effects Of Bad Web Design – Usabilitygeek
Content is not usually considered a part of user experience. This post on Ninjaoutreach will make you reconsider the value of content and explain why both design and quality content matter when it comes to user experience. Ever wondered how to improve usability and attract more customers with the help of content? Well, here's your answer!
User Experience = The Queen of the Content Kingdom – Ninjaoutreach
Personalization is key to unparalleled user experience; even a child knows that. However, simply calling the customer by name in emails is not enough to attract his or her attention. How about personalizing your web push notifications? Check out this post by Pravya Pavin on Izooto and learn how to do it properly!
4 Ways To Personalize Web Push Notifications For Greater UX – Izooto
Have you already chosen a website color? Are you sure it will work? What other colors would complement it? Richard Bayston discusses color theory, gives tips for choosing the best color palette for your website, and suggests 19 resources that will help you to pick a perfect one. You simply cannot miss this!
The Best Website Color Palettes to Increase Engagement in 2020 – Crazyegg
This post by Caroline White on Usertesting.com will teach you about 6 UX design mistakes that you should avoid at all cost. How to recognize them? What to do if you found yourself guilty of those sins? And most importantly, how to fix those mistakes? This article is a must-read for every website owner.
6 UX design mistakes costing companies millions – Usertesting
Websites were never meant to be boring and repulsive. However, just a fancy web-design and top-notch content is not enough to make your users say "wow". Interactivity is a new trend that has taken over the online world. Ever wondered what you can do to make your website more clickable? Check out this article on Searchrank and your life will never be the same!
Why Should I Make My Website Interactive? – Searchrank
Is it website design that dictates copywriters how to write web copy or vice versa? It appears that content rules the day right now. Design should simply amplify the message and present it in the most effective way. In her article on Conversionxl, Shanelle Mullin discusses the topic of wireframes and gives her tips on how to bring design and copy together.
Copywriting & UX: Why Copywriters Need Wireframes – Conversionxl
The IKEA effect is something every marketer knows about: the more the customer participates in building the product, the more valuable this product becomes. Is it possible to apply this concept to web design? How exactly? Read this post by Anton Nikolov on UX Planet and start implementing the advice right now!