Professional Memo Writers
Are you struggling with writing a business memo? If yes, then our article in just what you need to succeed with this task. A memo, also known as a memorandum, is an official document that is used for internal communication concerning different business procedures within an organization. Unlike an e-mail, a professional memo is a message that is sent to a group of people working in one company or department. You may need to write a memo to share important news or inform the employees about the important events.
A business memo has a clear purpose – to convey an important message internally. Memos are often used in a business environment to share new information like the announcement of the new policy or introducing a new company`s direction. Memos often cover different topics and can be shared in different ways. Memorandum examples range from a brief note left by an employee to his/her colleague to a mass e-mail sent by the supervisor to the employees. Usually, memos are used for communication within one organization. If you need to share your idea with the supplier, customer, or any other person, who does not work in your company, you should use different means of communication. What is more, memos should not include confidential information.
Common Business Memo Format
The common format of your business memo should follow the standards of business writing. Instead of indentations, the memo writer should skip one line between paragraphs. A characteristic feature of any memorandum is that it should be concise and easy-to-read. As such, when writing a memo, you need to use lists and headings whenever it is appropriate in order to help your reader understand your message better.
Heading
In your header, you should clearly state "Memorandum" to help your reader understand what kind of document they are reading. Then, you need to include the following details:
TO: [Recipient's name and job position]
FROM: [Your name and job position]
DATE: [Day, month, and year when the memo is sent]
SUBJECT: [Topic of the memo]
The subject of your memo should be pretty brief, not more than a few words so that your recipient could clearly understand the purpose of your document.
Opening
Before you start witting your memorandum, you should clearly understand why you are writing it. Having a list of ideas that will be introduced in your professional memo, you will need to start with the most important ones in order to engage your reader.
Discussion
After you have introduced the topic of your memo, you need to provide all the important details including facts, hypotheses, statistics, etc. to support your ideas. In this section of your memo, you need to show your ability to think analytically and build logical connections between your arguments. The discussion part of your memo is also a part where you need to write your recommendations, analyze the suggestions of other employees, and explain the problems that may occur in the future.
Closing Segment
When it comes to writing a business memo, you should know that this document should be finalized with closing notations. For example, memo writers use the final part of the memo to discern the specific pieces of information. In addition, you need to mention whether you attach some supporting materials. If you have some files to send along with the memo, you should indicate it in your document along with a brief explanation of your attachments.
Helpful Tip: If you want your reader to pay special attention to some information, make sure to include it in the list instead of the paragraph. It will increase the chances that the reader will remember this information. Besides, using the lists is a great technique allowing the writer to make the memo clear and concise.
Business Memo Template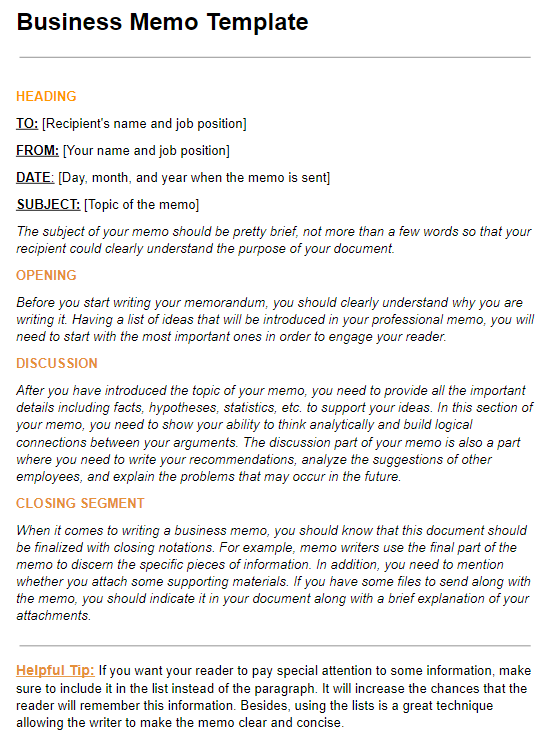 Reliable Memo Writing Company
If you experience some difficulties with writing a memo, you should know that our trustworthy memo writing service is the place where you can buy an informative, brief, and well-structured memorandum. Writing a business memo requires a high level of awareness of business concepts, as well as advanced writing skills. If you feel that you cannot write a great memo, you should not waste your time but should contact us and ask for assistance. The skilled and experienced memo writers working at our service know everything about memo writing and they will gladly implement their secrets and strategies in your document. Each member of our team has sufficient technical and business knowledge and knows how to write impressive memos. Such a high level of expertise allows them to handle the most urgent of challenging memo tasks pretty successfully. If you decide to buy a memo at our reputed service, you will receive a document that will be written, structured, and formatted in accordance with the latest standards accepted in business memo writing. What is more, the unique document written by one of our experts will serve as an example for writing papers.
So, if you cannot cope with writing a business memo, feel free to turn to our service and we will provide you with an exceptional document.
Professional Memo Examples