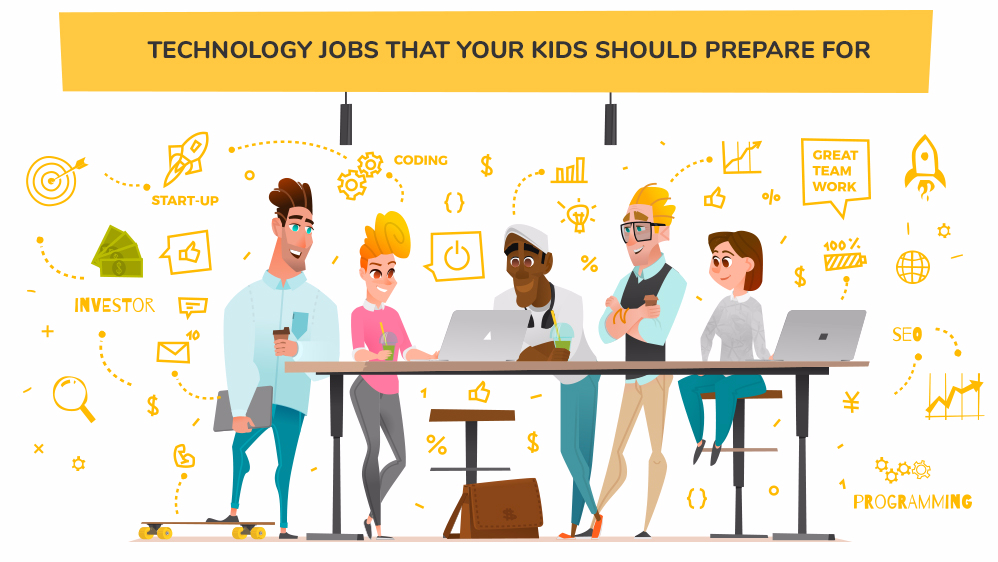 The following article is a sample piece submitted by one of Writology freelance writers. The original spelling and punctuation are preserved to better illustrate the quality of this writer's work.
Who doesn't use technology in the 21st Century? Over the years, technology has evolved to become one of the most useful parts of human life (and aliens too, if they exist). Everything; from the simple phones, databases and sales systems: to complicated, tech-made tesla cars, airplanes and company databases – technology is evident.
With the need to develop more and more sophisticated gadgets, tech jobs have been rapidly on the rise. *Spoiler Alert!! Tech jobs don't come easy! If you want to be among the most paying jobs in the world, you better get serious on your books.
In today's top ranking jobs, the dominating word is "technology." You probably thought that a data analyst was a genius mathematician of some sought. Right?
Well, you thought wrong.
Currently, most of the data analysis tasks are solved by customized tech softwares, which efficiently produces detailed report and recommendations that are useful to organizations. Below are some of the courses your children should undertake to join the dominating world of technology.
Data Scientist
Estimated range of Salary $130,000
Before you get confused about who a data scientist is, you ought to know an essential term that is the root of this course; Data science. Data Science is an interdisciplinary field of science which is composed of processes and systems that help an individual to extract data or information from various structured or unstructured forms such as data mining or statistics.
Having defined the basics, it's easy now to explain who a Data Scientist is – A data scientist is merely a guy who creates some code to make all the activities involved in datajobs to be presentable and straightforward.
Robert Walters says that "The role of a data scientist is becoming more pivotal to even traditional organizations who didn't previously invest much of their budgets in technology positions. Big data is changing the way old-school organizations conduct business and manage marketing, and the data scientist is at the center of that transformation."
You don't wake up one day and decide "Hey, today I want to be a Data Scientist! Not even Bill Gates son or daughters can do that.
Education is the key to almost all opportunities in the world. To be a professional Data Scientist, you have to study hard and graduate with a recommendable grade (bachelor's degree, masters, with a few years of experience). Some of the best schools to attend for a Data Science Course include University Of Berkeley- California, Arizona State University and Columbia University among others.
Applications Development Manager
Estimated range of Salary $123,000
This is among the best jobs your kids can have. Supervising a team of other specialists isn't that hard, is it?
With the right academic qualifications, few years of experience (usually 3-5 years) and spontaneous critical thinking capabilities, excellent communication and managerial skills, your son or daughter (if not you) is ready to be a part of the Microsoft Corporation or Apple and the likes.
The DevOps manager, as popularly known in the tech world, are responsible for a majority of activities in software and Application's Company. The primary responsibilities are:
Planning, coordinating and supervising other employees who are involved in the systems and software's development.
Supporting, maintaining and upgrading existing systems and application.
Assigning development projects to the company's specialists.
Oversee that projects in development are up to the business requirements and goals and can be able to satisfy the end-user needs.
Being an application development manager requires a strong educational base. The most appropriate and robust foundation would be a degree in software engineering or computer science. Additionally, one can study specialized courses (a "plus" during employment).
In Information Technology, Certificates are just papers!! Why would you have a certificate yet you can't deliver the assigned duties? Anyway, humans always have their way around things. Here is the trick on how to quickly be an Application Development Manager – STUDY!! STUDY!! And STUDY!!
Cloud Engineer
Estimated range of Salary $119,000
Ever wondered where all the information you sign-up with on online platforms is stored? Where billions of emails exchanged on a daily basis are stored? A cloud engineer does these, and also business data and network configuration (to lock the bad guys out). In layman's language, a cloud engineer is an individual who exclusively focuses on providing cloud services by incorporating web engineering, performance engineering, security engineering, systems engineering, information engineering and quality engineering (better note the "engineering").
Billions of businesses today are working towards establishing an active online presence.
I know you're wondering, "So what?"
With the need for marketing, online transactions and advertising, more and more cloud engineers are on demand.
Cloud engineering is a broad spectrum of the several subjects in IT. They include distributed systems, networking, virtualization, distributed storage, databases and big data.
Each discipline requires specific academic requirements and experience. For example, ICF hires networking cloud engineers with 5 or more years of experience. Their qualifications are not for the faint-hearted. The good news is, you are well paid (their salary is around $134,000), and you get to work for them till you retire unless you do something stupid to get fired.
Here are some of the Best Master's Degrees in Cloud Computing 2020
Back-end Developer/Front-end Developer
Estimated range of Salary $75,000
Back-end developer
A back-end developer is responsible for the server of the website, the application and the website's database. Without a back-end developer, there wouldn't be applications at all. The developer is responsible for creating, saving or changing the data that the user is supposedly going to use.
The developer establishes a communication channel between the website, the application for the site and the website's database.
For example: When you sign up on a website platform using your email, you use the website interface. The application takes in your information and sends it to the database. If you try to sign up 30 seconds later, the error message displays that the email is already in use!
Back-end developers use programming languages such as Ruby, PHP, Java, flux, React.js, Net, Python, My SQL, and Oracle learned through courses such as computer science or Bachelors of Information Technology. Some of the best schools for a back-end developer include App Academy, Havard University, and North Carolina State University.
Front-end developer
What you see on web pages; the font, drop-down menus, pictures and the call to action buttons, are all products of a front-end developer. They use HTML, CSS, and JavaScript to customize the page outlook. Also, they also ensure that the websites, when used on mobile devices, do not interrupt the flow of content by incorporating languages such as bootstrap, Foundation Backbone, AmberJs and JQuery among others. What you see right now is the end product of a front-end developer.
Front-end developers require investigative knowledge to determine what type of layout is presentable to the user. They decide how you use the website. For example, if you visit Skillcrush and place the cursor over careers, a drop-down menu appears, but when you set the cursor over academics in the North Carolina University website, there is no drop-down menu.
A front-end developer must be proficient with the ten most preferred skills to get hired.
Full-Stack Developer.
Estimated range of Salary $110,000
A full-stack developer is a combination of the back-end and front-end developer. The developer is responsible for creating all those complicated algorithms and codes and at the same time, create the simple user interface.
Educational qualifications must have a combination of both the back-end or front-end developer professional requirements.
Java Developer.
Estimated range of Salary $102,000
Java is a programming language that is known for its efficient processing speed in software, games and mobile applications. Therefore, a Java developer is an individual who is actively involved in programming and developing a software application. They usually collaborate with web engineers to integrate Java into websites and software.
If your kid is into games and "cool" apps, challenge them. Ask them if they would want to create the game they are so actively locking themselves up to play. Java developer jobs are among the forever-jobs. Every day, thousands of new applications and software are created.
Being a Java Developer is quite easy. Get a degree in computer science or information systems and have the right qualifications preferred by most companies. No experience is required for you to start up as a developer. All you need is to know your role and responsibilities.
You may not even need to get hired by some bossy manager; you can work from home, create your applications and post them on play store or you can approach companies with your unique software.
Java is so easy that one can study online. My son recently got a certificate of completion from the Udemy Complete Java Masterclass.
Through the standard educational curriculum, Java is offered through courses such as Information Technology, Software Engineering, Computer Science or Software Design. Some of the best institutions to study these courses are Florida State University and North Carolina State University.
Mobile Developer
Estimated range of Salary $85,000
A mobile developer is almost the same as a Java developer. The difference is that the mobile developer is a dedicated individual who only creates mobile applications.
Today, we read of stories of even 11 years old who create incredible mobile apps which have ranked top on Google Play Store and the likes. These shows that mobile development is not just a career, it is a passion. You have to feel it for you to succeed in the very competitive android market.
If things go well and Apple hires you, you could earn a basic salary of over $130,000!!
The table below, a summarized snapshot not only shows the number of searches of a mobile developer on the various job search websites, but it also shows the required professional certifications.

If you are a genius, you could skip all that "certification" process by creating applications at home and posting them on either Google Play Store, Window's Store or Apple App Store (you still get paid). Who wants to work 8 hours a day when you can work on your schedule at home?
If your child gets to be any of the above tech-savvy, worry not. His future and that of your grandchildren is at the hands of a responsible being who knows how to make quick and correct decisions and knows how to manage their time.
Note: The estimated range of salary differs as per location. The stack overflow salary calculator can help you find out the most current expected salary of the job you want and at the position of your choice.