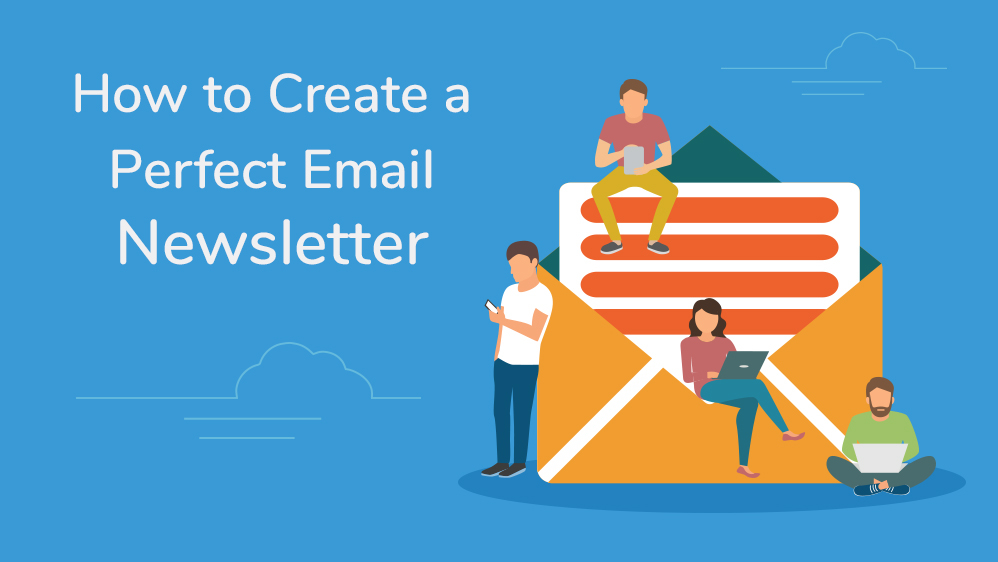 If you aim at connecting your business with customers (and you definitely do), you will need to look for various solutions and techniques that can help you in your initiative. In order to increase your sales only the most effective approaches should be implemented. You must have tried loads of methods but are still looking for something else; something that will not fail you. Then why not try getting to know more about sending email newsletters and see whether this channel will work for you?
With a new tendency of constant online presence, almost every adult possesses a device that enables him or her search the Internet anywhere at any time. Most businesses now focus on marketing their products and brands on social media, which sounds reasonable; however, they forget about the benefits of good old emails. Try to remember: how often do you check your email? It definitely happens more frequently than you visit social networking sites or shop online. Isn't it a good reason to make use of email marketing?
Read on to check on all the details and decide for yourself!
There are a number of reasons why writing a newsletter can be a beneficial marketing tool for your business. Let's have a close look at them.
Promotional emails can excite the interest of potential customers and encourage them to make a purchase. You can present all the advantages of your product and connect a person to online sales immediately via a link. Impulsive people take action without wasting time if they see beneficial promotions (or those that at least look beneficial), discount coupons, or attractive calls for action.
Inboxes now are filled not only with personal emails but also with various business newsletters. The most amazing thing is that most receivers do not mark interesting commercial emails as spam because they find great value in such content. People value the connection they have with brands that send them emails with personal offers. Getting a professionally written email with content which resonates with customer's interests is a benefit, not a burden. You are trusted, and people value that you see their loyalty.
When writing newsletters, companies try to encourage interested people to visit their websites. The increase in website traffic is likely to increase sales as well; so, it is evident that a strong call to action is needed. A well-written email can be a key to reaching your aim.
Increasing social media following
It is a great idea to add a social media sharing button to your email as it will definitely lead to a considerable increase in the click-through rate on Twitter, Facebook, and other social networking sites. Build up your online community via effective email newsletters and focus on creating conversations that will help you expand your social media reach.
As soon as you decide to write your newsletter, you have to take several steps. Most of them will take very little of your time.
First of all, you have to sign up for reputable email marketing software.
Secondly, you have to add all the available contacts you would like to work with.
Thirdly, read through the guidelines and create a web form for your email.
Fourthly, set up confirmation and thank you pages.
Finally, perform the installation of the web form on your website.
As you have understood, creating an email newsletter will require software for managing the available email list, composing newsletters, and collecting feedback from subscribers.
Be careful with creating your default list of contacts: do not miss anyone who might be interested in receiving updates from you.
It is highly recommended to customize the chosen web form for it to match the layout and color scheme of the website. Add images if you want it to be brighter.
Build up your mailing list to engage more recipients and potential customers. Make sure that you include the right people on the list not to bother those who will be irritated with the offer.
Once you know how to create an email newsletter, start doing it immediately!
It may happen that you have decided to start your email newsletter campaign but you struggle to create content that would be both informative and interesting for the recipients. It is a challenge that is not easy to face; however, a reputable email newsletter writing service can solve the problem in no time. Hire professional journalists and experts in marketing campaigns! They deliver the best products in cooperation with major software providers in the field of email marketing.
How to distinguish between high-quality email newsletter writing service teams and those that only try to make easy money? The first hint which you can use is to check what is the first step they take when you inform them about your request. If they promise to create a perfect newsletter with no assistance from you, they will probably fail to meet your expectations. However, if they first make sure that the message they are supposed to write is in sync with your brand, marketing goals, and business objectives, they will demonstrate their professionalism. They will work on the content of a newsletter that will become a powerful marketing tool.
Reinforce the credibility of your business with effective email newsletter content and position your company as a leader. A good service will handle your marketing campaign from the very beginning to the very end. They will take care of the minute details as they definitely have expertise in writing different kinds of email newsletters. Thus, it will be their job to help you understand which kind will be effective for you.
Nothing can be a better idea than creating win-win newsletters. You do realize that both customers and companies should benefit from them, but it is a challenge even for an experienced marketing expert to generate the most appropriate content and find fresh email newsletter ideas. You expect your newsletter to belong to a can't-wait-to-read-it type; so, you do need a lot of ideas to inspire your readers and draw their attention.
First of all, focus on the following groups of possible ideas and topics.
Content that a subscriber can actually use
Include only valuable content that your subscribers will read through and learn something new. For example, top-ten lists are both easy to read, popular, and interesting. Include the most interesting articles on the chosen topic, the most valuable tips, the best ideas how to gain or save money, etc.
How-to texts can be also helpful as they give instructions or guidelines that can be implemented right away.
Infographics appeal to the readers as it is a cool visual way to present boring statistics, demonstrate the rates, or provide customers with the follow-up on the end-year outputs.
Advice on maintenance will always be in demand as clients will never skip tips on how to prolong the lifetime of their products.
Reminder about a survey with the provided link will help the readers get useful information on the poll results.
Customer reviews shared in the newsletter will serve as a trustworthy recommendation and will most possibly help to increase your sales.
Updates on Important Events
Invite your recipients to sales, charity drives, or trade shows. Don't forget to include all the details about time, date and location of the events.
Advertise the upcoming events with reminders.
Information about Your Business
Add a timeline and cover the most important milestones in the history of the company.
Tell some anecdote from the history of the business and make your clients interested.
Express gratitude to clients in a letter from the company owner.
Insert an FAQ section.
Update your customers on all improvements, changes, and resolution of problems.
Post photos from behind the scenes to make your business closer to the clients.
There are loads of ideas for email newsletters that can make your subscribers read them and look forward to new ones. Try to make the content intriguing and your newsletter will be amazing.
It is a matter of crucial importance to ensure effective email newsletter formatting to impress the recipients and spark their visual interest. Make use of Microsoft Outlook as you can save a lot of time having templates of e-newsletters. In such a way you can keep your possible clients updated about the events and changes in your business without having to manually format each newsletter. It is much easier to modify a template than adopt a similar format to each of the weekly or monthly emails sent to the customers. Formatting an email newsletter properly will make your emails recognizable at once and help your branding efforts.
Nevertheless, nothing ensures the boost of clicks and opens more than a plain-text or HTML email, even if it has certain formatting peculiarities, like pixel tracking, hyperlinks, and others. Using a properly coded HTML email ensures the best deliverability in a productive plain-text version.
It is believed that emails based on images and HTML are much more preferable; however, the performance of simple emails, in particular plain-text emails, is the highest. For example, Gmail accounts in some cases block automatic showing of the images from unidentified senders. Besides, do not neglect mobile email marketing as it is continuously expanding in the world of smartphones and tablets. Note that mobile formatting in your email campaigns is a way to address the most advanced users and promising customers; so, try to choose responsive and scalable email design.
As a reader, you have definitely noticed that boring headlines can spoil all the joy of the reading process. If the title cannot persuade people to at least look through your content than it is a complete failure. Email newsletter headers are also supposed to be powerful and convincing as they perform several important functions:
boost the number of readers;
create more interest in the company or business;
increase the click rate;
produce benefits and offer gains for the company, etc.
Now think about your newsletter title. Is it doing all those things? If the answer is negative, you should come up with a more compelling one to give your newsletter a new life.
There are some useful hints to make your audience love your newsletter with the help of a good title.
First of all, do not include the name of your business into the title as it will bring nothing but tension; instead, refer to the whole industry. You need to build a connection with the readers, help them understand what to expect from the text you just sent and how to benefit from it later. Do not forget to focus on the benefits your subscribers can have. The value you bring should be evident.
All good newsletter headlines ideas concentrate on the target audience. If a title refers to people, the problems they have, challenges they face, and solutions they will find, it inevitably increases the CTR. Besides, boring headlines are useless; give them some action and motion! Encourage your subscribers to do something using verbs and –ing forms.
NEVER use the word 'newsletter' in the title as the only reaction it can cause is "Why should I waste my time on you?"
You can also try including numbers in the title of your newsletter as the people love when the message is tangible and measurable.
It is not easy to start creating headlines, but once your audience sees that you can offer something that they can make use of, they will start reading all your newsletters. You will see that adding effective headlines can be one of the least complicated ways to increase open rates, boost the interest, and even make more sales.
So, you are a newcomer to the world of email newsletter advertising, but you are eager to reach perfection and make each of your email newsletters successful. Here you can find 7 tips on how to breathe life into your newsletters.
Make the subject line creative and catchy
The subject line will always be the first stage of getting acquainted with your newsletter. So, if you want to benefit from your campaign, make the subject line unique and interesting. You do want your potential customers to open your message, so involve them at once!
Segment your email list after thorough analysis of the buying behavior, background, personality, expectations, and interests of your subscribers. Only if you understand your clients well you can rely on your newsletters as an effective tool.
Do not think of email marketing as merely sending letters with promotions and information to the existing and future customers. If you send your emails rarely, the strong bond you've established with your customers will be ruined. Long gaps in communication can lead to people unsubscribing from your email list, while regular mailing is aimed at building trust and interest.
Self-promotion is not the only content you can add to your email. A successful email newsletter always keeps the readers interested and even entertained. Keep in mind that if the readers find your email content useful, they might even share it on social media. The most effective proportion of a successful email newsletter is of 90 % of informative content versus 10 % of promotional content.
Integrate your email into the social media
Your message can include the icons of social media to enable your subscribers to connect with you in different ways. A link to your website, Facebook and Twitter buttons, contact information, email addresses, and other means of integration add value to your newsletter considerably.
Make your emails mobile-friendly
Remember that the majority of recipients open their emails not on computers, but on smartphones and other mobile devices. Your readers will appreciate if the template of your email has a design appropriate for mobile devices; thus, it will be easier for them to interact with you.
Make your email newsletter attractive
The layout and design of a newsletter should both reflect the spirit of your business and attract readers. Add corporate colors, logos, and font styles to each of the emails to give them a professional look. Besides, just make them visually pleasing and welcoming.
A common question that worries everyone who starts an email newsletter campaign is "what's the best day to send email". It is also essential to determine the most effective time of the day when the interaction with your email is at its peak. Traditionally, the time between 8 am and 10 am on days like Tuesday, Wednesday, and Thursday was considered to be the most effective; however, current realities changed those rules. People used to check emails mostly when starting their working days; however, with the increase in the mobility of the customers and availability of various electronic devices people now check their email accounts numerous times during the day. Having received an e-newsletter, a smartphone or tablet user will get an immediate notification to check the incoming email.
With the constant activity of consumers on their mobile devices, it is even possible to experiment and try unconventional time for sending emails. It will not be surprising if the best results will be yielded on the weekend or as late as 11 pm.
So, timing is no longer the most crucial factor. It seems to be reasonable to wonder not about the best time to send e-newsletter, but the best content, the most effective frequency of sending emails, and growing the email list to have a wider targeted audience. Currently, you can reach a lot of customers using innovative techniques no matter whether it is the best email send time or the worst time to send emails. Think out-of-the-box and try different tactics to gain success.
You start your email newsletter campaigns to attract as many quality visitors and clients as possible in the most cost-effective way. You do exert efforts; however, how can you be sure that the emails you send show excellent performance? As you invest in the campaign, you have to track your ROI and optimize your future efforts. What can you do to achieve that?
First of all, make use of Google Analytics to track not only the clicks but also what is behind those clicks. You need to see how many viewers you have and what their conversion rate is. Therefore, use email campaign tags to pass the tag data to Google Analytics. It will enable you to evaluate the individual performance of email links; otherwise, you will never know which methods are effective and which ones fail. Tracking with Google Analytics will help you get the reports on Direct Traffic and the number of visitors who choose to click email links.
Check whether it is possible to set the automated mode of tracking links instead of manually setting tags and writing scripts to save you the time. Tagging links gives you a strong insight into the efficiency of your email newsletters and email campaigns to compare and choose those that ensure the most productive outcomes.
It is a remarkable fact that being one of the oldest types of communication online, an email has not undergone serious evolution but it is still widely used as an effective marketing tool. Nevertheless, many email newsletters end up as a complete failure as people ignore them, unsubscribe from them at once, delete them the very minute they see a new message in the inbox, or get rid of them in any other way. If you want to make your marketing strategy successful, you cannot conduct it carelessly.
A newsletter can be fabulous if you make efforts to add something exceptional to it. Solve the problems of your subscribers, address their needs, make them enjoy the content you send, please them with an outstanding design and layout, show them that they are respected and valued – it is not that complicated to do. However, the outputs can be stunning!