Let's put it this way – if you have a blog, you definitely don't want to be the only one reading it. What is the point of spending days and nights creating content if all your hard work results in 5-10 unique visits per day, right? What you want for yourself is thousands of readers, tons of comments and Facebook shares. It means what you post matters a lot.
Thinking people will find your posts if the content is good and worthy is a common mistake many bloggers make. Wrong. To appear in search results, your content should a) provide value for your readers and b) contain keywords to interest search engines.
What are keywords and keyword phrases?
According to the statistics, 38% of all clicks go to the first site we see on the search result page and 75% go to the first 5 positions. That is why SEO is so important: most people never go beyond the first page of Google search results. Instead, they change their keyword and go through the same study-the-first-five-results process again.
So what exactly is a keyword? In layman's terms, a keyword is a query, a word of interest one types into a search engine in order to find the needed information. For a searcher to end up on your blog article, it has to contain that keyword. You can check out this detailed definition of an SEO keyword to learn more.
How about a keyword phrase? Well, a phrase obviously includes two or more words identifying one's search intention. It means "superman" is a keyword and "superman costume" is a keyword phrase ("super" + "costume"). Keyword phrases can be short ("superman costume") and long ("superman halloween costume online rental").
Any text devoted to a specific topic can be narrowed down to a few keywords or keyword phrases. It means you should do a thorough research to ensure your blog article contains the necessary keywords.
Why Do Keyword Research?
Pros:
catch the trending topics and gather traffic they bring (hot topics such as football games, politics);
Create evergreen content (e.g. how-tos);
with keyword research, you can predict shifts in demand,
respond to changing market conditions,
and produce the products, services, and content that web searchers are actively seeking.
Keyword value and how to assess it
Generally there are three basic rules for writing blog articles of the high efficiency:
– Uniqueness;
– Compliance with key queries;
– Human-oriented approach.
Before starting work on a given topic it is obligatory to arrange a selection and analysis of the keywords. Keywords should be chosen carefully because some of them can only get a few clicks per day while others get thousands at the same time. In both cases, the keywords mean an exactly identical thing and deal with the same topic, but more common terms that people usually use would get more search results. For instance, the word "keyword" given in a singular form gets up to 860 searches a day, while the same word given in plural gets 730 searches. We can also notice not many people are using the word combination "keyword phrases" when researching the topic (only 50 searches).
The search potential of a given keyword is one of the most important criteria one should pay attention to while doing keyword research. Many newcomers to the blogging industry make the same mistake of optimizing their blogs for popular keywords with thousands of searches per month. This, however, does not guarantee sky-high traffic, because the chosen keywords turn out to be too common and one is forced to compete with dozens of competitors who are already ranking high for them.
It is useful to know that there are three different levels of keywords such as "head", "body" and "tail". The "head" is a core keyword, the most general one, for example, "newspaper". "Body" keywords are usually two or three words that extend the chosen keyword, for instance, "school newspaper". Such keywords cannot get as many searches per month as "head" keywords, but at the same time, there is less competition. "Tail" keywords are the most extended ones and include three or more words, such as "school newspaper ideas". They bring the least searches, but "the tail" reaches the particular small group of users the blog is targeted to. The effectiveness of this kind of keywords is proven with the fact that over 70% of all searches consist of long-tail keywords.
How to decide which keywords to focus on?
Ranking for generalized, common terms surely could bring more traffic, but it probably would not drive traffic that converts. On the contrary, you may get lots of people that are not interested in the information you offer at all.
Consider the following chart: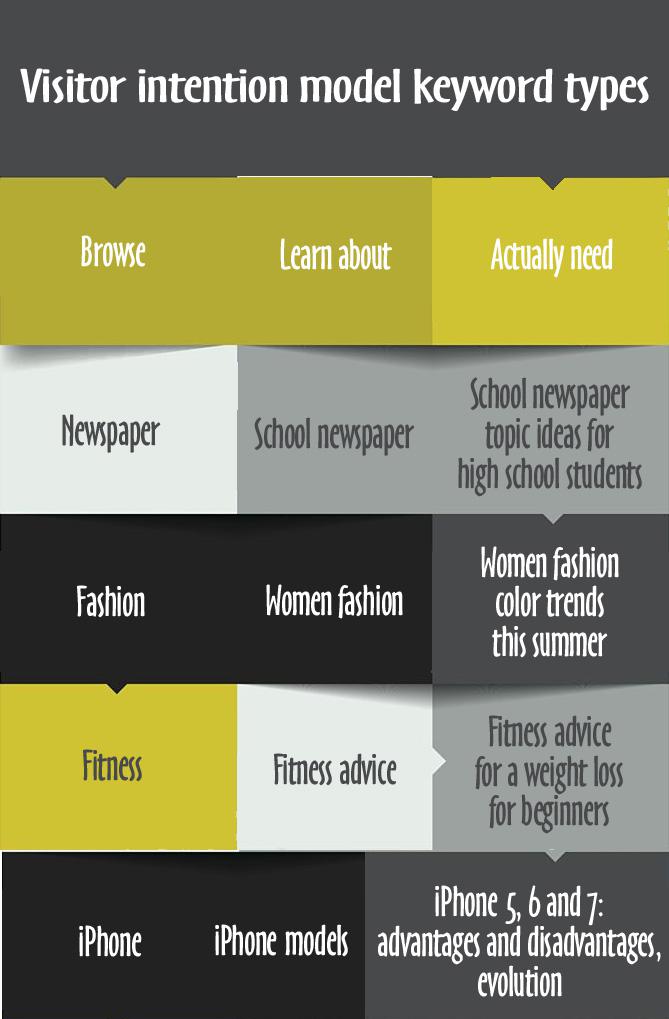 According to the given chart, users whose aim is just to browse would use the most generalized keywords, such as "Newspaper", "Fashion" and so on. Users who want learn about the chosen topic while browsing would use more specific words, tags like "School newspaper", "Women fashion" etc. Those who clearly realize their intention, who know exactly what kind of information they need, would specify their terms in the most accurate manner, such as "School newspaper topic ideas for high school students", "Women fashion color trends this summer" and so forth.
So the best advice is: just ignore the "head" keywords and pay the main attention to "the body" and "the tail". It is discovered that "body" keywords may bring from 1000 to 100,000 searches per month, and "tail" keywords could reach up to 1000 or more searches per month. These ideas belong to Neil Patel, an SEO specialist who generates thousands of visitors per month for various companies around the world. In his blog article "How to Generate 20,000 Monthly Visitors Through Long-Tail Search", he focuses on the crucial role of the long-tail keywords. He describes the importance of keywords and how to search for keywords on a web page. "Many people think that keyword research is no longer important. But that is not true; keyword tools are essential. In fact, research – particularly of long-tail keywords– can help you craft the kind of content that engages and inspires readers. A research study by Statista shows that successful on-page optimization requires 50% of your focus to be on long-tail keywords.This is because readers conduct a long tail search when serious about a topic."
Neil Patel offers a few simple steps to make it clear how to search for keywords on a page in order to find efficient long-tail keywords:
Use Google Keyword Planner and type in the "head" keyword. The program will find long-tail variations on the given keyword. For example, your focus keyword is "macroeconomics". So here it is possible to get numerous ideas instead of spending time brainstorming. The program will give you other keywords related to "macroeconomics" indicating the average monthly searches for each one. For example, the highest competition follows the most common and generalized keywords consisting of two words like "macroeconomics definition", "macroeconomics introduction", "principles of macroeconomics". Such keywords get 10,000 and more monthly searches.
Take the most relevant keywords. In the case described there are two of them: "macroeconomics introduction" and "principles of macroeconomics"
Copy the given keywords and paste them into the search box to find long-tail variations.
In order to get more keyword suggestions, you can use the following tools:
Google Adwords Keyword Planner;
Google related and auto-suggest.
Keyword research in post-hummingbird era
So, it is proven that bloggers who focus on long-tail keywords enjoy higher conversion rates than those who use "head" keywords instead. But there is one more moment to pay attention to: Google is smart, and it may take separate words out of an integral long-tail keyword, so you may find a page ranking for keywords that it was not supposed to rank for originally. For example, Google recognizes the words "photos", "images" and "pictures" as the same thing: "new digital photos", "images of Universe", "old family pictures".
Actually, using synonyms is an efficient way to make blog articles richer, more appealing to the readers. At the same time, they may connect related words together causing chaos. If the blogger realizes the full potential of using synonyms, he/she may use this knowledge for promoting the website by finding corresponding synonyms that fit the blog content. First of all, think of the terms that the target group of users focuses on. Second, make a list of potential synonyms ignoring any particular keywords at this point. Third, use online tools such as Webtexttool to analyze and get suggestions about the chosen synonyms.
Thus, it is evident that Google can group keywords together into topics, understand synonymic words and "look beyond" keywords on the page while deciding how to rank pages. For this reason, it is recommended to focus on optimizing content for topics instead of individual long-tail keywords.
At the same time, Google is growing and becoming smarter. In 2013 it started using a search algorithm called "Hummingbird". Gianluca Fiorelli said, "Hummingbird is about synonyms but also about context". Google always had synonyms, but with Hummingbird it is also able to judge context, thereby judging the intent of a person carrying out a search, to determine what they are trying to find out." That is semantic search. According to Danny Sullivan, "Google said that Hummingbird is paying more attention to each word in a query, ensuring that the whole query, the whole sentence or conversation or meaning, is taken into account." Steve Masters wrote, "The Hummingbird approach should be inspirational to anyone managing and planning content: if you aren't already thinking like Hummingbird, you should be. In a nutshell, think about why people are looking for something rather than what they are looking for. A content strategy should be designed to answer their needs, not just provide them with facts."
Final words
Learning how to do keyword research properly is, undoubtedly, an important aspect of any blogger's journey. Remember that this is a never-ending process, so doing your research only once at the beginning and never or rarely updating your list of keywords is a mistake you should avoid making. However, if you want your blog to become a number one resource in the industry, you should study your target audience, its demands and intends, not just manipulate the search engines in order to get ranked higher.