Created: December 11, 2021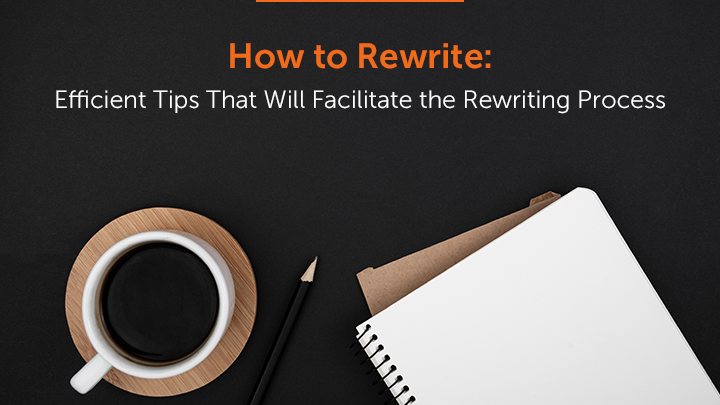 Our essay rewriting service aims to help you boost your rewriting skills. Just follow the suggestions collected in our guide and you will strengthen your writing proficiency.
Rewriting is a part of the editing process that aims to make improvements related to the content and structure of the text.
One may think that it is pretty easy to rewrite articles because this task just primarily assumes re-phrasing each sentence in a paragraph without changing its meaning. Well, although this statement is right, there are many other points that article rewriters need to consider. In its essence, rewriting is a time-consuming process that aims to strengthen the messages conveyed in the text by different means. Sometimes, to improve the original thought, the rewriter should get inspiration from external sources. The rewritten text should be clear, concise, and free from awkward ideas. Only those experts, who have advanced writing skills and a high level of creativity, can cope with the rewriting tasks successfully.
When you are working on your draft, especially if it is a lengthy essay with several sections and strong arguments, the chances are low that you will craft a perfect work from the first try. The main goal of your initial draft is to communicate the ideas and arguments in a clear way. Thus, you need to go back to your essay and address all the flaws and inconsistencies compromising its quality.
Currently, there are many services and applications that will help you rewrite your texts. Unfortunately, not all of them are reliable. If you want to create good texts, then you need to master the art of manual rewriting. Alternatively, you can make an order at a professional essay rewriting service and let skilled experts take good care of your task. In this article, we will provide efficient tips and practices for those, who want to improve their own rewriting skills.
What Is Rewriting?
Rewriting is the process of going through a rough draft and improving issues that compromise the quality of a paper. In some cases, it is necessary to improve the word choice, though sometimes complete rewriting is needed. One may need to rewrite the text to make it look simpler or more sophisticated. Also, one may want to rewrite the academic text to fix plagiarized parts. Finally, rewriting may be needed to make the text match the initial instructions. Typically, rewriting is a stage of the editing process that refers to large changes. If you manage to put much effort into rewriting, you will be able to turn the quality of your paper from good to exceptional.
Handy Practices: Rewrite Academic Texts Professionally!
Organize the Rewriting Process
Rewriting can be easier when you know how to organize this process appropriately. Experienced rewriters use the following strategies to optimize the rewriting process:
Read the text aloud. This strategy enables you to notice awkward wording, grammatical flaws, as well as problems with sentences;
Print out a copy of your text and work with the printed version. Changing the medium helps have a fresh look at the text;
Avoid rewriting each sentence separately. Instead, you need to rewrite the paragraph preserving the main idea;
Write a note for each mistake to recognize it. It may take some time, but this technique help understand your mistakes and avoid them in your future works;
Get objective feedback. Oftentimes, we cannot notice all mistakes because we commit them unintentionally. Thus, you may ask a friend to read your paper and provide their objective opinion on the points that need improvements.
Modify Your Sentences
A common problem committed by rewriters is too long and winding sentences. If you want to communicate your ideas effectively, short and punchy sentences will help you reach this goal. Many writers create their papers in a similar manner including three long connected clauses in one sentence. Sometimes, when reading a long sentence, readers may lose the overall idea. Thus, splitting such a sentence into several shorter ones is a great idea.
If your sentences include parenthetical phrases, you should reduce them because they are very annoying for a reader. Also, when rewriting your texts, you should get rid of many questions and exclamation marks because they contradict the rules of academic writing. When rewriting your texts, you can review your sentence-construction habits, which will help you grow into a proficient writer. If you manage to write your text with short and engaging sentences, your readers will find your piece very interesting.
Use Many Synonyms and Similar Words
One of the best approaches to improve the quality of a text is to use appropriate synonyms and similar terms. Surely, applying this strategy is possible if you have a rich vocabulary. You should also understand that overuse of the synonyms without making additional changes to content won't enable you to produce a good text.
When substituting some words with their synonyms, you need to make sure they perfectly match the context. If you haven't worked with synonyms previously, you can use reliable online resources. They will help you find appropriate synonyms and enhance your vocabulary.
Remove Unnecessary Details
Now, when you have rewritten each section of your paper, you need to double-check if your text is free from unnecessary information. After rewriting your text, ensure that each statement is in its place and serves a certain purpose. In case there are sentences that do not provide any meaningful information, you need to paraphrase or delete them. By making the phrases more succinct, you will significantly improve the quality of your work.
First and foremost, you need to delete all filler words that do not add necessary context to the sentence. These words make your readers do extra work when studying your paper. Thus, your audience may fail to understand the overall meaning of your writing. When your audience is exhausted, they will just quit reading.
After you have taken the time to organize your thoughts in a logical order, you need to keep things simple. This means that you need to provide your reader with as many details as it is necessary to understand your messages. Have a closer look at your draft and try to understand whether each piece conveys your messages. If not, you should get rid of it.
Edit Your Draft
Before your first draft is finished, you need to do some editing and proofreading. Thus, you have to check the general structure of your text and make sure it follows the format requested by your tutor. When reviewing your paper, ensure that the strongest points come first.
Read your text again and again to ensure that all sentences are clear and serve your goals. Also, you need to check the grammar, spelling, and punctuation flaws and make corrections whenever necessary. Delete all awkward or irrelevant sections . Also, you need to improve your wording to make it more appropriate for your task. Pay close attention to the word count indicated in your prompt.
The process of rewriting is very important as it helps writers figure out what is important and what is not. Some writers cannot cope with this task successfully because of their ego. However, we want you to know that constant practicing of your writing skills will help you create high-quality papers and boost your academic results.
Let Your Paper Rest
So, you have completed your work, but there is something that seems unsatisfactory for you. For example, you don't like the way some evidence is presented. It may be pretty difficult to understand what is actually wrong with the work. In this case, you need to put the paper away and forget about it for some time. Even a small break will help you have a rest and recover. When getting back to your paper once again, you will definitely understand what should be fixed. Have a look at the obvious benefits of this approach:
You will have a fresh look at your paper that will help you see its overall picture;
You will find it easier to spot the flaws you have missed before;
You may recognize inconsistencies and improve them;
You will get a more experienced and mature skill set.
Summing Up: Practice Makes Perfect
We often have to rewrite different pieces of writing. In the business environment, clients need two or more different versions of the same material.
No matter what kind of paper you are supposed to rewrite, you need to make your text simple. Inexperienced writers tend to use thesaurus, which makes their texts sloppy and shallow.
The writer having sufficient experience knows that the texts should be clear and concise. We do hope that you will take advantage of reading our rewrite guide. And remember that practice makes perfect. Don't be afraid of rewriting tasks – practice rewriting and your grades will become better!