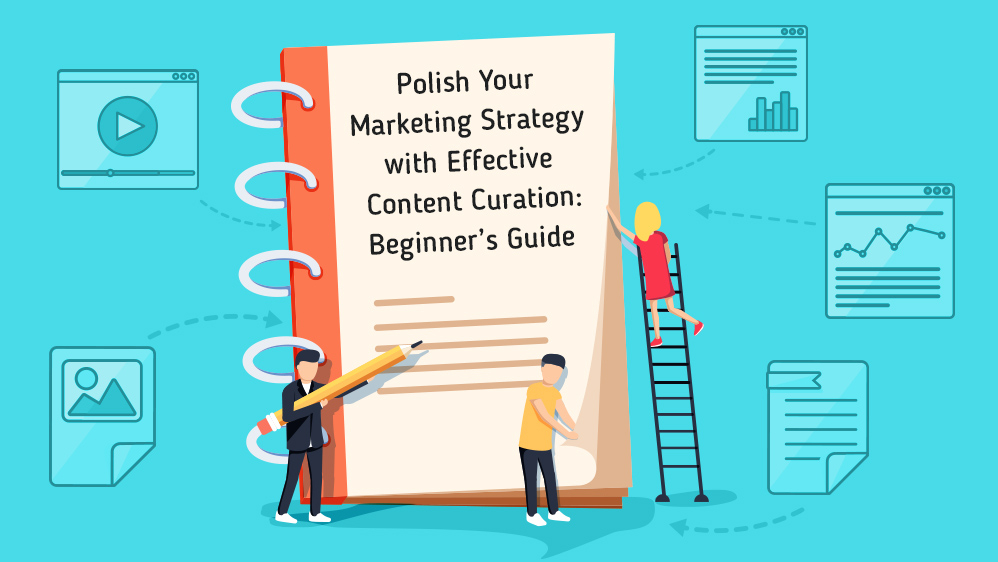 Pressed for time?
Low on budget?
Lack of staff?
Burning need for high quality content for the online audience and customers?
If you have ticked all of those three preconditions, you require effective content curation as a part of your marketing strategy immediately.
No successful social web today can exist with poor content curation strategy. It is a new tendency, especially valuable for businesses with a lot of online customers who expect to be provided with quality content in return to their loyalty.
Why Is Content Curation Important?
In general, content curation is the process of sorting huge amounts of web content to select the best and present it in the effective and meaningful posts organized appropriately. One can arrange, sort, sift, and classify the selected content to publish only the most relevant information.
The leading marketers of ever-changing modern world prefer to use a combination of created and curated content, and that is done for a reason. It used to be easy to sell a product as the marketers would guide the whole journey from the buyer's needs to the conversion; however, the hyper-connection of present-day buyers makes them non-dependent on the marketers' instructions. Sales involvement is no longer needed in more than 70 percent of the purchases. Still, there are the ways to impact the buyers' decisions, and you can benefit from that.
Marketing departments start to realize the importance of content curation as a great new tactic they can use for the maintenance of effective online presence. Out of this content curation guide, you can get several useful hints on the benefits your business can have making use of this tactic.
Save time.
Ensure quality information management.
Increase your online presence and credibility.
Give extra value for your customers.
Establish lasting relations with your returning clients and loyal fans.
How Does Content Curation Work in the Most Efficient Way?
Consistent finding, arranging, annotating, and sharing relevant digital content of the best quality with the target market is a great idea for any business, but how to increase its effect? Make sure you meet the following criteria to achieve the most and enjoy all benefits of content curation:
performed not by a computer algorithm, but by a human expert
focused on a specific audience
being of selective and discerning nature
being continuous, not one-time
offering guidance and insight into a specific subject
adding value with new perspectives revealed
Content Marketing: Content Creation vs. Content Curation
Note an essential difference not to be confused. Content curation implies no new information formed for the online followers; it is about compiling the existing data, discovering interesting facts, and sharing the available details. All successful content curation tips recommend differentiating between the content creation and curation as a first step to choosing the most effective tactic for your specific business.
Why Should You Create Content?
to generate leads in whitepapers, ebooks, or webcasts
to have unique content which you can own
to drive traffic and ensure Search Engine Optimization or SEO
to give special voice to your brand
to get the followers
Why Should You Curate Content?
to establish and enhance relations
to save your time
to demonstrate your awareness and profound knowledge
to cover the topic from different points of view
to give new life to the existing content through classification and grouping
The importance of content curation is undeniable as it gives you a chance to be seen as an expert in your field and enjoy all the relevant advantages.
How Content Curation Impacts Social Reach
Your marketing efforts can be considerably improved with the content curation strategies if they are aligned. Your overall strategy determines which of the following three methods of content curation will be the beneficial for you.
Blog content curation in weekly blog posts
It is a great method of collecting useful resources from the web with further categorization and publishing for the readers. Thus, the audience do not have to do browsing for information or extensive searching of the needed data as they can read through your blogs.
Content curation process in editorial email newsletters
Weekly editorial newsletters are an indispensable chance for the content curators to reach the blog subscribers through an email as one of the most in-demand digital marketing channels. Free content curation done in weekly newsletters also saves the subscribers' time they would spend on searching for information. What you do is organizing the most valuable pieces in the most sensible way and using email lists to send them, accompanied with your own content.
Content curation rules on using social media
In social media, content curation is a key to keeping the existing followers and growing their number. Sharing the content of other users, you clearly demonstrate to your audience that you have a profound knowledge of the field and awareness of the competition. It is also a sign of your confidence and willingness to collaborate if you can share the content of others without any fear. You can ask a reasonable question, "Is content curation legal?" Yes, it is, if done in a proper way.
Content Curation Best Practices 2018
It may seem easy to implement the content curation strategies, but it is a must to be aware of the most effective practices of content curation for 2018 to be a leader in the field. Otherwise, you can harm your business instead of bringing benefits and empowering the strategies of social media.
Content curation methodology includes a number of steps. Here are 5 simple steps to becoming a content curation rockstar:
1. Make your audience's interest as number one priority
Your strategy will depend on how your business engages the clients and how responsive they are. You should feed the content that your audience will have interest in; otherwise, it is pointless to exert efforts. First of all, gain your audience's interest and curiosity, then you will have no problems with content curation.
2. Treat quality and quantity equally
Make sure that you provide reasonable amounts of content and publish only the best posts. Note that you will miss a lot of chances and opportunities if you publish your content irregularly.
3. Create a content database for your personal use
Do not waste time collecting the information you need from various sources. It is more reasonable to apply a holistic approach and save resources from the most relevant sources you have already tried. Optimize the process and ensure proper organization.
4. Find unique things to share
It is a common tendency to follow the trends, but you can go beyond that and do something special to be noticed. Learning content curation basics, people overlook interesting and important things because no one has drawn their attention to them. Be the first to find the pearls and show them to your audience.
5. The most important clue to effective content curation for 2018 is: dominate!
Use your content curation tactic as a sponge to collect the best and the most precious data. Attract those who are interested in that information. Share the curated content regularly and extend your network.