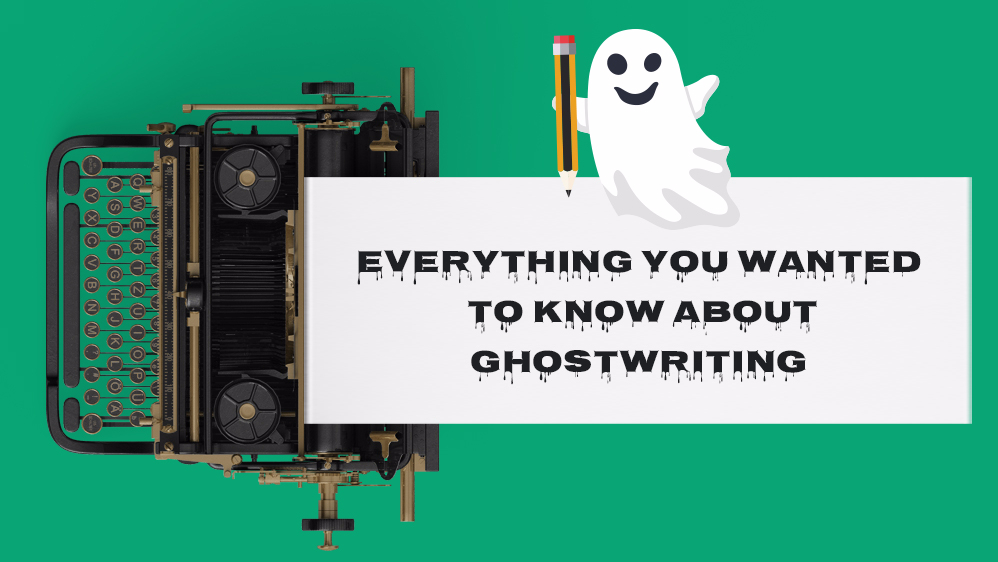 While earlier professional ghostwriting was mostly associated with the publishing business, it has already spread to social media and even the corporate world. As the spheres of usage are getting larger, the Internet offers a broader ghostwriting definition, so now every content writer who doesn't get the credit is technically a ghostwriter.
What are the types of ghostwriting?
Writing is a mastery, and considering its ability to touch people's souls and influence their decisions, it can safely be called the most powerful form of art. This is why many people who have an exquisite story to tell hire another person for ghostwriting a book for them. A decade ago, this was the most popular (if not the only) type of ghostwriting on the market. Now, it doesn't have to be fiction; for marketing or business related topics it is possible to find a business book ghostwriter.
Social media ghostwriting
That's correct, some of those tweets, Facebook posts or articles are not written by actual profile owners. This is the only way for businesses to successfully run their accounts and increase their online presence. Apart from that, many famous musicians, actors, and sportsmen often hire a separate person to manage their Twitter and Instagram accounts.
The first thing that comes to mind when one hears about academic ghostwriting is various agencies that offer writing help for high school, college, or university students. But to prevent the uproar of judgment, it's important to keep in mind that not everyone has a natural ability to write, as well as time to research and analyze the information.
Medical and pharma writing
This is a stand-alone field, as medical ghostwriting is considered to be a very specific and well-paid freelance niche. In order to become a medical ghostwriter, one needs to possess an academic qualification in pharmacy, microbiology, or other related sciences.
That could be ghostwriting for pastors. While it's a narrow and a relatively strict niche in ghostwriting, it can be an interesting experience. It is similar to speech writing, and contrary to the popular belief you don't have to remember the Bible by heart to apply. Ghostwriting in the Christian music industry is a whole different thing, however, as it does require some special knowledge.
This could be a perfect option for songwriters, but the range of responsibilities can vary from one employer to another. In a rap or hip-hop ghostwriting niche, writers are usually asked to create themed lyrics, but in pop or indie fields a writer might also have to jot down how to play that particular song.
There is also blog ghostwriting, and many writers successfully make a living out of it. Usually, a writer cooperates with a blogger, creating content based on his or her ideas and instructions.
Dealing with Crediting and Ethics of Ghostwriting
The main principle of ghostwriting is that writers don't keep any credit for themselves. If you want to build a career in ghostwriting and start applying for projects, one of the first things you will notice is that many employers don't specify the crediting policy. While that might seem confusing at first, a rule of thumb is that a writer doesn't get a credit, so this nuance isn't discussed.
While this seems unethical to some writers and employers, ghostwriting stays completely moral. You can compare it to hiring a contractor to build a house for you based on the plan you have drafted. If both sides know their rights and responsibilities, are satisfied with the agreement and ready to trade skills for cash, nothing is wrong with that type of a deal.
Requesting Ghostwriting with Credit
Unless there is a non-disclosure contract or similar specifications in a ghostwriting contract agreement, ghostwriting with credit can be arranged. Finding a project where a writer will be allowed to share a credit might be tougher and more time-consuming, but it is possible. Sometimes employers allow a writer to have their name on the cover, mark him/her as a research assistant or contributor, but that is usually done to lower the cost.
Defending Ghostwriting: the Upside of the Field
One of the best perks of ghostwriting is that one can try out many different writing spheres, branches, and niches. Being unable to get a credit is a stopper for some people, but it's also liberating. If a writer's niche is narrow and his/her name has some reputation to it, it could be potentially risky to switch niches or explore something new. But being a ghostwriter saves one from stress and creates a field for experiments.
Special Cases of Writing Regulations: AMWA Policy on Ghostwriting
In 2005 a few regulations on medical ghostwriting became much tougher after AMWA discovered that a large portion of medical research papers was written by ghostwriters. That created an outburst of resentment in the scientific community and the rules toughened. AMWA policy on ghostwriting implies that a guest writer has to perform a real research and cannot promote fraudulent ideas, distort facts, or present unconfirmed information. AMWA also encourages scientists to officially acknowledge ghostwriters as contributors and give them credit for their work. This way medical ghostwriting doesn't spread wrong ideas and stays ethical.
Another big question that gets raised from time to time is whether or not academic ghostwriting is illegal. There is a straightforward answer to this: no, it's not. There are no documents or regulations about academic ghostwriting (at least not yet), so there is no way one could get punished by law. However, most schools don't allow it and have clearly stated policies against it, so the danger of getting expelled still exists.
An Advice on How to Put Ghostwriting on Your Resume
Before creating a ghostwriting portfolio, a writer has to weight all the pros and cons. The first thing would be the culture of a writer. In Germany, for example, ghostwriting is considered to be a shady business one doesn't want to be involved with. Unlike Germany, the US is a ghostwriting-friendly country, so mentioning that on your resume won't hurt.
The next big thing is how to put ghostwriting on your resume. It is possible to uncover what types of ghostwriting projects you've worked on, but without mentioning their titles or company names.
This way, creating a portfolio is not an easy thing, as writers usually are not allowed to publish parts of their works anywhere, as it makes it possible to track down the employer.
Calculating Standard Ghostwriting Fees and Rates
It is almost impossible to determine the right price in this field of freelance. If a person is about to write a book, ghostwriting fees would vary greatly based on the writer's level of expertise and the complexity of a book (e-book ghostwriting rates do not differ much from regular book ghostwriting fees). A standard (200-300 pages) book could cost around $14,000, and that's on a cheaper side. Getting a book from an experienced ghostwriter could cost about $40,000. One could say that there are no standard ghostwriting fees, as some people charge per word (here a standard price is 15 cents to $2), others – per page (for example $30 per page), and some want to be paid for hours.
If you're thinking about a thriving career, you have to do market research and compare your rates to the rates of people with similar experience. It's also important to remember that many jobs are getting outsourced now, so prices on the market are dropping drastically. Just a quick reality check: an outsourced ghostwriter would write a book (200-300 pages) for $4,000-$5,000, so the competition is serious.