Created: January 23, 2018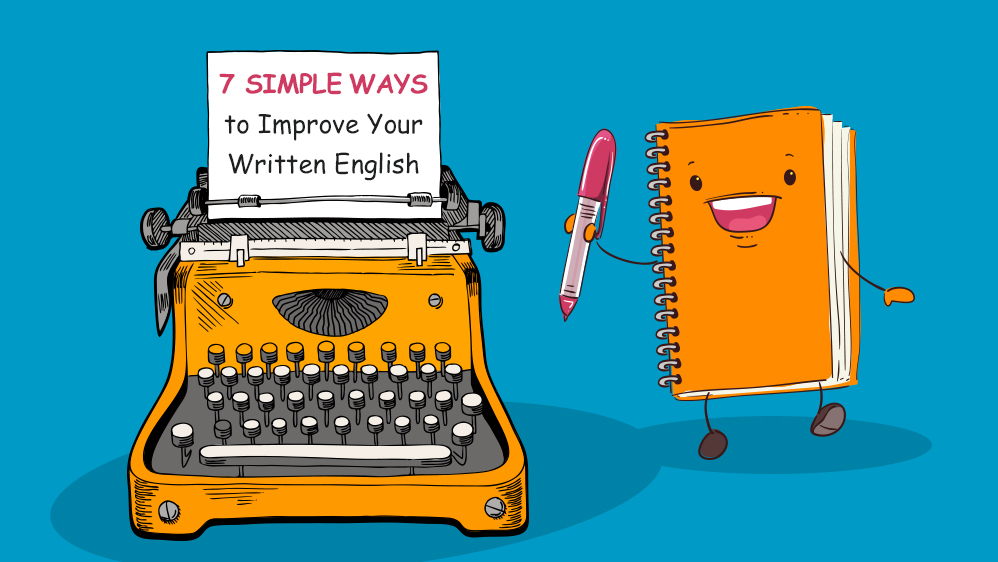 Many of us are better at using spoken English than written English. The most common reason why you are struggling to spell particular words correctly is the lack of experience: you simply haven't practiced enough. This is also why your grammar may be a little rusty. However, being able to write English impeccably may unlock a variety of opportunities in the job market and in your personal life. So, here are some of the most effective ways to improve your written English.
Reading
This is the most common advice given by the experienced writers. Reading regularly helps you improve your vocabulary. This way, you can use more appropriate words to express yourself. Reading will also make you familiar with the proper use of grammar and syntax. As well as this, reading will help you to experience the language used by English speakers in real life, as well as more formal, less colloquial language. You can start with popular novels, newspapers, magazines, blogs, etc. Don't be afraid to read children's books to begin with, as they will start you off on your language journey. Then, you could move onto more complex pieces, for example, broadsheet newspapers like the Guardian and classics of English literature like Dickens and Shakespeare. Having learned from the masters, you will eventually become more comfortable with the conventional construction of sentences and will start implementing them in your own writing.
Improve Your Grammar
'Grammar' is a word that fills many language students with dread, conjuring the images of grammar drills and rote learning conjugations. However, we must admit that grammar is one of the most important aspects of written English and indeed any language. Correct use of tenses and punctuation improves the quality of your content. To avoid grammatical mistakes, you can use a proofreading software like Grammarly. It will correct you whenever you've made a grammatical or spelling mistake. This way, you can analyse the most common mistakes you make while writing. You can also use technology in other ways to improve your grammar, for example download apps that allow you to practice sentence structure.
Learn from other writers
Follow experienced writers online! Nowadays it's extremely easy to get access to their blogs and analyze their writing style. Try to imitate them occasionally and use the phrases you like in your own writing. No need to copy their whole text, though. Also, try reading all forms of English texts. This will take your writing skills to the next level and will help you write various types of written content, such as diaries, essays, short stories, poems, etc. Another excellent source of English writing are social networks such as Facebook and Twitter. You can learn on these platforms how actual English speakers use the language, and pick up new, modern words and ways to write that are not used in formal texts. This will help you in your everyday language use, e.g. text-messaging.
Write easy-to-read sentences
The readability of content is often compromised due to the over-use of compound sentences in a text. One of the most important lessons in writing is to write simply and with clarity. Depending on the type of written English you are dealing with, you should always try to use short and simple sentences. This will make the content easier to read not only for non-native English speakers but also for inexperienced and younger English speakers, and will also ensure that your message is conveyed appropriately.
Practice
Practice is important when mastering any activity and it is no different when it comes to improving your written English. Make writing a part your daily schedule. Make it a habit. Writing just 5-10 minutes daily will help you improve your writing skills significantly. Also, try writing without the auto-correct feature. Relying on technology for correct spelling is a bad idea. You can keep a pen and paper handy and write whenever you want. This will force you to write correctly and also benefit your handwriting. Another thing that you may want to bear in mind is that wherever possible it is useful to have others read your writing and provide you with feedback (see below).
Use technology to improve your writing
In the modern world, there are a number of technologies that can aid you in your learning. For example, you can download an app and practice English on the go. One of the best apps for learning English is Duolingo. This app has a variety of levels, and you will practice your language by completing different tasks, after which you will get instantaneous feedback. What's more, in the Duolingo app you get to practice reading, writing, and spelling, so you will learn and consolidate all the knowledge you need in order to improve your English skills. Best of all, Duolingo is free! So, as you can see, there is a multitude of apps available for language learners.
Get consistent Feedback, and act upon it
Everyone involved in education knows that in order to improve your proficiency in any skill you need consistent feedback that gives you guidance that you can follow to improve. If you get consistent feedback from what Cognitive Psychologists call a 'more knowledgeable other' (MKO), then you will know what you are doing well and what you need to improve. You can gain feedback in a number of ways. You can enroll in a class, for example, at night school, and you can ask a teacher to check your work. If you do not want to enroll in a class, you can ask a native English speaker (a friend, a work colleague, or somebody else, if you know somebody) and ask them to help you. However, bear in mind that a trained teacher may be more appropriate, as they will be more able to help you with the intricacies of English grammar and syntax.
Getting regular feedback is a tried and tested method that allows you to improve more quickly and become a more independent, more confident speaker of English. What is important, though, is that you ensure that you act upon this feedback. This may seem obvious, but if you don't put the advice you get into practice, you will not improve.
The above tips will definitely help you improve your English writing skills. You can also apply for various written English courses available online, and these can be integrated into your existing lifestyle: your job, your family life, and your other responsibilities, so you can learn in a flexible way.
—
This post is from a contributing author Annabelle Fee. Annabelle is part of the Content and Community team at SmileTutor, sharing valuable content to their own community and beyond. Annabelle's passion is connecting parents & children who are looking for English tuition in Singapore.