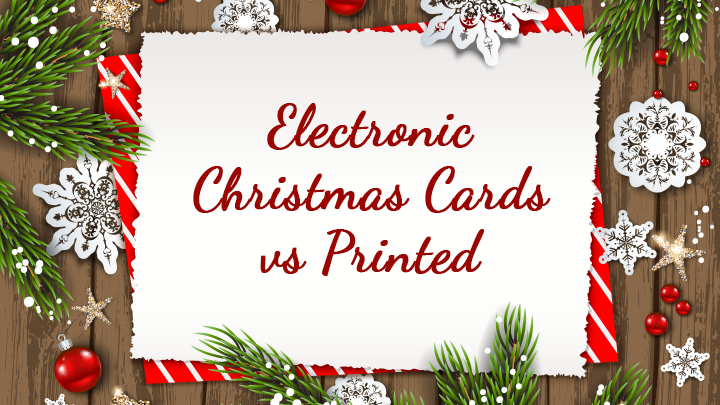 Paper Cards vs Ecards in 2018: The Right Choice or the Lost Art?
People used to send paper greeting cards several years ago, but today this tradition is slowly withering away. We can now send online virtual cards – or in short electronic cards – through an email. This is a more convenient and faster way to congratulate your loved ones, minus the hectic activities associated with the Traditional Christmas cards such as buying them, signing them, and mailing them. A Virtual Business card also saves the time and energy of businesses today. However, at the same time, there is less love and attention attached to sending some e card.
Just remember what a warm feeling it was to get a printed holiday card with personalized wishes handwritten by someone you love! While a digital holiday card is an easier and faster choice, make sure that it reflects the love and affection. This can easily be done by choosing a themed greeting cards design and adding a personal note, even if it's an online card. The attention and emotions put into the greeting are more important than the format of the gift itself. It can be a gift of love even if it's virtual; it just has to be personalized. Let's compare paper cards vs ecards and check whether the paper cards should come back as a very special gift of affection, or are they really becoming a lost art in the era of digital options?
Electronic Personalized Christmas Cards 2018
Ecards are gaining more and more popularity. A digital holiday card for business is becoming preferred over paper options. This makes perfect sense because a holiday greeting for businesses is usually sent via email or social media, so designing electronic Christmas cards for businesses has become a ritual. In such a way, they thank their loyal customers and congratulate their partners as well as friends.
Digital business cards must look professional, be free of any spelling errors, and simply eye-catchy. Business ecards free or for a payment – both must be looked at by the designer. Each business should invest at least some portion of its income into Christmas e-cards to show the care and affection to its stakeholders. As a business, you can create your own ecard which will reflect your brand and make your customers smile. It's also a common practice to add a coupon code or a discount for the next purchase as a Christmas gift, which, unfortunately, would not be as easy with a paper card.
For individual senders, Christmas ecards don't have to be so professional; in fact, they can be more fun and spontaneous. Cool holiday ecards free are a common choice among most people. They are environmentally friendly, they can be animated with a gif or video, and they are either free or at least cheaper than paper cards. What is more, there are such benefits over paper cards for businesses as tracking email campaign statistics, such as open or click rate, mobile use, shares on social media, etc.
Let's look at a few more pros and cons of Ecards for Christmas: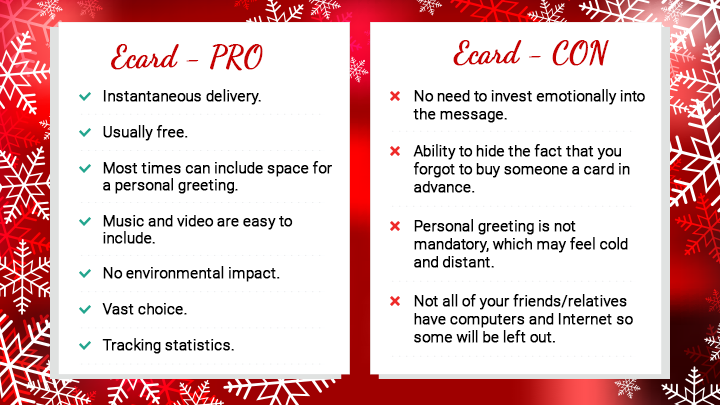 Traditional Christmas Cards
When thinking about personalized Christmas cards 2018, we no longer prioritize paper cards. Unfortunately, the art of choosing, buying, and signing one is slowly dying. However, how many greeting cards ideas come to your mind when you think about paper cards? Of course, tons! They can be made from different paper, have various decorative elements, and a handwritten greeting is just an icing on the cake!
Of course, using paper for business cards in 2018 may not be the best option – only if the business personally knows all of the clients and can be sure about their physical addresses. However, for personal means, you can even find online free printable greeting cards and handmade greeting cards for sale online, which again proves that handmade and DIY are making a comeback. Finding some Christmas card examples and making one yourself is probably the best idea.
There are alternatives to Christmas cards which are online, free, and thoughtless – paper and DIY cards. Let's take a look at their pros and cons: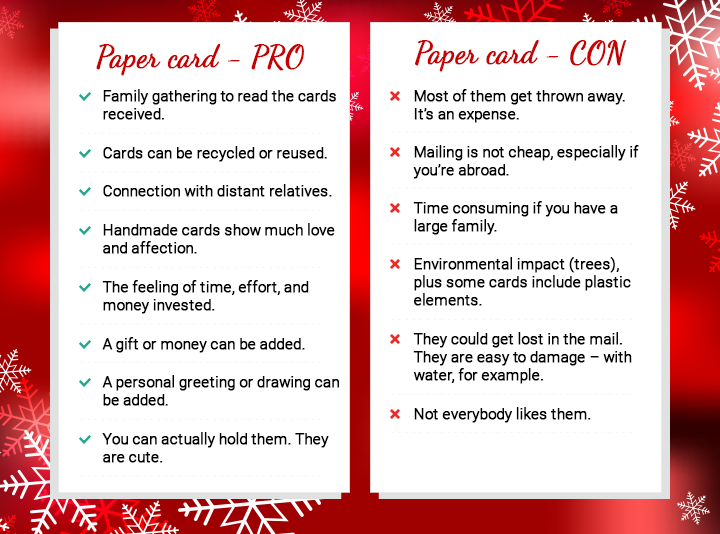 Christmas Greetings and Christmas Messages 2018
When sending Christmas congratulations to your loved ones, the most important task is to come up with the right words to say. No matter if your choice fell on fancy ecards or papercards, they need to be personalized. Personal Christmas greetings will help get this task done well. We have compiled several Christmas messages which can be used this Christmas:
We came into possession of a very important document – Santa's naughty list. You were on it! Merry Christmas!
Christmas holiday is a weird occasion. You basically sit by the dead tree and consume candy from your socks. Have fun, weirdo!
Please note: this year's Christmas was cancelled. Apparently, someone told Santa you were good this year. He died laughing…
He sees you when you're drinking,
He sees your breakfast plate,
He knows if you've been good or bad –
You share too much on Instagram.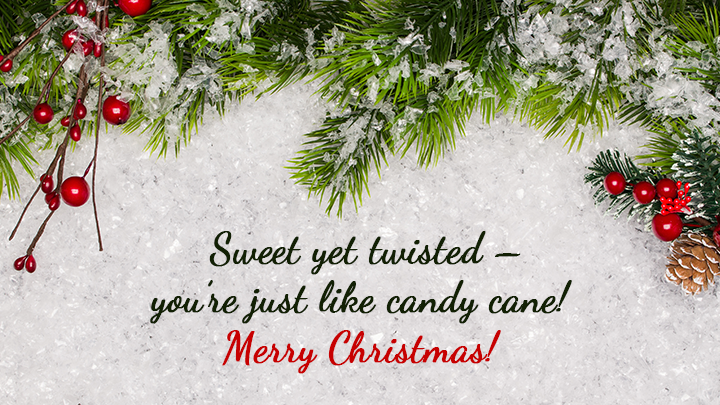 Dear Santa, this year we ask you for a fat bank account and slim bodies – please don't mix them up, like you did last Christmas!
This year there is a real struggle to choose between electronic Christmas cards or their paper counterparts. In any case, the main task this holiday season is to say the words of love and do it with affection. No matter if you're coming from a business perspective or looking to congratulate your relatives and send paper cards online, follow your heart. Christmas is a magical season so be spontaneous and personalize your gift. You can create some interactive ecards and send them to your mailing list but make sure to put some thought into it! Just add a personalized greeting for every recipient and make sure to sign your card so they know it's from you. And if you go for paper cards this year, check out some green greeting cards or recycled paper Christmas cards – they are great and environmentally friendly.
Some printed Christmas cards for you (you can download and print them out if you wish or just use an example):