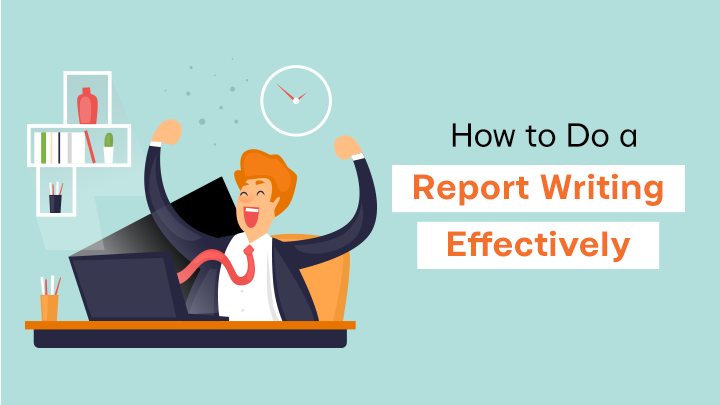 Why and how to write a report for a company: Introduction
Report writing is essential for the development of every business as the assessment of certain issues, financial operations and circumstances should be done in a particular report writing format to be effective. Typically, the report writing examples refer to the cases, in which the company senior executive sends a request; and it is important to give an efficient response. The latter generally takes the report format attached to a memo.
For instance, the issue is related to inappropriate wastage in one of the departments. So, the manager asks this department to provide their explanations, and they submit a special document with the problems and solutions highlighted as they know how to report. The company may also use predictive documents to evaluate the current situation and give some recommendations as for the best positioning in the future within an excellent report.
Report and report writing: What are they? How to do a report writing effectively
When it goes about academic writing, the question "What is a report?" raises some controversies. Sometimes the term essay can overlap with the term report; so, the question of how to write a report may cause some difficulties. The most essential thing is that a report essay format is generally needed for workplaces, business, scientific subjects, and technical disciplines. Unlike an essay that focuses on reasoning and arguments, the report is based on facts.
So, all guidelines on how to report define this short document as the one composed for a specific audience and purpose. Learning how to create a great business report, one should note that it is a well-structured factual paper that covers an analysis of the problem or situation with the added recommendations.
The tips on reporting always point out that the requirements in terms of content and form of reports may vary in different business organizations and educational courses. At universities, the tutor tells how to produce a formal business report and gives particular instructions.
Format of a good report: Structure and types
If you want to know how to write a company report, you have to learn everything about the main sections to be included.
– Title section
The format of a good report provides for mentioning of the author's name and the date when the report was prepared.
– Section of the summary
It is a general overview that summarizes the key points, recommendations, and conclusions briefly. The article report writing format implies covering the main details in this part as people mostly read it carefully to skim the report afterward. Report writing tips typically suggest writing this section when the report is ready so that all the details have been included.
– Introduction
Placed on the first page, it gives the explanation of the problem, presents the arrangement of the details, defines the key terms, and shows why the report is prepared.
– Body
Learning how to do a report writing effectively, one should be able to arrange the material in sections with the corresponding subtitles to make the report understandable. The most essential information should go first.
– Conclusion
Typically, people read two sections: summary and conclusion; so make it as clear as possible.
– Recommendations
Business report writing implies offering solutions and giving recommendations in the order of priority.
– Additional information or appendices
Those are the technical details for experts.
What is the format to write a report? How to write report writing in English? What is report format that will look professional? How to start a report if it should be submitted to the authorities? What to put in a report and what can be omitted? Those are the questions typically asked by those who have not gained enough experience in creating a business report or any other kind of reports.
First of all, it is important to determine which type of reports is needed for a particular purpose. Organizations and educational institutions may have different approaches to the rules on how to write a business report; however, generally, the main report writing types are the following:
– Formal report writing
Writing a formal business report, one should be ready that it is time-consuming and quite complicated. The process requires using good report writing techniques, providing explanations, doing immense research, mentioning all the references, and adding lists. Everything is done to make the key point clear for the target readers. Best report writing help is expected in case of those reports as they are mostly used for large companies.
– Informal report writing
Tips on writing a report of informal type refer to it as a less time-consuming and easier document with fewer components and not so much research. A secondary school report writing format, for example, includes such basic sections as an introduction, reference and discussion, and recommendation. Organizations may include more sections if needed.
Tips for writing excellent business reports and informal reports refer to such types of reports as:
– feasibility reports
– credit reports
– sales activity reports
– personal evaluation reports
– literary reports
– financial reports
– progress reports, and others.
How to write a company report: procedure and guidelines
To have an effective report, always follow the right procedure. You can either order a report from the experts or have a look at seven steps to excellent report writing to be an expert yourself.
1. Choose the main objective – stay focused and engage the readers with clarity.
2. Analyze your audience – change the data, vocabulary, and supporting materials depending on the target readers. If you understand your audience, you can add some personal touch and suit the preferences of particular people.
3. Work on the report format – learn how to start off a report and how to finalize it effectively. Study the tips for successful report writing to get effective design templates, if needed.
4. Collect the data – add the facts, figures, and data to make the argument stronger and add credibility.
5. Structure the report – use the lab write up format or read the tips of the memo and report writing to know how to arrange the elements of the report.
6. Ensure good readability – make navigation easy by adding visuals, graphics, proper formatting with subtitles, and bullet points. Shorter paragraphs are better than long bulks of text.
7. Do the editing – after you have prepared your draft report, revise the content twice. Keep it aside for a day or two and then work it over again to gain perfection.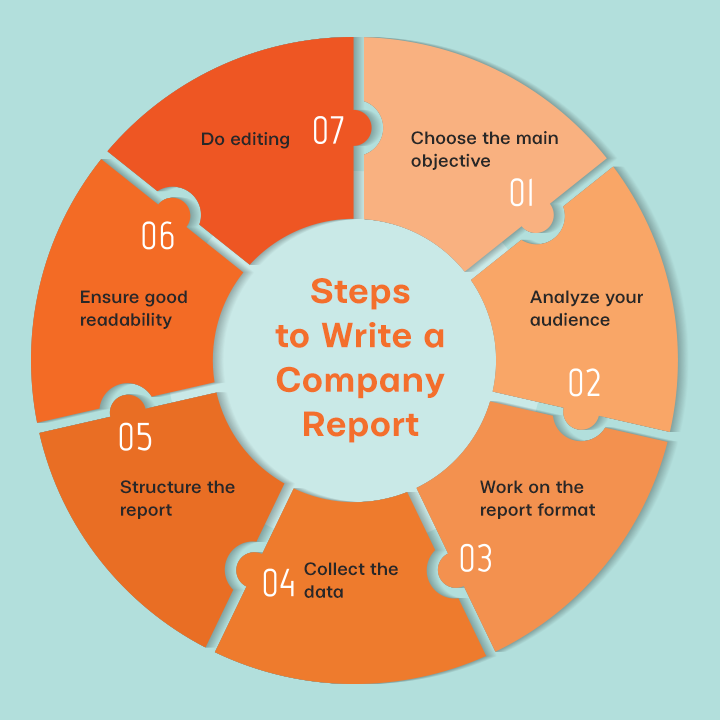 Some examples of report writing. Report writing sample
Websites give some examples of report writing, which demonstrate the steps in writing a technical report planning and show you how to make a good report writing in practice. There are numerous business report writing tips which can also help you learn how to write a great report.
Here is a report writing example in the sample of structure template: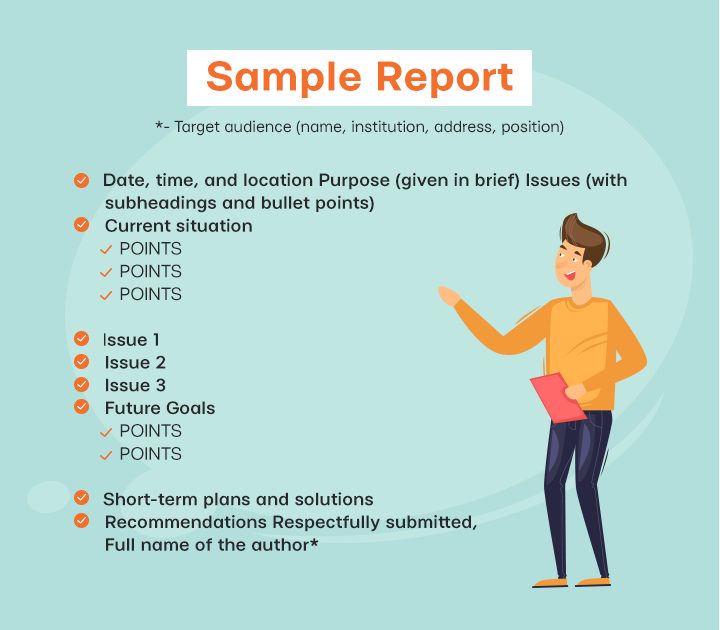 How to create a great business report: Conclusion
Every report writing sample demonstrates that a good document is easy to follow and well-organized. Report writing hacks hint at the structured format as the key component of keeping writing on track. Reliable information, the credibility of details, and excellent format will always make a lasting impression. Either you buy report writing online or do it yourself, always have a finishing touch to make sure that all the standards of report writing are met.