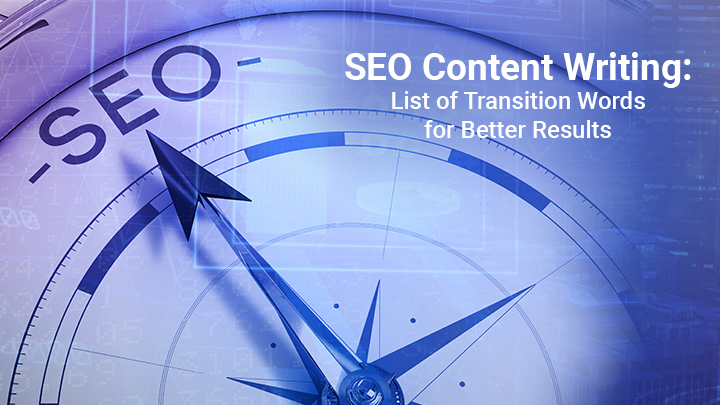 Transition Words Definition: Why Text Needs Connecting Words
Some authors just have that magic touch…
You start reading their piece and you suddenly reach the end, thirsty for more.
This happens with content that is read so smoothly that the reader gets lost between the words.
What's the secret?
Transition words.
Great writers are not born great; they work on their writing skills unstoppably, and they are extremely meticulous about making their content flow seamlessly in the readers' eyes. Smooth transitions between paragraphs and sentences remove any friction and make the text flow naturally.
Transition words are very helpful in making content rich and smooth, and here is why.
How to Write Transitions In SEO: The Most Useful Connection Words to Use
Why are SEO transition words so important? Because from one paragraph to another, the writer is leading to some final point. Nobody is going to disclose all the secrets in the first paragraph. So, the task of the writer is to keep the reader reading till the end. And this is why transition words or phrases are so important in SEO writing.
There is a special name for all transition words and techniques used in SEO – it's "bucket brigade". Would you like to know where it comes from?
In the ancient times, where there was no decent transport or pipes to carry water to people's homes, individuals would stand in a line and pass the buckets of water among themselves until the water would reach the necessary destination. This parallel works perfectly for the roles that transition phrases play in SEO: connection and reliability. Otherwise, if the writer loses this connection, readers get "spilled" all over the place and lost reading the article and not making any sense out of it…
So, diving into the world of "bucket brigades", which connecting words to use to achieve top efficiency?
What Are Good Transition Words and When Should They Be Used?
There is a multitude of transitional words in writing, starting with something simple like words for also. And some of them suit a specific situation better than others. There is also a familiarity factor which makes readers feel like the text is more relevant to them. For instance, words like also are more common than the words like hence just because they are more commonly used in the daily exchange. Therefore, a text which uses a more familiar word will be more powerful and easier to digest for the reader.
A table below proposes some strong transition words which are common, powerful, and accomplish their task perfectly. The absence of these transitions in writing makes the piece harder to read and relate to.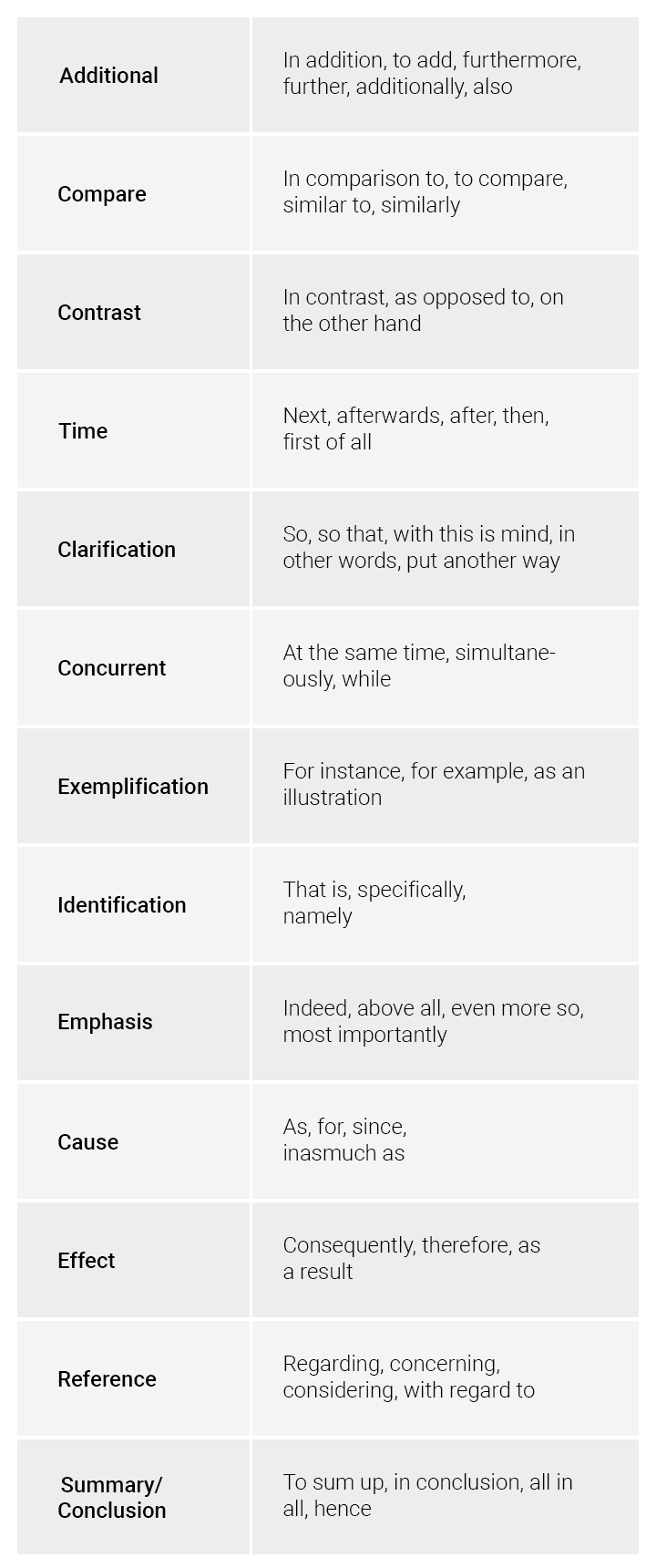 Comparing, Referring and Contrasting Transition Words: Tips on Use
The list of connecting words and transitional phrases mentioned above is far from exhaustive. However, the proposed groups/types of transitions will be powerful, beyond any doubt, in making the written article relatable and readable. Here are a few tips on using writing transitions effectively by wearing the readers' shoes. These transitional phrases examples will come in handy for any type of writing:
Tip #1: gliding through. Exemplifying, adding, comparing, and concurrent transition statements may be used by the writer to guide the reader through the written piece. If used wisely, the reader will glide through the text smoothly, just like riding a bike with no unnecessary friction.
Tip #2: change of gears. Exemplification, identification, and emphasis makes transition words so powerful as they allow the writer to change gears, just like in cycling or driving a car. Knowing how to transition paragraphs is equal to making reading similar to smooth driving on different roads and turns.
Tip #3: building connections. Transitional words that refer to something or demonstrate cause and effect build great connections. They are vital to allow transition from one topic to another. Topics like cycling and health may be interrelated but jumping from the first to the latter would be impossible without some good transition words.
Tip #4: pronouns as connectors. When writing simply (which is preferred by most readers), it is best to use pronouns as some of the connecting words. The text refers back to a certain noun by mentioning a pronoun and makes the reader remember the actual object of discussion. However, the use of transition phrases for essays is an art in itself as the writer must ensure that the pronoun refers back to the correct noun each time it's used.
Tip #5: industrial strength lubricant. Writing is like a gear; if not lubricated properly and constantly, it won't work smoothly. Transitional sentences and words as well as descriptive subheadings act as such lubricant. It's important to remember that the reader is not 100% of the time focused on the text, as it's normal for a human mind to wander off. Transitional words and phrases placed strategically (between paragraphs or in subheads) help to bring the reader's focus back to the text.
Tip #6: creative transitions. In tip #5 we have touched upon the transitions between paragraphs and subheads. This is a very important and effective technique that allows to grasp the reader's mind. For instance, placing a transition like "You would never think but this works" or "Next we'll show you how to make it work" – a transitions which could otherwise be skipped – can be very effective in increasing the time your reader spends with your text.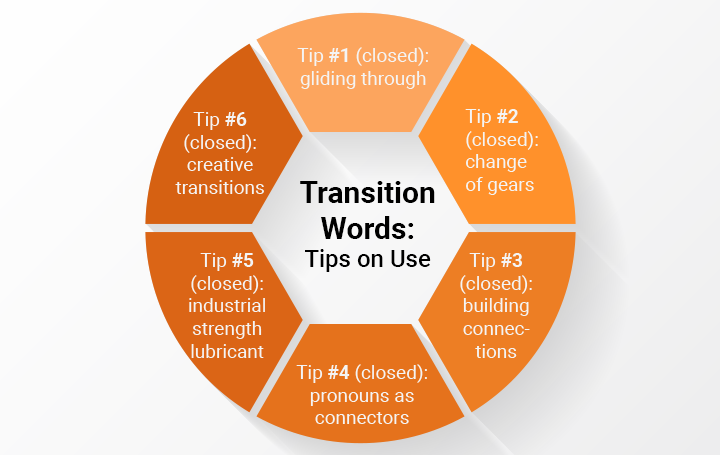 The Power of Transition Word
Many times, we underestimate the role of "bucket brigades" in SEO writing. The transition phrases list should be in sight of the writer constantly and the use of transition terms must be a natural skill. Otherwise, there is a risk of losing the reader's focus causing a failure in the message delivery.
How not to let this happen?
Easy. Keep the examples of transition words in front of you at all times no matter what kind of writing you do on a daily basis. Essay transition words make academic writing smoother while SEO transition sentence examples help digital content managers get their message through to the audience.
We at Writology make an effort to teach our writers how to write a transition sentence but we also constantly emphasize the importance of improving writing skills which is similar to giving a fishing rod, not fish, to our writers. We put extra effort into ensuring that the product delivered to the client is smooth, understandable, and easily readable. We also give equal voting rights to our affiliates whose opinions and testimonials we value deeply. Knowing how to write transitions effectively comes only with experience and that's why we constantly ask our affiliates and readers and incorporate their views into our work. Becoming an influencer is as easy as becoming a Writology affiliate.