Created: February 22, 2019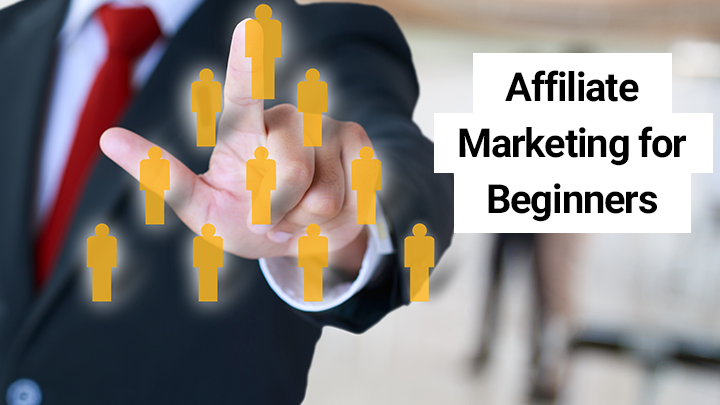 What Is Affiliate Marketing?
An affiliate marketing definition is a fancy new phrase, but what does it entail?
Basically, to define affiliate, one word is enough: attachment. Affiliating to something means attaching to its value. In such a way, affiliates are those persons who attach their values to a certain brand. At the same time, they advertise the brand and get some monetary benefits from it in return, such as commissions or free samples.
Affiliate Marketing Definition
In a broad sense, affiliate marketing stands for an activity whereby an outside brand ambassador markets a product to a wide audience. Affiliate sales are worth almost nothing in terms of investment for large corporations.
However, when it comes to small players in the market, high-quality affiliate links are hard to get, and this goes not only for monetary investment but also for time constraints. For a marketer looking for some potential affiliate marketing websites, there is a lot of due diligence to be done.
Affiliates must be reliable and have a proven record of long-term existence in the sphere. The affiliates which are unreliable are only hunting for a small commission and can be a trap for the brand. This is why affiliate networks 2019 must be built on mutual trust, and, in order to begin such a relationship, a potential affiliate must demonstrate a commitment to the brand in question.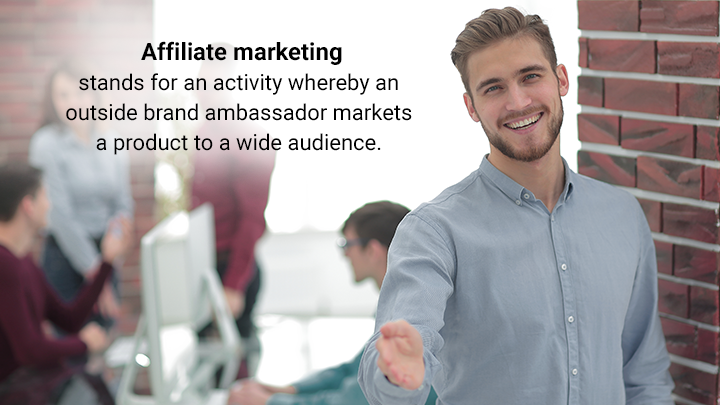 Affiliate Marketing: Websites, Tips, and Basics
Affiliate marketing is not all about money. There is also a large portion of an image built into this concept. For example, a brand ambassador who wants to become more famous and liked by the public will be targeting more popular brands. Such a person's goal in affiliate marketing will be to build a sound strategy and bring some valuable customers to the business through social media. The business in question is expected to reciprocate and reward the affiliate for the effort.
An affiliate marketing model is usually a part of the larger marketing strategy scope for any business. It is, for the most part, an effortless approach but it capitalizes on the human side of the business, as well as a positive concept of word of mouth. The best affiliate programs always reward their ambassadors and establish lengthy relationships with them.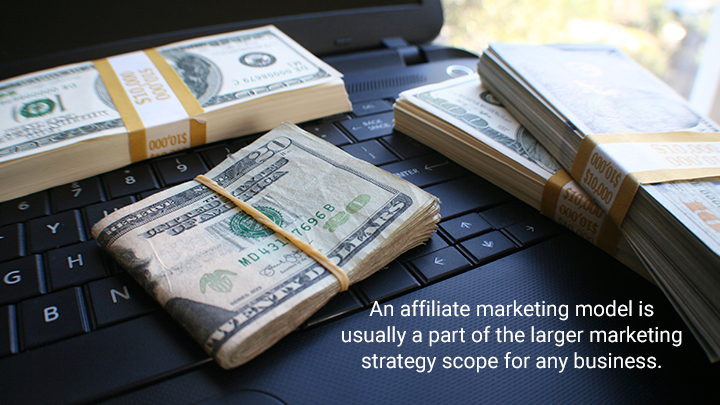 How to Start Affiliate Marketing and Make Some Dough from It
Making some money with an affiliate business is not hard but does require some commitment and patience. Here are some tips for those wondering how to start affiliate marketing:
Finding an affiliate network is key. This network will offer an abundance of businesses to attach an affiliate to. Except for the makeup and beauty brands, which are most common nowadays, there are many more intellectual options to affiliate to, such as e-books, healthy cooking sites, yoga classes online, etc.
Owning an affiliate product or service is not mandatory but key. Affiliate marketing companies do not appreciate when their brand is not described in honest terms. Neither do the potential customers. Most often, product-oriented firms will offer samples to their ambassadors. However, it's also common for service companies to have some affiliates if the service offered is really valuable and has great demand in the contemporary market.
Digital affiliate marketing through social media is important. However, video content is taking its toll on all social media so do not neglect shooting a real-life video of the hurdles and/or conveniences of using an affiliate product.
Affiliate income comes from the number of views and/or purchases generated by the affiliate's digital campaigns. The use of conveniently short links and descriptive media content by affiliates will be key in the years to come. Modern buyers value their time and do not wish to be fooled into buying something if it is not going to bring real value to them.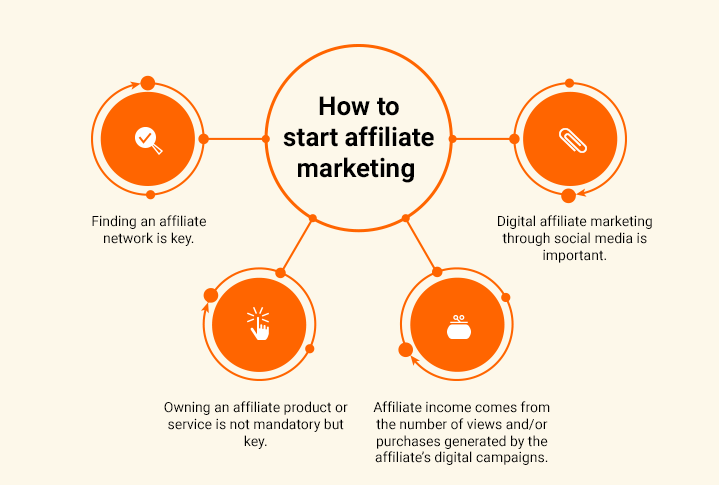 An Affiliate Marketing Glossary
Affiliate marketing for beginners dictates defining and understanding some basic terms. In order to become an affiliate marketing guru, make sure to get familiar with the following definitions:
To affiliate – to connect;
An affiliate – a person that is officially connected to a large entity/brand;
Affiliation – the announcements shared by the individuals who are already connected to a certain brand;
What is affiliate marketing – a marketing strategy that allows a brand to find a perfect spokesperson among the general public;
Affiliate marketing salary – a commission paid to an affiliate for leading the potential buyer to the brand's website or store;
Disclosure – a requirement for an affiliate to inform the audience that he/she is associated with a certain brand and gets paid for promoting it;
Indie program – in essence, the same as affiliate jobs from home. Basically, indie affiliate programs are used by independent affiliates who do not belong to any networks. These people just choose the brands they like and promote them without any pre-agreed payments from the brand's side in advance;
Loyalty affiliates – people who associate themselves with a brand for a long term and commit not to promote any competitors;
Mobile affiliates – brand ambassadors who mostly work on mobile. Top paying affiliate programs are always interested in mobile traffic as consumers are becoming more conscious of their time and use mobile devices with exponentially increasing frequency;
PPC affiliates – brand ambassadors who set up Pay Per Click campaigns on their own website but have their visitor's go the associated brand's site instead of their own. Such affiliate links work well, and coupled with disclaimers, they inform the visitors about the advertised product;
Super affiliates – ambassadors who learn affiliate marketing to perfection and generate up to 90% of the affiliate program's return on investment;
Unique clicks – criteria based on which the affiliate's value and relative income are calculated. Affiliate marketing programs for beginners will always explain that unique clicks are more valuable as opposed to the same person clicking a banner multiple times, as this is not what really generates value for the brand;
White label – a rebranded product sold under some other brand's name. When learning how to affiliate marketing, the affiliate must conduct good research and know whether the product is unique or a white label. This will help position it and target the respective audience as well as show credibility;
Sweepstake – an interesting word that actually determines affiliate marketing success for many participants. Publishers gain the ability to drive traffic with the help of exciting sweepstake deals that allow ambassadors to win popular prizes like mobile phones.
The Best Affiliate Programs Start with Loyalty
Affiliate marketing websites can be found in the most unexpected places. As a matter of fact, Writology is one of the brands that is constantly looking for ambassadors. As a writer or customer, Writology is in essence on the affiliate programs that pay daily. On the writer's side, Writology guarantees timely and adequate payment for the work completed. As affiliate marketing step by step, Writology makes sure all the processes happen in the correct order: i.e. order is placed with the writer only after the payment from the customer is received.
On the customer side, Writology is a reliable affiliate marketing programs for beginners as it's a seamless version of affiliate marketing. Those looking how to become an affiliate marketer do not need to invest any special time or effort into the cooperation with Writology as a brand. Moreover, a special affiliate network provides such benefits as insider discounts and access to completed orders inside of the affiliate network in question.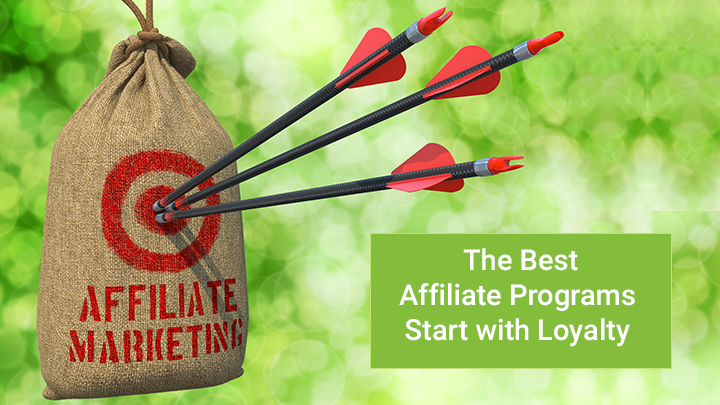 So, how to Become an Affiliate Marketer Without Investing Much Time?
Many people nowadays are wondering how to start affiliate marketing in order to establish valuable networks as well as earn some additional income. There is a number of benefits that any affiliate marketing course, as well as the beginning experience, can offer, including:
The payment for the affiliate per sale, click, lead, or call;
The benefit for the merchant is effortless sales and a whole network of potential new customers (while the downside is an inability to control the expansion of this network);
The best affiliate programs also offer an informative edge for the consumer as they educate through the affiliates about the advantages and potential downsides pertaining to the brand in question;
Everyone searching how to become an affiliate marketer will inevitably become part of an affiliate network. As a matter of fact, with each new member, this very network will benefit by getting new opportunities and being noticed by the interested brands.
All things considered, the very question of how to affiliate marketing includes a plethora of definitions. Depending on the goals of both participants – an affiliate and the brand – the resultant benefit can be monetary, intellectual, social, etc. For instance, we at Writology take pride in reaping intellectual benefits as we strive to make the world a better place by producing high-quality academic and digital content. And everyone can contribute to this goal by affiliating to Writology in one way or another – there is no required level of commitment.