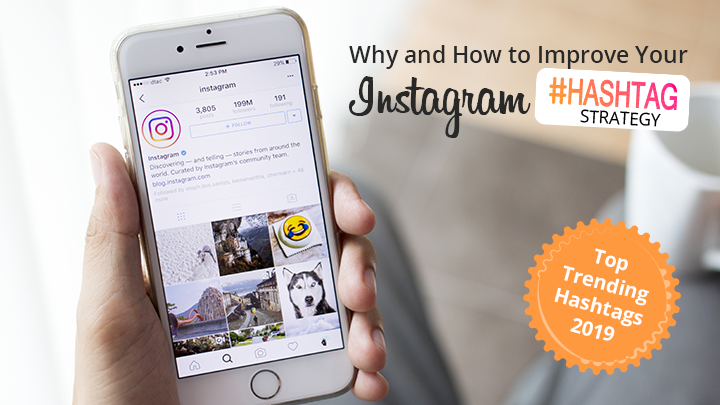 Marketing on Instagram – The place of Instagram in Your Sales Strategy
According to the latest Instagram business statistics, a post with at least one hashtag has 13% more engagement. For Instagram marketing, popular Instagram hashtags are really powerful. Knowing how to go viral on Instagram means using these tags well to achieve the following goals:
Growth in visitor engagement;
Better coverage of target audience;
Developing a recognizable brand;
Attaching positive association to the brand.
However, whilst marketing on Instagram may seem easy by just researching and using hashtags correctly from the first glance, it's not all that simple. Trending hashtags today are meaningful hashtags. While assuming the power of using them, also account for a great responsibility.
What's trending on Instagram today and will continue to be so is truth and integrity. Future Instagram marketing trends will keep on including complicated topics like corporate responsibility, fight with cancer, environmental care, global warming, recycling, and other pressing issues. We want to give you some tips on how to use Top Trending hashtags with the benefit for your business and, at the same time, make this world a better place for your followers.
Instagram Hashtag Strategy – What Makes Them Trendy?
If you are a business owner, you must have already wondered why popular Instagram hashtags become so trendy? What makes them special? What hashtags are trending right now and why? Actually, Instagram hashtags have been designed with a simple goal: to sort all the content and make it easy to navigate. Just imagine: there are almost 100 million pictures posted on Instagram daily, so how can a user find the right one? This is why any Instagram marketing strategy revolves around hashtagging to become noticed by the right audience.
However, the Instagram hashtag strategy is not as simple as finding a broadly related hashtag. To become successful among the followers, the post must have unique and specific tags. We believe that the Instagram future will all be in details: for instance, according to HubSpot, target users prefer #digitalmarketing over just a broad topic of #marketing. You don't just want to have a lot of followers – you want to have the majority of the right followers.
On the same note, trending hashtags on Instagram become so popular not just because businesses use them. They become so popular because the users are searching for them. We advise you to look at Instagram hashtags as a way for your potential customer to find you, rather than a way for you as a business to reach them. Selling on Instagram is no longer about psychological tricks; it's all about being a blunt, honest, and responsible business. Also, the best hashtags are the ones which, like breadcrumbs, will help your user find you and engage with your business – you don't have to convince anyone, you just have to find the right means of outreach (and Instagram hashtags for followers will do it for you).
The following most popular Instagram hashtags will ensure that as many people as possible will see your post. However, this does not mean that engagement will rise right away – the growth in views will undoubtedly be obscured by the competition. However, with their help, you may design your own engagement hashtags – the tags that will actually bring more engagement. These hashtag examples are designed to help you with the flow of creative ideas for your brand specifically.
Best hashtags for business Instagram 2018: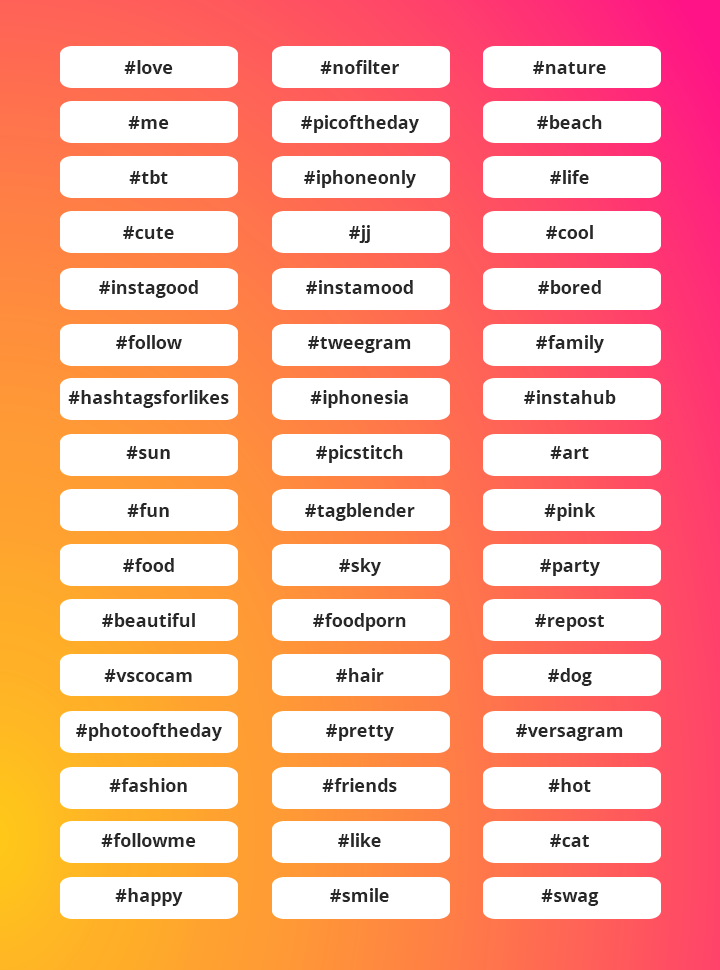 You may have noticed that the popular hashtags are all about positive feelings – #love, #instagood, #cute, #sun, and #fun are some examples. However, you may also see that these tags are very broad. We suggest to use Instagram trending tags but to expand them.
Remember the example of #digitalmarketing we used at the beginning? In the same way, the Instagram hashtag search may be adjusted to your brand, for example, #loveunconditionally, #cuteandsimple, or #funoutdoorsport – depending on your offering, you may enrich the Instagram trending tags and in such a way reach your target followers with more ease. What's the payback? Your followers will be more engaged and loyal – because they already know what your brand is specifically about.
Instagram Statistics 2019 and 7 Insider Tips for the Upcoming Year
Another point to be mentioned is that hashtag trends change daily – what was trendy yesterday may be no longer so popular today in the morning. However, there are trending tags which have been quite successful over the past year. So, there are hashtags that get many likes or expected to do so next year – let's make some prognosis!
As a bonus, we also offer you some insider tips on building and maintaining your 2019 marketing strategies related to Instagram.
Organization is key. A simple Excel sheet or an Instagram hashtags generator will help you keep track of your hashtags and the frequency of their use. Make sure to check which hashtags correlate with popular posts and capitalize on this knowledge.
How many is too many? 91% of top brands use seven or fewer hashtags per post. However, one of the best Instagram marketing tips we can give you is testing it. Make a trial run and use somewhere from 5 to 30 hashtags in your posts for a few months. When you start to notice patterns, you'll figure out your magic number.
The narrower, the better. When designing your Future Instagram strategy, remember to narrow down your tagging for two reasons. First, it's competing in a smaller pool. Second, it's making your followers happier as they are more likely to find what they are looking for.
Research competition for ideas. Check stories behind other brands; Instagram statistics 2019 is expected to shift even more towards real-time video content.
Use app suggestions – related tags. One of the best Instagram tips 2019: use your resources and listen to your followers by using related hashtags suggested by Instagram.
Make sure to follow your hashtags. This goes without saying: stay on top of things and follow top hashtags in your industry. You can use free hashtag tracking tools for help on this.
Make your own unique hashtag. Any Instagram infographic will tell you to create a brand hashtag to be memorable. You can go for anything that is clever and descriptive of your brand, such as #sweatlife over #sport.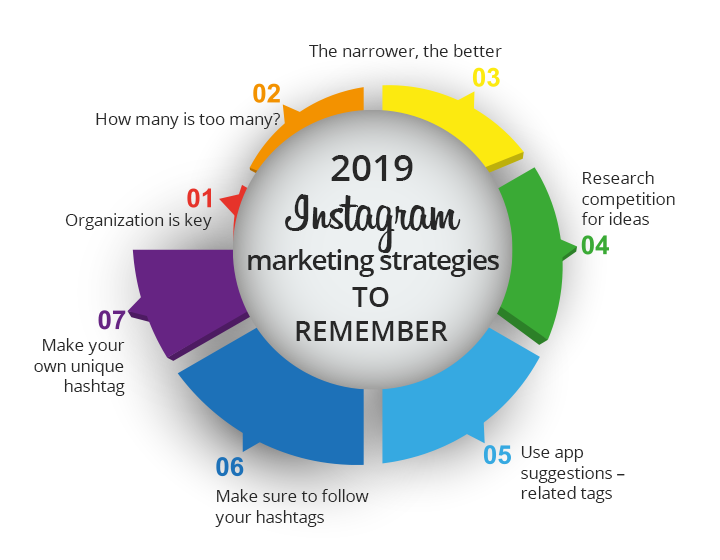 Applying the knowledge we've learned above, we can be sure that the following popular hashtags today will remain trendy in 2019, with slight alterations:
#beautyvlog (preferred over #beauty due to trending video content and narrow hashtagging);
#followback and #tagsforlikes (such hashtags expected to remain popular due to the reciprocity between brands and influencers);
#love (to remain trendy, but we advise to elaborate: #loveanimals, #lovenature, etc.);
#photooftheday (to be followed by more specific hashtags, of course);
#style (as opposed to #instastyle which is popular in 2018, we suggest to go for #styleadvise, #styletips, or #styledress to be more precise);
#smile (also popular in 2018, to be narrowed: #smileforstyle, #smilenature, etc.);
#looks (can be narrowed to #sportlooks, #trendylooks, #partylooks, etc.);
#nofilter (we can expect #nofilter to become even more trendy due to the shift towards natural looks, DIY skincare, and home workouts);
#travel (travelling is only booming, can be narrowed: #travelaroundtheworld, #travelvlog, #travelonbudget);
#yummy (with #food as popular on Instagram as never before, go for model hashtags to get noticed and add some creativity, such as #yummy or #tastycakes).
Your Instagram Marketing Strategy – Putting It All Together
Having an Instagram business account for your brand is good but knowing how to use it properly is even better. Instagram ads don't look like ads anymore – they are simply natural content, which is extremely useful for businesses. Use hashtag tools and the best free hashtag trackers, listen to Instagram's advice of related hashtags, and remember our tips – then your branding on Instagram won't go unnoticed. Users are already engaged, and finding them is simple – just put yourself in their shoes, be funny, be responsible, and give them what they want – exact hashtags. Most importantly, listen to their pains and try to resolve them in order to strengthen your Instagram brand and build a community around it. For inspiration, you may look at @harleydavidson – a brand with a long-standing image, campaign hashtag, 3 million followers, creative Instagram marketing, and a dedicated community.