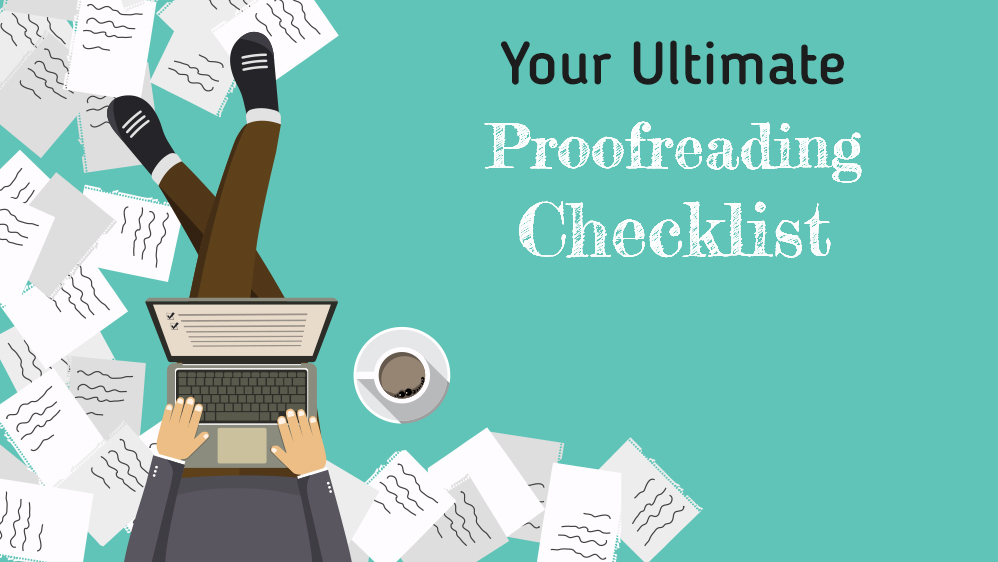 What would you say if someone asked you to define proofread? Many believe that proofreading is yet another word for editing, proofing, or copyediting. However, despite being close in meaning, those words can hardly be considered synonyms.
According to the definition, proofreading means going through the final draft of a text to clean it up and ensure quality, harmony, logic, and order. It is different from other quality check measures as it is the final step to producing a presentable document. The essence of proofreading is to ensure accuracy, readability, appropriateness, veracity, consistency, and sharpness of presentation. To master this art, one needs to know not only proofreading basics, but also various proofreading hacks and expert tips. Read on to learn how to proofread professionally and grab your free proofreading checklist template that you can use on a daily basis.
Proofreading checklist
Which issues should you correct during the proofreading stage of the writing process? How to proofread your own writing? These questions bother both experienced proofreaders and newcomers in the field. Here at Writology, we have come up with a complete proofreading guide that will give you a list of things to check in the process and teach how to proofread better.
Title appropriateness: The title must be clear, concise, accurate, and ethically considerate. It must express the tone, intentions of a writer, and get the message across to the intended audience. In addition, the title must not mislead readers or make deceitful proclamations. Instead, it should be creative, captivating, and strategic enough to evoke interest in the reader, since the title is the most important selling point of any text. Here, the best way to proofread is to review the piece without falling into the trap of sensationalism and hollow bombastic assertions.
Style: The proofreading process requires a thorough understanding of various writing styles and approaches. It includes in-house conventionalized formatting frameworks that define the unique manner of presentation in specific cases. The main elements of style are structure, page numbering, punctuation, format, and diction. Each organization has its own message packaging style which a proofreader should be aware of.
Depending on the core purpose, audience, and desired outcome of the communication, a proofreader should be able to decide on the right choice of words for maximum impact. It is usually the style that dictates whether you should use a country-specific jargon, spelling, or word structure. Finally, formatting is important as it tells how content and ideas should be organized. Ensure that ideas flow into each other naturally and arrangement is logical (with well-placed headers and paragraphing). The structure also influences how pictures, supporting elements, and illustrations are positioned for best aesthetic and readability value.
Tone: The tone of the text is not only a great determinant of the impact of the message but also its relevance. Thus, a proofreader must ensure that the tone corresponds with the target audience and the intended purpose of the communication (whether to persuade, influence, inform, reprimand, instruct, encourage, order, educate, motivate, or criticize). The proofreader's task is to adapt the tone to make it suit a specific style (whether APA, MLA, Chicago, etc).
Grammar: Proofreaders should pay a very special attention to grammar. Excellent grammar signifies the credibility, maturity, professionalism, and seriousness of a text. Indeed, grammatical errors are a major cause for concern and probably the biggest reason why the world needs proofreading. This is because unlike other potential mistakes in any given text, grammatical errors are perhaps the most difficult to completely get rid of. Even the most skilled proofreaders are bound to experience occasional oversights in grammar. Thus, extreme care is indispensable for grammatical harmony.
Attribution: This aspect of proofreading is one that comes with inherent legal and ethical consequences and must be adhered to with utmost care. Moreover, failure to properly attribute and acknowledge sources taints the reputation, credibility, and competence of a writer. A proofreader must pay particular attention to all copyright and fair use regulations to avoid the shameful stain of plagiarism and other intricate complications. Ensure that all data, quotes, statistics, illustrations, and photos are properly attributed to their original sources. Also make sure that you have the express permission to use original pieces when it comes to videos, photos, and other vivid illustrations.
Spelling: Spelling mistakes often cause embarrassment that can undermine an otherwise perfect piece. Surprisingly, research shows that spelling mistakes are by far the most common errors encountered in proofreading. Unfortunately, it is also the single most inexcusable mistake that a proofreader can make. However, most spelling mistakes are easy to spot and correct using various editing tools that easily recognize typos and alert a proofreader.
Logic, harmony, and reasonability: One of the most compelling reasons why you should proofread is to evaluate the rationality of the content. All loose ends must be tied up and all arising conflicts resolved. Ensure the content is suitable to the target audience and all mathematical calculations and figures support the statements upon interpretation. Also, the content should be credible, ethical in its objectives and intentions, sensitive to diversities, as well as worthy of eventual publication. The tip here is to thoroughly fact-check the text and review supporting elements.
Steps to proofread better
Proofreading is a complex undertaking that can be executed successfully if certain tips, best practices, and procedural considerations are followed. Here are four things to look for when proofreading:
Read and understand the message of the text in its entirety in order to be able to start from a strong position of understanding. Then focus on targeting different aspects of the checklist at a time on each reading pass, making multiple readings to increase accuracy.
Proofread sentences and paragraphs separately to get the feel and understand key messages of the text. Attempt to read each paragraph backwards from the last one to the first one just to get a different angle and notice potential errors you would've missed otherwise.
The third best practice is to read the text out loud to capture minor mistakes by using the sense of hearing. You can also try reading with a partner and listening to him/her reading. Consider varying the speed of reading from slow to fast to increase efficiency.
Stick to guidelines on a checklist and use proofreading software to check for spelling mistakes and redundancies. There are many websites that provide reasonably well-researched checklists as well as downloadable proofreading checklist pdfs and docs.
These tips can provide an insight into how to proofread your own work as well as someone else's writing.
Proofreading is a very taxing and tedious occupation that requires the best professionals in the field to be executed perfectly. Therefore, it is highly advisable to consider seeking help from professionals to ensure the best quality work. Consequently, there are some highly recommendable professional proofreading services that allow users to proofread online. Depending on your budget and the deadline, you can seek proofreading help to consult, compare, and decide on what is the best way to proofread your work.