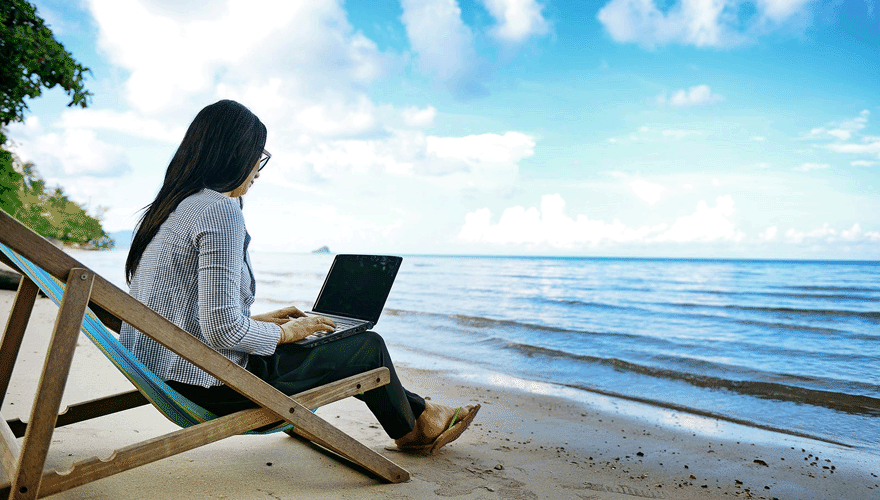 Many of us feel shivers up and down their spine when they hear a word "writing". For many students and graduates, it is associated with boring writing assignments, which they were forced to write in High Schools, Colleges, and Universities. What is more, these assignments were assessed and checked by professors, who left their heartbreaking comments and stated that we did not so well and needed to redo that essay, on which we spent hours of our precious youth time.
Yet, all of that was NOT in vain. Those vicious professors actually taught us how to write. And it would be a pity if we do not improve that skill further. What if I say that it is possible to use it to our own benefit and actually earn some good money by writing?
Yes, it is true. Lots of people earn by taking freelance writing jobs online. And those are not just some people, but actually people you know: your friends, relatives, and neighbors. According to the research, eight of ten people who regularly use Internet are writing, or have been writing, or are thinking of starting to write online (articles, blogs, etc.). So, online freelance writing is not such a rare job, is it?
Advantages of Becoming an Online Writer
Here are some of the main advantages of becoming a freelance writer:
You can work any time and day you want. Who said that working days are for work and nights are for sleep? You can schedule your lifetime in whichever way you want if you are a freelance writer.
You have an opportunity to work from home or from any other place you want. Have you seen those pictures of men and women sitting on the beach enjoying the sea and sunshine and typing something on their laptops? You can be one of them! You can also earn money without losing the comfort of your home or even when having your feet on the warm sea sand.
You can choose the field/niche in which you want to work. You can write on almost any topic you want. It's all up to you.
You can work as much and as long as you want. How many hours a day or a week an online writer must work? As many as he/she chooses to!
You can keep improving your writing skills along with increasing your level of income. There are no glass ceilings in this profession. The faster and the better you write, the more you earn.
You won't need to tolerate your boss or colleagues because you can work alone and you can be your own boss.
What Freelance Writing Options are there?
Before starting to look for writing jobs online, you have to decide what type of writing you prefer. Would you better choose a creative one with no limitations for your imagination and talent or maybe you need to know exactly what you need to write about and for whom before commencing? Depending on the answer, there are several the most common options:
Freelance blog writing. It is a very common type of earning money online. Especially if it is your own blog, then you will be able to choose what and when to write on your own. Yet, the level of your income will also depend only on you.
Custom article and content writing. Many websites offer some good money for online article and content writing. However, you will be given the topics on which to write and you will have to follow some strict rules and deadlines.
Freelance essay writing services. Most of such online writing services are focused on essay, research papers, coursework, and other types of writing assignments. Usually, online essay writers can choose which assignment and on which topic/subject they want to write, which gives some freedom of choice. However, you will need to follow deadlines and paper requirements set by customers.
Online Essay Writing is a Good Start
The above mentioned options are among the best ways for writers to earn online. If you are in doubts and do not know from what to start, it is better to try essay writing at first.
First of all, customers of such online services are also students, just like you are (or were). Considering, that you had some practice of essay writing while studying, it wouldn't be so difficult and scary. You have done all of that already at school and university, now you will need to do just the same, but you will be paid for that this time.
Secondly, essay writing companies offer writing papers of different levels – from High School to PHD. You will be able to start from simple offers and then upgrade to papers of higher levels.
What is more, you will have a wide choice of writing subjects and topics and you will have a chance to try writing different types of papers (from small essays to dissertations).
And another important point is that most of online writing services have people who edit and proofread papers of their freelance writers. So this way, you will be able to get it started under the guidance of more qualified writing professionals. You will learn on your mistakes and will refine your writing skills before embarking on a bigger writing advantage.
Still Not Sure if You Can Write Online – Why Not to Try First?
Well, now online writing does not seem so far-fetched and not-for-you kind of work, does it? If it still does, you cannot know for sure if something suits you or not, unless you try it. So, why not to actually start doing it and see how it goes? It does not require any financial investment, just your time and effort, and you will surely get more from it and then you will give it. We are talking not only about material outcomes – writing helps to train your brain, broaden your worldview, enrich your vocabulary, regain emotional balance, etc. It is really a very beneficial type of activity. It definitely won't hurt anyone for sure! Let's give it a try, shall we?