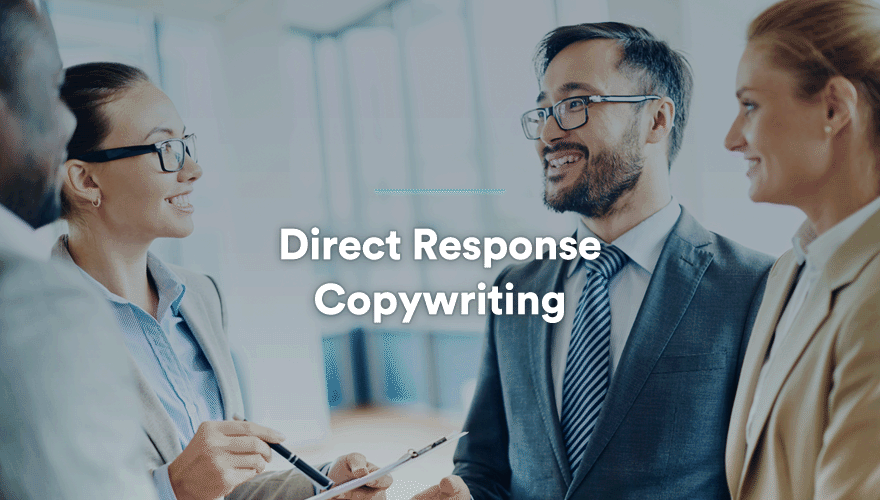 Although direct response copywriting is no rocket science, many people who have nothing to do with sales or marketing categorize this term as "a complex term I will unlikely ever face again". In essence, it means that it sounds too complicated and should just be ignored. However, that may not necessarily be true. The reason is that all companies run marketing campaigns, in one way or another. Direct response copywriting is simply one aspect of marketing. Therefore, if you ever have to work for the company that sells products or services online (the probability of such outcome is quite high, considering that most businesses do go online to reach new clients), the knowledge of direct-response marketing and copywriting will be your advantage.
What is Direct Response Marketing?
All marketing can be divided into two major categories: branding and direct response marketing. The majority of all marketing and advertising campaigns fall into the first category also known as mass marketing. It is meant to remind people about one's brand along with the products/services the company offers. We can witness this type of marketing efforts every day when we see big time companies, like Adidas, Coca Cola, Apple, etc. saturate all types of media with their advertisements on a regular basis. Obviously, successful branding requires big budgets – something that small companies can't afford. Even if they try to launch their ads, the entire thing will disappear quite quickly behind major brands and their marketing efforts. However, that is where direct-response marketing takes the stage.
This type of marketing is meant to generate an immediate response, compelling prospective customers to take needed actions, such as calling the company for more information, singing up for the newsletter or placing an order (this statement pretty much makes up direct response marketing definition). The great thing about such approach is that customer's response in this context can usually be measured and, consequently, attributed to specific ads. With direct response marketing you don't have any intermediaries between buyers and sellers (direct contact required). This type of advertising is focused on particular problems of prospective customers, aiming to offer specific solutions in order to have these problems solved. It also doesn't require massive budgets, so small businesses concentrate on this kind of marketing to reach new clients. Direct response copywriting is just a tool used in the context of the second category of marketing.
Why Direct Response Copywriting is Necessary and Where It Is Used?
Direct response copywriting assumes the use of written content that is then conveyed through media as well as print materials to generate the needed response of the target audience. A content created for marketing purpose is most commonly known as the copy. That is where a term 'copywriting' comes from. Direct response copywriting then aims at pushing so-called emotional buttons of prospective customers to lead them to specific actions. We should note that by far not all marketing efforts are aimed at leading the reader to make a purchase immediately, as many might have thought.
A direct response copywriter is a person possessing great writing skills and good thinking. He/she must be able to trigger powerful emotions in prospective customers. The effectiveness of one's work can easily be verified, as well as the effectiveness of an entire direct response copywriting campaign. The company will know whether people respond to a specific copy or they choose to ignore it. Direct response copywriting is often confused with content marketing. Unlike the former, the latter is meant to simply provide information without any leads to actions.
Direct response copywriting is used by the majority of companies that offer their services or products online. In fact, direct response marketing and its tools are extremely important for driving the growth of e-commerce businesses. Considering the fact that today most companies try to build a strong online presence in attempts to reach out to prospective clients, this type of copywriting will develop into one of the essential aspects of business management in general.
Direct Response Copywriting Tips and Skills
Emotional direct response copywriting skills include creativity and ability to carry out extensive research. While most people have no questions about creativity, they wonder why carrying out researches is an important skill to have for a direct response copywriter. The thing is that information obtained from research significantly helps in creating a well -substantiated copy. Also, a professional copywriter must learn to be brief, concise and simple.
If you want to learn direct response copywriting tips that will help you pursue a successful career in this niche, there are several things you have to know. First and foremost, you need to practice in developing good headlines. This is absolutely essential because that's what people look at before making a decision to read or ignore the article. Secondly, one should know the words that sell as well as emotional buttons most people have. Lastly, the ability to use mystery and intrigue usually helps copywriters achieve the expected result. These things should drive effective direct response copywriting and win new customers for the company.