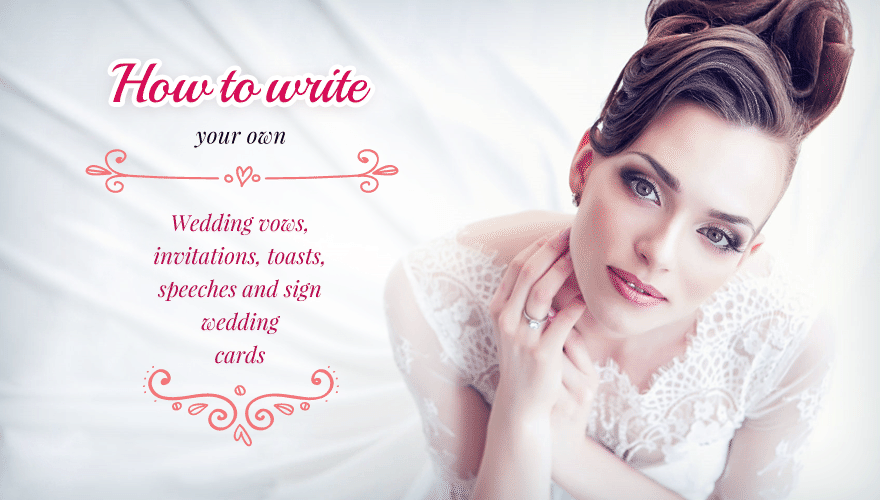 There are moments in our lives that we wish to remember for as long as we live. True love, beautiful friendship, best joke, breathtaking adventure, major accomplishment, ultimate happiness… The list can go on forever, but there's one special occasion we cherish immensely as it determines our future. A momentous wedding event celebrates the highest values of our life, such as unconditional love, personal commitment, and family unity. Successful marriage becomes a cornerstone of a happy life.
Since wedding is an extremely significant and solemn occasion, people want it to become a lifetime remembrance. We expect everything to be perfect – from a flower girl's dress to a cherry on top of the wedding cake. Being too busy planning the details, we sometimes forget about something else that matters – our words. Whether it is your wedding or the one you're attending as a guest, you should have your vow/speech/toast/card/invitation written beforehand.
What to Write in a Wedding Card
If you decide to use a card to congratulate the happy couple, you'll begin with wondering what to write on a wedding card envelope. The best way to address the newlyweds is to use whatever you call them:
"Anna and Chris" if you are friends
"Cousin Frank and Linda" if you are related
"Mr. and Mrs. Blake" if he or she is your boss
You can add "Dear" to make it more personal and send separate cards for each spouse if you want.
Now when the envelope is signed, it is time to come up with a message to write in a wedding card. Depending on the nature of your relationship with those getting married, you can go for either a sincere and festive congratulation or witty and amusing wishes. If you type "wedding wish funny" in Google search line, you'll end up looking through numerous wedding gift message samples while trying to find funny things to write in a wedding card. To spare you some time, here are a few nice examples you can use:
"I hope this day brings you much fun and joy because the next morning you'll wake up to hard and never-ending work."
"They say that without a wife a man is incomplete. I bet it's no fresh news, but did you know that after the wedding he is finished?"
"It is believed that married men statistically live longer than single ones. Well, I have to warn you – it only seems longer."
"Congrats on finding a real purpose for waking up in the morning – to be the first one to take a shower."
"From now on, you can blame your marriage for everything that goes wrong in your life – that's an excellent excuse."
Wedding quotes to write in a card
You can also use wedding quotes to write in a card that will be a great keepsake for the husband and wife. Check out these heartfelt quotes:
Corinthians 13:7: "Love never gives up, never loses faith, is always hopeful and endures through every circumstance."
Audrey Hepburn: "The best thing to hold onto in life is each other."
Mark Twain: "Grief can take care of itself, but to get the full value of joy, you must have somebody to divide it with."
The Beatles: "And in the end, the love you take is equal to the love you make."
Dr. Seuss: "You know you're in love when you can't fall asleep because reality is finally better than your dreams."
Agatha Christie: "An archeologist is the best husband a woman can have. The older she gets, the more interested he is in her."
What to write in a wedding shower card
Hopefully, these examples will inspire you and help to create a perfect wedding wish. However, if you still don't know what to write in a wedding shower card, the best option is to be sincere. You can also find tons of examples of nice greetings when you ask your search engine "what to write in wedding shower card," but try using your own words and simply say what you feel:
"I am thrilled to watch two great people joining their lives in a marriage. May it be one of the best moments of your life followed by many more."
"Congratulations on the beginning of a wonderful journey. May it be pleasant, eventful, and always shared."
"Since you are the lovely bride, it is expected Alex will be the luckiest man on Earth. May your union bring you both happiness and joy."
When your friend is the one who's getting married, it is even easier to offer a warm congratulation. Since you might still need some help, here are some examples of what to write in a wedding card for best friend:
"The moment I saw you two together, there was no doubt you were perfect for each other. May your marriage be happy and rewarding as your dating was."
"I can't believe how soon my childhood friend grew up. Look at her – she is such a beautiful bride. I wish you the wonderful forever with your man."
"Do you remember how we dreamed about Mr. Right? I am so happy you have found him. I bet he is even happier to have found you. May your union inspire us all."
"May your wedding be the beginning of an amazingly beautiful adventure full of love, understanding, and support."
Wondering what to write to your daughter on her wedding day?
You can send your love in many ways:
"I am so happy to see my beautiful daughter beside such a good man. May your life be blessed with unfading love and unending joy."
"My heart is filled with bliss as I know that you are making each other happy. I hope you never lose this ability."
"On behalf of all of us Bakers – welcome to the family! We are thrilled to have you, and wish all the greatest things life can offer to you two."
What to write in a wedding thank you card
Apart from throwing a memorable party, the newlyweds should also know how to write wedding thank you cards. It is not only a rule of wedding etiquette but also a marvelous opportunity to demonstrate your appreciation and gratefulness. You should consider what to write in a wedding thank you card only after you've received the gift or after the reception. Make sure to mention the present and thank for the attendance. If you're struggling to find the proper words, here are some of the examples you can use:
to thank for the attendance
Dear Julia and Thomas,
Thank you for being there with us on our special day. We were thrilled to share this happy moment of our life with you. It was a real delight to see you beside us on the day of our wedding.
With gratitude,
Emma and James
to thank for the gift
Dear Maggie and Alice,
Thank you for making it to our wedding! We could not imagine spending this special day without our loving family and close friends. We are deeply grateful for your wonderful [name the gift]. We are looking forward to [say what you are going to do with it].
With gratitude,
Tara and Rick
to thank for the cash
Dear Samantha and George,
Thank you for joining us on our special day! We are so happy that family and friends made our wedding the happiest time of our lives. We wanted to say thank you for your generous present and let you know that we are going to [say what you are going to do with it].
With gratitude,
Andy and Tyler
How to Write Your Own Wedding Vow
When you and your bride or groom decide to include the exchange of vows at the altar, be sure to write your own wedding vows. However, with all the fuss about the wedding you can simply have no time to sit down and compose a beautiful marriage vow. That's when you go online and start looking for inspiration. The most popular queries future spouses go for are "help me write my wedding vows" and "how to write my wedding vows." You can try those to find some fine examples or just read on and get all the answers here.
So, how to write wedding vows for him? Men can struggle more trying to compose a fine piece of writing, so the best advice for them would be to begin as soon as possible. Next, they should stick to the common procedure described below. If you are curious about how to write wedding vows for her, you should follow the same simple instructions:
Start early: Don't postpone writing your vow till the last moment. Since it might take time and effort, you should be able to work on you draft for a while.
Declare your love: Tell how you feel about your partner. You can reveal when you first realized you were in love with him/her.
Make promises: Begin with creating a list of things you are willing to do for as long as you live. You can speak not only about yourself but also about the two of you doing something together.
Avoid embarrassing: If something is too personal, it is better to leave it between you two. Make sure things you say don't embarrass your spouse as well.
Read the following examples to get inspired and begin crafting your own vow.
For him:
Gina,
Unlike the other men who are not usually excited about all the wedding stuff, I was really looking forward to marrying you today. There two reasons for that: one is cute, and the other one is selfish. First, I wanted us to become a family so that we are no longer just Tim and Gina but the Williams. Second, I couldn't wait to call you MY wife to let everyone know that the greatest woman on Earth chose me as her husband. I love you with all of my heart and promise to take care of you and our family for the rest of our lives.
For her:
Adam,
The moment I first saw you, I knew you were the one with whom I wanted to grow old. You are the most caring and kind person I have ever met. I love you so much, and I am thankful to God that he led us to each other. I can't wait to become your wife and spend the forever with you as one family. I promise to always love and respect you, be supportive and understanding. I will do everything I can to make you happy.
How to Write a Wedding Invitation
Inviting people to your wedding is another important task you should do, but what to write on a wedding invitation? You should include six things in your invite:
Your names and the names of your parents or those who are hosting the reception
Exact time and venue address of both the wedding ceremony and reception
Response deadline and address to reply to
Dress code options if there is a theme
Children presence: whether it is welcomed or not
Other related details your guests should know
You should also check out the following samples to be sure how to write wedding invitations:
Casual/informal
Mr. and Mrs. Jacob Lindeman and Mr. and Mrs. Oliver Sternson
request the pleasure of your company at the marriage of their children Maria Elizabeth and Ryan Oliver
July 22, 2017Room
[Address of the venue]
[Exact time]
The favor of a reply is requested by the thirtieth of May
Traditional
Mr & Mrs Roland Johnson
cordially invite you to attend the wedding ceremony of their son Jeremy Scott Johnson to Susan Dolores Green
Sunday the 14th of September 2017
Ceremony to commence at 2pm
[Church name and address]
Followed by a formal celebration at 6pm
[Name and address of the reception venue]
How to Write a Wedding Toast
Now we get to the interesting part. Everybody loves a good toast, especially the one that combines serious and funny stuff. It may sound easy, but in reality writing a good toast is a challenging task. So, you'll be trying to figure out how to write a wedding toast for your sister or cousin. Don't worry, we got your back. Follow these simple guidelines to put together an excellent toast:
Begin by introducing yourself and explaining how you know the couple
Tell a story you share with either bride or groom, or both of them
Congratulate the couple and wish them well
Invite the guests to drink
In case you can't find anything worthy for an inquiry like "how to write a wedding speech best man," here is a fine example for you to use as template:
Good evening to everybody. My name is… I am honored to be the best man of my good friend [Groom's name]. We have known each other since college, and can't imagine doing the best man's job for anybody else. Since you expect me to share some nice story about the groom, I'm obliged to do that. So, I will tell you a story of true love… My dear friends, may your life be full of joyous moments spent together. Please, join me in drinking to the beautiful couple and their eternal happiness.
How to Write a Wedding Speech
Another issue you might need to deal with is discover how to write a good wedding speech. Even though you might think it'll be enough just to get through it, your wedding speech is as important and anticipated as a perfect first dance. So buckle up and see how to write a speech for a wedding from these examples:
Do you believe in love? No answer is needed when you look at the bride and groom. Love is a solid foundation for happy marriage. May you never find cracks in your foundation but make it stronger every time a trouble comes. Cheers to the newlyweds!
Everybody likes fairytales, but not everyone gets the moral. Marriage is beautiful, but it is built on hard work and true feelings. I hope you become workaholics who love their job and succeed in it. Please, raise your glasses to the bright future of John and Mary!
What to write on a wedding cake
And for dessert, a few examples that can help you to decide what to write on a wedding cake:
Best Wishes For Eternal Love and Happiness
To The Beginning Of A Wonderful Adventure
[Groom's name] and [Bride's name] Happily Ever After
Two Hearts Beat As One
Love Today and Always
Mr and Mrs [Last name]
Love is Sweet
Tale As Old As Time