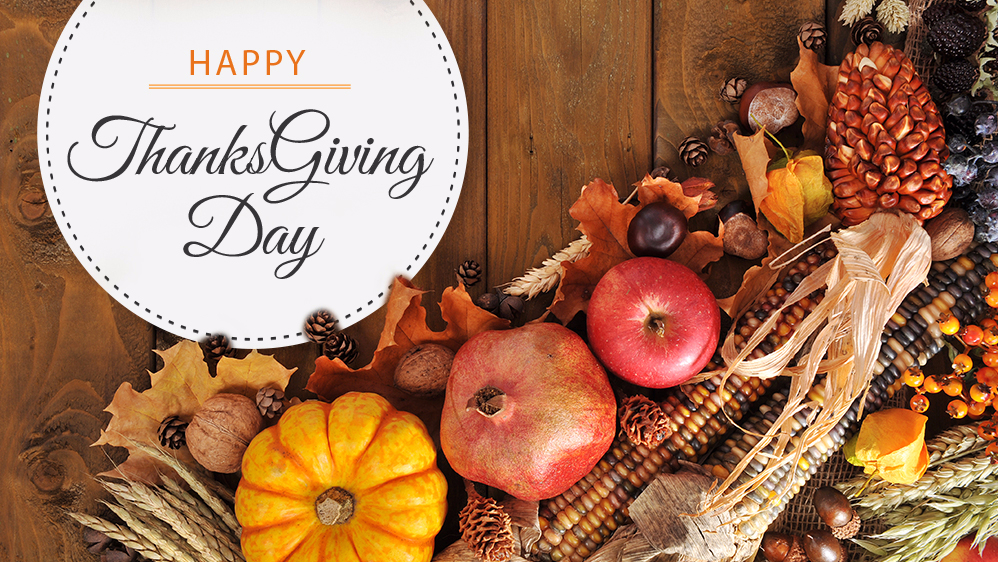 Thanksgiving is one of the major holidays in the USA and Canada. The first Thanksgiving (as documented) happened around 1621, but it wasn't such a big celebration than as it is now. Thanksgiving started to look more or less like it looks today right after the Revolutionary War. But when did Thanksgiving become a national holiday? It didn't happen until 1863 when Abraham Lincoln proclaimed Thanksgiving an official holiday. Some people argue whether the official history is true and there are a few theories about the real history of Thanksgiving. But the majority chooses to celebrate traditions and appreciate people around them over checking and revising history.
Thanksgiving traditions include plenty of food traditions (turkey, relaxed and easy breakfast), taking time to appreciate your life, family reunions. Some older traditions include writing all of your thanks down and taking time to remember all of those who are already gone. Some people also let the kids serve desserts for them and say those beautiful words out loud.
So, there are many good reasons to love this wonderful holiday! And don't forget to send everyone nice Thanksgiving messages and greetings that will make their day!
Thanksgiving Quotes and Sayings
Quotes about Thanksgiving are important as through humor and wisdom, they make others feel important. Sharing Thanksgiving quotes with others may be a good idea during this holiday season. The Thanksgiving quotes offered below may work both for business and personal greetings.
Thanksgiving quotes
A person who quotes Thanksgiving words is a grateful individual; these Thanksgiving blessings will be heard by everyone. Cheer up your beloved ones or colleagues, with these Thanksgiving sayings to keep up with the holiday spirit:
Don't wish for more than you have, be thankful for what you already got. This way, you will end up getting even more;
Thanksgiving is not about sharing it with everyone. Feeling grateful and expressing it to one person is enough;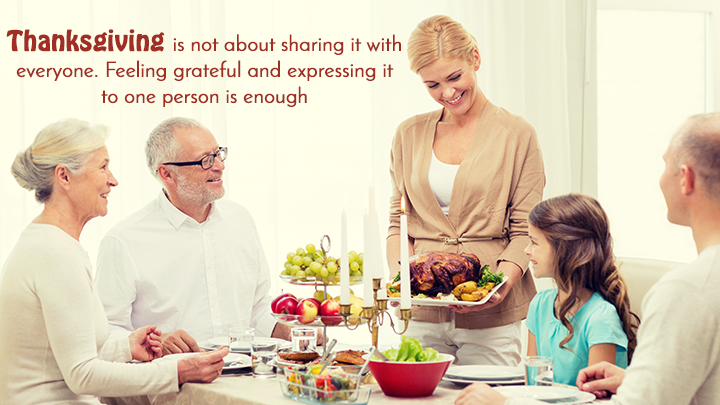 Grace is not a little prayer before dinner; it's lifestyle;
Be thankful not only for what you have but also for what is about to come;
Silence is not the language of gratitude.
Thanksgiving sayings
Thanksgiving blessings quotes are also often put in words in the form of Thanksgiving sayings. These Thanksgiving sayings for cards may be written down or simply used as spoken inspirational phrases, to cheer up friends and relatives:
Count your blessings, and they will multiply;
You won't become poor by sharing;
By being thankful for what you have, you will be happy;
Saying "thank you" is more powerful than any lengthy prayer;
Feeling thankful without saying it is like preparing a gift and not giving it.
Happy Thanksgiving quotes are a powerful way to express gratitude. Thanksgiving blessings are earned through actions, and such quotation on Thanksgiving entails powerful words which transcend the holiday spirit. Thanksgiving blessings quotes have been gathered throughout many years from famous writers, poets, and artists. These Thanksgiving quotes will help create the true holiday spirit this year and share it from one heart to another.
Thanksgiving Jokes
Thanksgiving is a serious occasion; but who said it should be celebrated without some funny Thanksgiving phrases? Thanksgiving jokes are a good way to express gratitude and remain humorous. There are many Thanksgiving jokes to choose from. There are Thanksgiving jokes for kids who love this holiday because of food and presents. There are Thanksgiving puns suitable for congratulating colleagues at work. And for sure there is that one Thanksgiving joke, which will suit a helpful family member.
To begin with, here are a few Thanksgiving jokes for kids:
– Do you know why the turkey crossed the highway two times?
– To show that it's not a chicken!
– Do you know which one key is not suitable for opening any doors?
– A turKEY.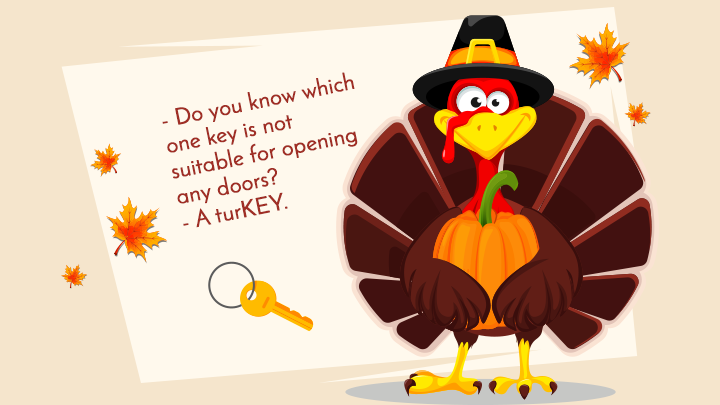 – Why is the turkey not hungry on Thanksgiving?
– Because it's stuffed.
– What musical instrument could a turkey be?
– Drums because it has a drumstick!
– If a turkey was crossed with a ghost, what would it be called?
– A poultrygeist!
Regarding the Thanksgiving jokes for coworkers, they can involve more football talk. Everyone knows that Thanksgiving time is a football season and many Thanksgiving jokes focus exactly on that. Commonly, Thanksgiving puns are also based on a large amount of food consumed on this day. Every Thanksgiving joke has some truth to it – as they are all created by people celebrating this holiday, i.e. from their own experiences. Here are a few of them:
– The turkey got arrested. Why?
– The policemen suspected fowl play.
– The turkey gets into a fight. What happens to the turkey?
– He gets all his stuffing knocked out!
– If the turkey was to go out for a walk, which weather would it prefer?
– Fowl weather!
– Turkeys and women have something in common. What is it?
– The guys who are attracted to their breasts.
– What is the difference between a female turkey and a male turkey?
– The male turkey always has a remote on Thanksgiving.
Thanksgiving Messages for Business
Many people have to celebrate Thanksgiving at work. Sending Thanksgiving business greetings is a must not only if you're stuck at work with your colleagues. It's a sign of politeness to send a greeting or a sweet message to a client. Bosses have to thank their employees and vice versa. If you can't pick the right words, you can get some inspiration from the following wishes.
Happy Thanksgiving Messages to Clients
Thank you for being our valued customer! We wish you and your family a lovely holiday season!
Our countless thanks to you for being our client and making our success possible! Happy Thanksgiving!
In this season of thanks, we all remember things we are grateful for. For our company, it's you! We wish you the best Thanksgiving!
Thank you for trusting us. We appreciate your patronage. Wishing you all the best for this Thanksgiving.
Thanksgiving Messages for Employees
People like you keep the world spinning. Happy holiday!
In this time of gratitude, I want to thank you for your service. We are lucky to have you! Have a great Thanksgiving!
There is no better time to express how grateful I am for your service. Our company exist thanks to your commitment and creativity, so I wish you a very happy Thanksgiving full of laughter, joy, and bright moments!
I appreciate your efforts and loyalty. On my behalf, happy Thanksgiving!
Thank you for putting faith in our company and making our success happen. Have a great Thanksgiving!
Happy Thanksgiving Wishes for Boss
It's an honor for me to be a part of your company. Many thanks!
I don't know how it feels to work under an unjust and grumpy person. And it's all because of you. Happy Thanksgiving!
Nothing I say will truly convey that amount of gratitude and appreciation I have for you!
Thanks for giving me this chance to become better every day.
Your support keeps me waiting to go to work every day. Thank you for your smart leadership!
Happy Thanksgiving Wishes to Colleagues
Thank you for making my working days a little bit better!
Your help made this year much easier for me. You're the best co-worker. Happy holiday!
I count myself lucky for working with you. Have a great Thanksgiving!
Thank you for staying supportive and open-minded. The world needs more people like you.
Thank you for being there for me when I needed it the most. You are my best office-mate!
Thanksgiving Messages to Friends
When Thanksgiving is in the air, you want your friends to feel appreciated too, so try to choose nice Thanksgiving wishes for friends that will remind them of their importance. Being busy and overworked is not an excuse for forgetting to greet your dear ones, you can always send some quick Facebook Thanksgiving greetings, or at least update your status.
This message is wishing you the best Thanksgiving, full of love and laughter.
Thank you for making me a better person. Your support keeps me strong. Have a lovely Thanksgiving!
Thank you for being the best friend ever. Happy holiday season!
I wish your blessings would be multiplied within this year! May God hear all your prayers!
May your Thanksgiving be filled with cheers, happiness, and full tummies!
Funny Thanksgiving Greetings
Within years, plenty of myth surrounding Thanksgiving came to be. Many people appreciate the holiday only because of delicious treats and turn Thanksgiving into a food fest, which is why there are so many Thanksgiving food wishes. Family reunions are also a frequent topic for Thanksgiving jokes and funny Thanksgiving wishes. But be careful if you want to send one to your relatives, some of those are deliberately offensive.
I'm thankful to have a family who takes eating as seriously as I do. Happy Thanksgiving!
Eat like the 1% on this Thanksgiving! Happy holiday!
My prayers to those who are doing the dishes after this Thanksgiving!
Can't wait to see everyone this Thanksgiving and to remind myself why I moved out in the first place.
If you don't have a good excuse, you're welcomed to join our family this Thanksgiving!
Christian Thanksgiving Messages
Thanksgiving has religious roots, so it's a special day for your Christian friends and family members. Religious Thanksgiving messages tend to be special, mentioning Lord, the Holy Church, or Jesus Christ. If you know anyone who associates this holiday with religion and traditions, send them a sweet card with one of the following Christian thanksgiving wishes.
May the God hear all your prayers and let your dreams come true this Thanksgiving!
This is the best time to appreciate Lord and all he's done for you. Have a blessed Thanksgiving!
Praying that God's mercy will fill your life. Happy holiday!
God bless you on this day of thanks. All of my thoughts and prayers are with you and your family today!
This holiday is not about food and turkey. Let's give our thanks to God this night! Bless you and your family!
Happy Thanksgiving Wishes for Family
It's also one of those days when whole families get together, discuss the latest news and eat delicious treats. As any family reunion, Thanksgiving has that warm and special atmosphere. You can support it and please your relatives with lovely Thanksgiving family wishes for any member of your family.
Thanksgiving Wishes for Wife or Husband
You are my inspiration, my lover, my life companion, and soulmate. I can't thank you enough for everything you've done for me.
If there is a solid foundation in this world that does not fear earthquakes and tornadoes, it's my love. Happy holiday, darling!
You give me wings and heal the wounds of the past. You keep me smiling each day. I can't even tell you how thankful I am for your presence in my life. Happy Thanksgiving!
Your love brought me to life when I was just existing. You are my one and only blessing. Thank you.
In the walk of fame of my life, you are the only star. Thank you, sweetheart.
Thanksgiving Wishes for Brother or Sister
Thank you for filling my soul with immeasurable happiness, my dear sister. Happy holiday!
This is the day when I want to say a big Thank You for everything you do for me. Thank you, dear brother!
I can't thank God enough I have you in my life. You are a part of me!
Today is the day to appreciate all of those people that make our lives a blessing. I can't thank you enough, my precious sister! Cherishing our moments together tonight!
You are my reason to be thankful and feel blessed today. Happy Thanksgiving!
Thanksgiving Wishes for Parents
This is a truly special occasion and I understand how blessed I am for having you in my life, guiding and guarding me. Thanks, Mom and Dad.
You are my role models in life, Mom and Dad. I appreciate everything you did for me and want to make you proud. Happy holiday!
I hope you have a great Thanksgiving because you two are the most caring and generous people in my life!
No one does Thanksgiving better than you, Mom. Dad, you always gave me love and support. Thank you!
Thanksgiving wishes for my Mom and Dad. You're the best parents that I could have ever had! Thank you for being you!
Across the Miles Thanksgiving Wishes
My warmest thoughts and best wishes are with you on this special day. No distance will keep me from thinking about you on this Thanksgiving day.
Happy Thanksgiving from across the miles! May this day fill your home with laughter!
My love travels across the globe to you. Happy Thanksgiving!
May your Thanksgiving be full of love and smiles. My prayers are with you, even though I'm far away.
Warm holiday wishes for a Thanksgiving filled with happy blessings! Happy Thanksgiving from across the Miles!
Thanksgiving Wishes for Kids
Children appreciate Thanksgiving because of turkey (which is why they call it Turkey Day) and presents. This is why happy Thanksgiving wishes for kids usually promise presents, treats, and hugs. Cheer up a kid with funny and positive messages!
You are my special blessing this day. Happy Thanksgiving!
May you have a gobble-gobble good Turkey Day!
You are the most special little boy I know! Happy Turkey Day!
My warmest hugs to our little gobbler on this Thanksgiving!
The most important thing on a Thanksgiving day is your attention. Tell your friends, family members, and colleagues how much you value and appreciate them with warm and kind words! They will remember it!
Thanksgiving Creative Celebration Ideas for Office
How could a proper Thanksgiving exist without an office celebration? Thanksgiving activities for adults at work have become quite popular in the past few years as the best companies are focused on teambuilding among their workers. Thanksgiving office ideas begin with Thanksgiving party themes. Some ideas offered below will help make this year's celebration simply unforgettable.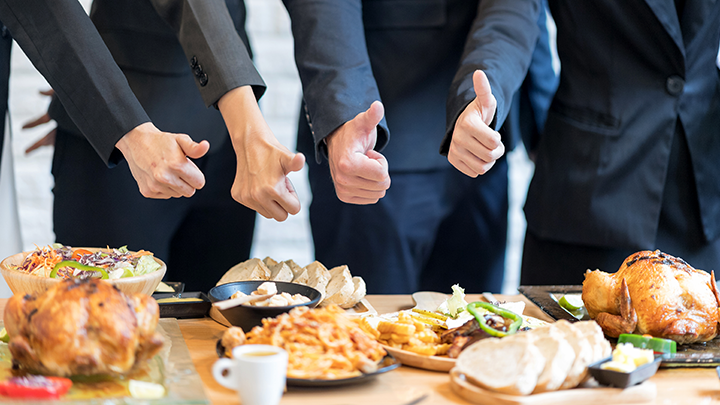 Thanksgiving activities for adults at work
The trendiest among all Thanksgiving ideas for work is something similar to the Secret Santa. Each person is assigned a colleague to whom they will present thank you notes during the dinner or lunch organized inside of the company. Additionally, this activity may be turned into potluck – an event where everyone brings one meal from home, to share with everyone else.
An office Thanksgiving can also be organized in a less active manner, with just a "Thank You" wall. It could be a collection of simple post-it notes where coworkers throughout the day would stick their thank-you notes for the tiniest things they appreciate.
An office Thanksgiving party could also be organized as a story. Similar to the story of the pilgrim that all kids remember, a manager or CEO could write and tell a story of the company and thank everyone for the special contribution to it.
Thanksgiving games could also be fun – for example, bowling with pumpkins;
One of the popular Thanksgiving themes is also related to food – a recipe contest for the best cook;
Another great Thanksgiving party could be organized in the form of volunteering thus showing the spirit of "giving" and being grateful for what one has;
A group volunteering activity – such as serving at a soup kitchen – may be a good idea, too;
Holding an event, rather than participating in one, may be beneficial for the community – for instance, a local carnival in the community park, or even in the local hospital (of course, with the agreement of the medical staff);
Thanksgiving is also a great time for competing for something great – for example, for a donation to a favorite charity;
There are many more Thanksgiving party ideas, and one of them may be a hobby or crafts party. It could be a display of handmade production where coworkers could sell or exchange gifts.
Thanksgiving is becoming more popular throughout the world and is no longer celebrated only in Canada and the USA where it was traditionally born. The custom of gratitude is gaining more popularity but so are the raising questions of how best to celebrate this day and how best to congratulate the relatives and friends. There is a multitude of ways to make this day happy and energetic even though the tradition itself goes back to the remembrance of those who passed away and left a mark in this world. Thanksgiving is a deeply spiritual holiday, and no matter which activity is chosen for this day – it must be honored and taken seriously. The goal of all Thanksgiving party ideas is for the people to gather together and share this time remembering the good and letting go of the negative feelings and experiences. Happy Thanksgiving!