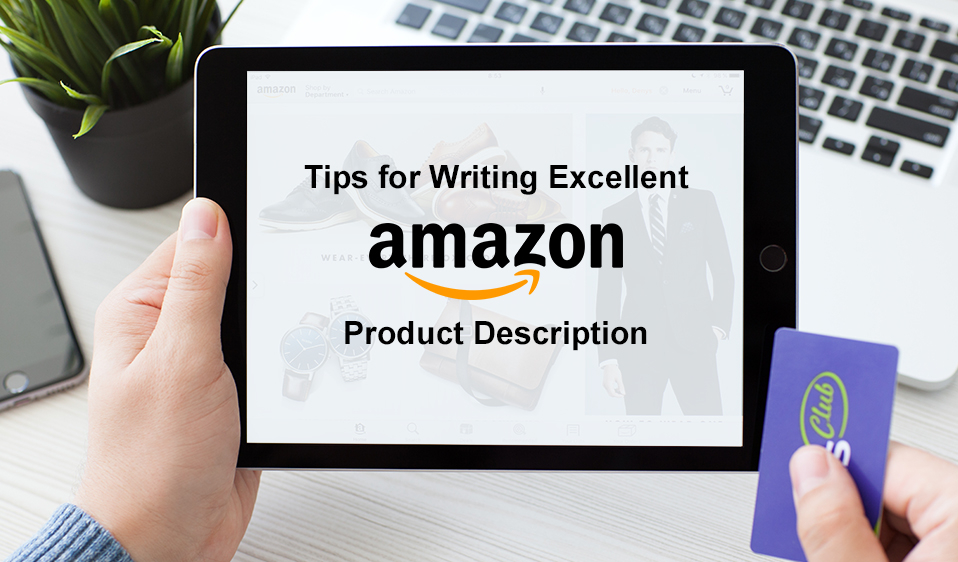 Imagine an average mall in the US with its stores, attractions, restaurants, theme parks, amusement zones, and what not on a vast territory. And now try to multiply the average number of products and services sold there by hundred thousands times. Currently, an enormous selection of software, apparel, shoes, accessories, books, electronics, and hundreds of other categories of goods are presented on Amazon, a virtual store that boggles the mind.
Even if you know how to develop a product description, you will need to rub up your knowledge and be abreast of all latest advancements in marketing to be successful with your Amazon product description. This giant of e-commerce attracts millions of buyers and billions of visitors; however, the sellers face a great challenge because of a huge competition.
You have to become an expert and learn how to write a great Amazon product description to fly level and stand apart from all other sellers.
How to Write Amazon Product Description which Is a Bingo Card
Hint 1. Product differentiation in Amazon merch product description
Your bottle of shampoo is used up, and you find yourself in the shampoo aisle of a drug store seeing a great variety of products. Each of them is marketed as the one with a specific purpose. One is for kids and it has a tear-free formula. One is for those who have problem-prone hair and need to trigger its growth. One has therapeutic anti-dandruff effect. One is for cleansing; the other one is for hydrating.
You have your own personal needs, and you find your shampoo easily looking at the description. The same happens with your product listing. The product description on Amazon should present the benefits that you offer. Even if other sellers have the same product, you can still find some features that make your item more attractive to the customer. Help the customers make a decision with the focus on actual benefits.
Hint 2. Change product description Amazon: make the title short but clear
When it comes to titles, follow the main rule of how to write a good product title and description: longer does not mean better. If you make a title difficult to read, a customer is very likely to skip it. Sometimes just several words can be more attractive; it is better to make the title clearer than to add too many details.
Even in the title, try to focus on something that your competitors do not mention.
Hint 3. Bullet points in Amazon product description
Present the features and the main benefits of the product in bullet forms. Make sure that the text is not lumped together; otherwise, the listing will be too cluttered to read. Do the bullets concise and effective to get more sales. Make your points brief and descriptive so that the customers could get a perfect overview of your product at a glance.
Four Important Amazon Product Description Rules
Mastering the secrets of Amazon product page description, you can improve your search rankings as well. If you have a look at the Amazon product description guidelines and try to see the common features of the Best Sellers, you will be surprised. All of them are absolutely different: there is no common length, formatting, or requirements followed. So, the question is how to make a detailed Amazon product description which turns a product into a bestseller?
Here are four key hints on how you can ensure the optimization:
1. Optimize for the search engine of Amazon
Does Amazon use product description for keyword use? Definitely, Amazon ranks your product, taking your product description into account; so, follow Amazon SEO strategies and include relevant keywords.
2. Optimize for Google search
If you do everything properly, your product page from Amazon will appear in Google search. Adding the main keyword in the bullet points, title and at the beginning of your product description, you will make it informative and visible for Google.
3. Make the text easily readable
How many words should a product description for Amazon contain? The maximum is 1900 characters, which is approximately 300 words. Do not try to use all of them in a single blob: people never read through huge paragraphs. You cannot be sure if Amazon product description paragraph breaks will be allowed when you save the description, so just be concise and clear.
4. Mind using HTML in Amazon product description
Formatting your product description can be a challenge as there is a number of restrictions on Amazon. You do not want your text to end up in a huge block, so entering of the HTML code should be manual. Although according to the rules, formatting via HTML is not allowed, the sellers do that because it improves the visibility and makes a description easy to read.
Write your HTML description in the following way to know how to format Amazon product description:
develop the description content
add the code and HTML tags
remove the line breaks and spaces and keep the description within the Amazon product description character limit
It is still unclear how to create product description that would be absolutely flawless. Sometimes an Amazon wrong product description increases the sales, while an example of best Amazon product description turns out to be a failure. Nevertheless, it is absolutely possible to keep your Amazon description simple, optimize it for search, and meet the standards to increase Amazon sales considerably.