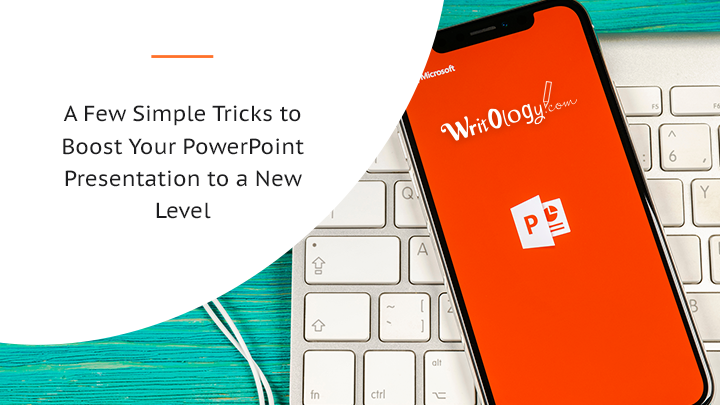 What is PowerPoint Presentation: Who Needs It and Why?
We are all familiar with PowerPoint and we all strive to create a better presentation each time with its help. The reason can be to impress a client, to report to the boss, or to simply create a newsletter for the colleagues.
A PowerPoint presentation is a great tool but often an interactive PowerPoint presentation demands much time and experimentation. This is exactly why the PPT presentation tips below have been designed – to help you save time but still attain the expected result.
And if you are coming from a non-business perspective, don't give up on the PowerPoint presentation just yet. Discovering how to make an attractive PowerPoint presentation will be useful for everyone: students, bloggers, analysts, writers, internet users, entrepreneurs, and even moms.
It may sound strange at first but a PowerPoint presentation will be suitable for displaying not just any type of data but also a cooking recipe or acting as a product pamphlet.
So, crafting the best PowerPoint presentation can't get any easier – let's discover why and how!
How to Start and Plan the Content for Presentation
Determine your goal. When thinking about your future presentation, make sure one thing is clear: is it persuasive or informative? What makes a good PowerPoint presentation is its clear focus. Do you want to inform your audience or do you want to induce some action from their end?
Design structure. Depending on your goal, put yourself in your audience's shoes. Where are they at right now? This will be the start of your structure. Where do you want them to be? Like GPS, use your structure to guide them from the starting point (where they are) to the destination point (where you want them to be).
Opt for contrasting colors. Why is the text normally black by default? Because on the white background, we can see it well. A good PowerPoint presentation uses contrast wisely to highlight and group certain facts so that the eye could catch them easily.
Choose large fonts. A PowerPoint presentation is a place to get creative but don't forget that readers must be able to read text from different distances. As a general rule, no fonts under 24-point size should be used.
Use lists and bullet points. Any presentation should follow a 6 by 6 rule: no more than 6 bullet points per slide, no more than 6 words per point. And no full sentences.
Be careful with moving elements. It is advisable to use different slide and object moving techniques but really limit those unless the presentation is heavy on design and creativity.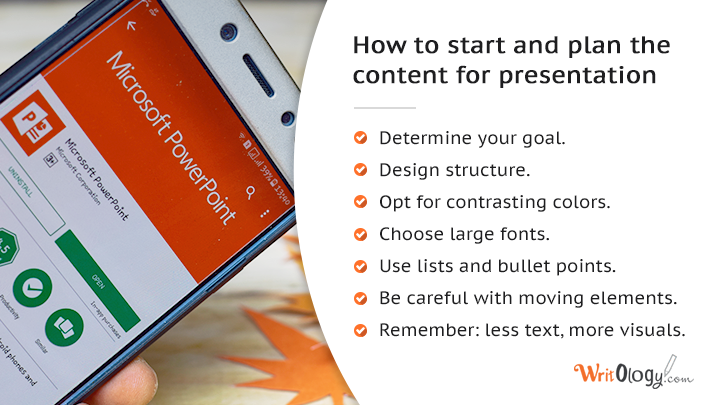 Remember: less text, more visuals. Whenever you can, opt for a picture or infographic – creating one can't be easier with the abundance of online tools out there.
PowerPoint Presentation for Students
Probably the most used delivery mode in universities and schools today is an essay. Writing one is easy and almost no creative skills are needed for it. That is why, when it comes to crafting a PowerPoint presentation, most students struggle.
PowerPoint presentations for students should not be a burden but a festive event. At least, professors think so – there is no need to write thousands of words, and you can make your point with the help of visuals.
However, a PowerPoint presentations for students does not have a clear structure like an essay does: intro, body, conclusion. A PowerPoint presentation is a place to experiment, list facts, and motivate action or inspiration through some visuals.
Examples for students are very important when it comes to preparing such assignment. And the steps above are a great way to start when it comes to delivering one.
A Business PPT Presentation
It may be the case that the university has prepared the person how to create a PowerPoint presentation that can impress. But let's confess, these are very rare cases and these people are really lucky. More often, when we enter the job market, we struggle with our first business PowerPoint presentation.
And we struggle not because we have never done it. But because a business PowerPoint presentation has so many options: macros, flow charts, dynamic visuals, object insertion options – you name it. And faced with this abundance, we just get scared. Learning all of them is another full-time job and we simply don't have time for it.
Been there seen that? Alas, there is a light at the end of a tunnel.
PowerPoint Hacks, Shortcuts, and Tips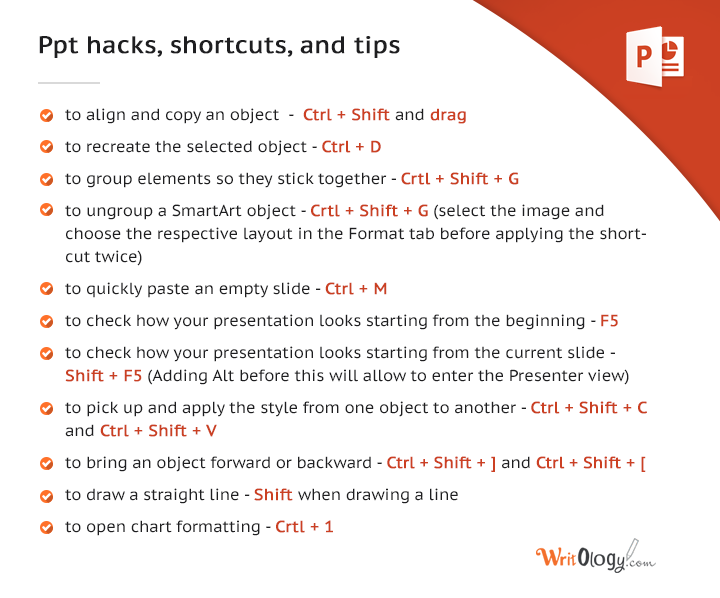 To align and copy an object on your sample PowerPoint presentation, just press Ctrl + Shift and drag
Ctrl + D allows to recreate the selected object in the same position
Crtl + Shift + G is a shortcut that groups elements so that when someone will try to drag them, they will stick together
The 3rd shortcut above can also be used to ungroup a SmartArt object. All you need to do is select the image and then choose the respective layout in the Format tab before applying the shortcut twice
Ctrl + M is one of the more common shortcuts, it quickly pastes a new empty slide onto the PowerPoint presentation
To check how your slideshow looks so far, press F5 to start from the initial slide or Shift + F5 to start from the current slide. Adding Alt before this will allow to enter the Presenter view
Ctrl + Shift + C and Ctrl + Shift + V pick up and apply the style from one object to another
Use Ctrl + Shift + ] and Ctrl + Shift + [ to bring an object forward or backward
Use Shift on a slide when drawing a line, and it will be straight
Crtl + 1 will open chart formatting options
Delegate Your PPT Presentation to Writology Writing Services
All in all, using a sample PowerPoint presentation at the beginning is a great idea. There are a lot of online templates.
However, a real professional PowerPoint presentation can also be created from scratch. And Writology writers are also real design gurus who can help do just that. The best PowerPoint presentation templates are created by our team and used just once for a client, as every situation is unique and requires a personalized approach.
Your presentation topics will also determine the tone of voice and the specific vocabulary used by Writology professionals. It is especially important to talk the same language as your audience.
All in all, an interactive PowerPoint presentation is an art, not a burden! Getting it done by a real professional is a great solution that can save a great deal of time.