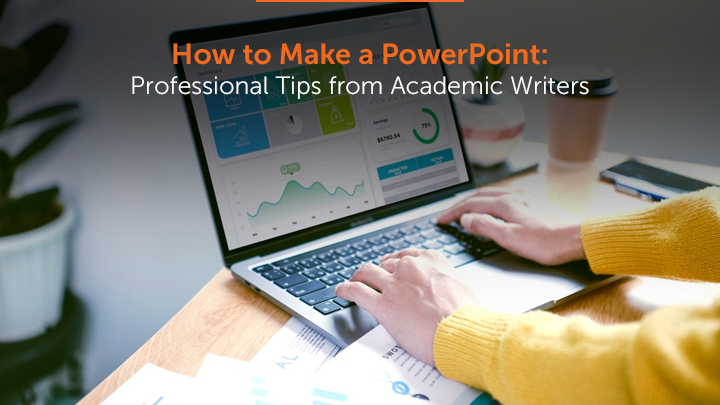 When you need to present some research or data, the best way to do it is by delivering a PowerPoint presentation. The underlying aim of creating the presentation is to communicate messages or ideas across, share them with the audience, and pinpoint to the significance of the topic. Besides, PPTs are used as a means of interacting with the audience. These are not only students or professors within the academic settings who create PPT presentation. Businesspersons and entrepreneurs, who are tell about some project or policy to the audience, professors and scholars at conferences, etc., also use them quite often.
It is essential to know how to make a PowerPoint presentation in an effective manner. If you struggle with this task a lot, you can rely on Writology.com. We will find an expert PowerPoint presentation writer who is the best fit to your task depending on your requirements, academic level, and qualifications.
What to Include in PPT Slides?
Before starting, you need to know that any presentation has such components:
Textual part. You may present main points, ideas or findings as a text. Remember, however, to keep the text brief, concise, and comprehensible. Provide the main ideas in numbered lists or bullet points as well as in separate blocks on the slides. Preferably, the text should be in phrases and even words rather than sentences. Make sure you do not cram the slides with text.
Images. They are essential for making your presentation bright and appealing to the viewer. Still, make sure that the images you use refer to the topic and have some meaning within the slides. In other words, you cannot place some random picture or image on the slide without any comment or interpretation.
Graphs, diagrams, charts, and tables. If you deliver a presentation on some complicated topic related to sciences, mathematics or statistics, tables and charts will certainly help you show numbers and figures in a understandable manner.
How to Make a PPT Presentation Effective?
It is crucial to know how to use PPT presentations in different settings. However, what is more beneficial is making PowerPoint presentations in a way that meets all goals and objectives. So, an effective presentation is:
Aimed to win. Use a professional approach to the processes of research, planning, and outlining. It will help you convey the message effectively to your target audience.
Designed properly. Graphics and visuals should be good-looking and aligned on the slides to draw attention of the target audience to the key points. The visuals should be clear and vivid in order not to disrupt the overall comprehension of the topic.
Polished to perfection. Make sure you set aside sufficient time to brush up the slides.
Delivered in a relaxed manner. Be calm and focused when delivering the presentation in front of the audience, and it will help you keep track of the ideas. Keep in mind that with your presentation, you should also establish a rapport with the target audience, engage them in a discussion, and appeal to them.
Free from errors. Always review the presentation before you submit it. Avoid spelling, grammatical, punctuation mistakes, as well as typos. Avoid unnecessary art and illegible fonts.
Please consider this brief guide if you want to deliver top-quality presentations. They will surely help you be more effective and become a better presenter.
PPT Writing Tips
Check out the following easy tips that will help you provide an effective presentation:
Use the stage effectively. When delivering a PPT presentation in front of the audience, you will most probably be standing on a stage. In this case, a simple presentation somehow turns into a performance. So, rehearse how you will move there and use your gestures. As you are telling the story, it is not only the content that matters but also the way you speak and move. So, do not stand frozen in one place – walk, appeal to the audience, ask questions, interact with your listeners. Be confident and purposeful in your gestures.
Stay consistent. Consistency in the presentation is really important as it helps readers comprehend the main idea without getting confused. So, stick to a specific color scheme, font types, sizes, as well as visuals. Make sure each slide has the same design so that it is cohesive, clear, and logical.
Use large font. You should not use a lot of text in your presentation, but it should be large enough. The main ideas should be legible even from the distance.
Stick to the 10-20-30 rule. 10 slides, 20 minutes to speak, and at least 30-point fonts to use. If in some cases you need more than 20 minutes to present, it can be perfectly normal.
Use the academic format. Check out how you may structure your project:
An introduction where you provide background about your topic and present a hook that attracts attention of the audience.
State the research question and focus on the theoretical framework.
Overview methodology used.
Provide a literature review.
Discuss the data findings and results.
Analyze obtained findings.
Write a conclusion.
Write in plain language. Do not excessively use professional jargon because the ideas might not be clear for the general audience. Do not write in long, well-developed sentences: present the key points in bullet pointed or numbered lists. Make sure the visual format of your presentation is suitable for projecting on a white board.
Do not read slides. Slides should be the visual aid while you are telling a story. So, before presenting, you need to get familiar with the content really well. You need to take the main idea and organize the main messages in form of a narration. You need to practice in storytelling and get acquainted with its main techniques.
Follow the deadline. Stick to the time limits you have and make sure you manage your time wisely. The length should fit the speaking time you have. Prepare text of your speech: on average, you need 15 minutes for speaking if you have seven double-spaced pages of text.
Maintain positive attitude. Being positive about the presentation and public speaking is the only thing that can help you be confident. Nervousness and a negative approach will not help you in any way.
Conclusion
If you follow our tips on the style and design of a presentation, the manner of its delivery, and the principles of storytelling, you will become more confident in your skills and expertise. As a result, it will be easier for you to interact with the audience and maintain focus on your ideas.
Additional Resources