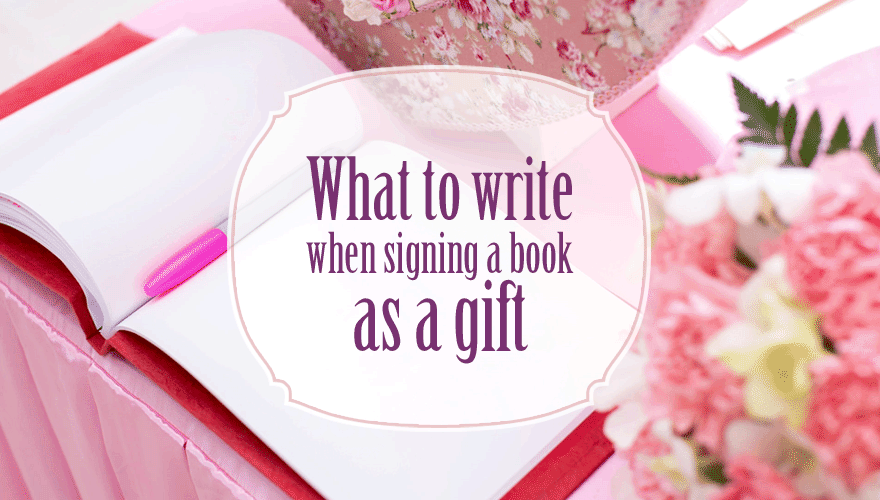 A book is not only an excellent gift for an eager reader but also a memorable present that can last forever. The main challenge of presenting a book is to find a perfect one for a specific occasion. You cannot simply buy any book and disregard the happy moment in a person's life. If you want your gift to be appropriate and treasured for years to come, figure out what it should be beforehand.
The right book would be a great present for important events like milestone birthdays, baby showers, graduation, marriage, and anniversaries, especially when the beautiful moment is captured in a heartfelt inscription.
What to Write When Signing a Book
Having chosen a book as a gift, you should consider making it more personal. For this, add an inscription conveying your thoughts and feelings. In such a way, your book will not end up gathering dust on a shelf like the other ones. People tend to develop a strong emotional bond between themselves and things they consider personal.
So what to write inside a book to make it personal? How to sign a book as a gift to impress someone dear to you? You will have to know exactly what to write in a book for a friend if you decide to create a meaningful and memorable souvenir inspiring positive thoughts of your friendship. Read on to learn how to inscribe books for different occasions.
What to Write in a Baby Shower Book: Examples
Whenever people are invited to a baby shower, they start hastily look for a present. A good book is often chosen as a universally approved and appropriate gift. However, it is even more challenging to figure out what to write in a baby shower book instead of card wishes.
That's when you go online to find answers to the questions like "what do you write in a baby shower book?", "what to write in a baby book cover?" or "quotation for baby shower." You can skip that part and just carry on with reading this article.
The best way to approach a decision of what to write in a book for a baby shower is to contemplate the significance and beauty of the occasion. In such a way, you can gain sheer inspiration and compose a warm wish.
Unfortunately, not all of us can adequately put our thoughts into writing. For those who struggle to decide on what to write in a book for a baby shower gift, it would be helpful to check out sentiments for baby cards where you can find quotes to write in a baby book you have bought as a present.
Messages to write in a baby book
Here are some of the best messages to write in a baby book you can use:
May your life be full of pleasant and cherished moments.
It is so nice to meet you! I hope you'll enjoy this awesome book as I did in my childhood.
A book can impress, explore, bring joy, and teach something new – you'll need it now to have fun and grow up.
May your dreams be as beautiful as this book.
I hope your bedtime stories will make you sleep tight and wake up happy.
Here's your first look at what it means to be a hero. Next time, you'll make your own choice.
Welcome to the world! May this book adventure be one of the many to come.
What to write inside a book for a new baby boy
Check out these examples if you need to know what to write inside a book for a new baby boy:
May this heroic story inspire you to grow up a knight!
Boys are said to read less than girls – here's your chance to change that thought.
All great men used to be little boys, which means you can become a great man one day.
Wishing you bravery and wit of the main hero and an insatiable desire to be good.
What to write in a book for a baby girl
And if you are looking for what to write in a book for a baby girl, here are some nice wishes:
Reading opens new horizons and introduces numerous worlds. Wishing you enjoy it as much as we enjoy being around you.
All great women were little girls once, which means you can be a great woman someday.
May your life be as bright and colorful as this book!
Welcome to the world, little princess! Wishing you a fairytale to live and the best character to be.
Baby shower card messages from grandparents
You might also need a few examples of baby shower card messages from grandparents:
For our dear granddaughter: May your life be filled with many wonderful adventures.
We are happy to welcome our grandson to this world. Wishing you to grow up into a good man.
May your good heart and brilliant mind always be in the right place.
As you can see, there are so many things to write in a book for a baby shower. If you're still not settled on what to write in a baby book, try using your favorite quote or simply wishing all the best to a newborn and the happy parents.
What to Write in a Yearbook
Why sign a yearbook when we have Facebook? If that is your question, the simplicity of the answer can surprise you. We keep signing yearbooks to make memories worthwhile. Millions of pictures get likes and comments that are soon forgotten. However, a signed book, card, or photo album bring about emotions and feelings, carry you back to the good old times, and make you smile.
So what to write in a yearbook for a student who gave it to you? If you want to create a lasting memory, choose to stay true and say good things. Even though you can find tons of funny and cool ways to sign a yearbook on the internet, the best words always come from your heart. Be genuine and imagine a person you're signing the yearbook for reading it many years from now and thinking about you.
Check out these messages for a yearbook:
Thank you for being a good pal and making my school years less miserable. I enjoyed our quiet talks during the class, your "unamused" series of notebook drawings, and your epic sense of humor. Hope we'll keep in touch. Have a great summer!
Even though we weren't that close, I did like you as our president and a person. All the class loved the events you organized. I'm sure everyone will remember them better than what we've learned here. Have excellent summertime and stay as you are!
My eternal respect for that prank on Mr. Potatoman. It was the best practical joke ever. You're a very cool guy, and I'm happy to have shared my school years with the bunch of awesome people like you. See you in college after a great summer!
What to Write in a Cookbook Gift
A cookbook is an excellent gift for foodies and chefs (both amateur and professional). If you manage to find a nice cookbook with good pictures, the very next thing you should do is to sign it. We have already discussed why signing a book is important, so your task is now to decide what to write in a cookbook when giving it as a gift.
To help you get inspired, here are some examples of cookbook inscriptions:
Hope we'll be friends for the time you try all these recipes.
I officially volunteer to be your food taster for I know I'll be having time of my life!
May the cooking process bring you pleasure and good thoughts.
For my sweet girl to draw inspiration for more food experiments!
What to Write in Sentimental Notes
Despite living in a boisterous digital age, some people still find it romantic to write love notes to their beloved. Would you like to get a sentimental message from your partner? Of course, you would. We like to feel loved, and it works both ways.
These are a few note ideas for boyfriend affection:
I am always there for you. You have my support, respect, and deepest love.
I love listening to you. You talk to my heart and soul.
There's no other man alive that can make me laugh so hard!
I greatly appreciate your tenderness and care. Your love gives me wings.
Can I be happier? Only Chandler knows how you do that!
I watch sci-fi movies with you – that is true love.
Wanna know a little secret? My father likes you. That's what we have in common.
Writing a note to a girl is not as difficult as men can think. If you have feelings for her, it won't be a problem. Be yourself and just try to translate your thoughts into words:
You're the most beautiful person I've ever met – both inside and outside.
Thank you for making me the happiest man on this planet.
Your love gives me strength and makes me feel special.
I cannot imagine my life without your sweet smile, beautiful eyes, kind heart, and life-saving advice.
You are my dream girl. No other could make me feel so good.
You kicked my ass at MK – I am so in love!
A book with a sentimental note or warm inscription will create a lasting memory and evoke good feelings. Be creative and make each other happy!