The main objective of writing for business is conveying information to the target audience or requesting information from it. An effective business writing must be accurate, complete, and concise. The text should be easily understandable for the reader, as readers are potential clients that might choose to use or not to use products/services that this business offers.
Therefore, there are particular steps that a writer needs to follow in order to create a piece of effective writing for business. For instance, a writer must first organize material, then consider the audience, actually write, and proofread and edit afterwards.
Business writing must have an appropriate level of organization; no omissions or incorrect focus are allowed, as these can make the piece of writing less clear. Talking about the audience, it is important to remember that business writing will be more effective to your audience if the writer focuses on what he/she wants them to hear, not on what he/she is going to say. In this case, a reader (listener) is a key character, as he/she is a potential client at the same time.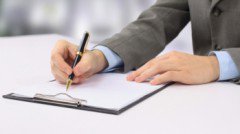 While writing, the author should be aware of length. Writing for business must be concise and clear, not flowery and verbose. It differs from book writing and other types of non-fiction, as business writing is more specific and contains important data. Business writing must be neither too short nor too long, as it has to be effective and easily understandable, but don't take much time for business people to read it. Therefore, each writer must find the golden mean in terms of length of his/her text.
After completing the writing part, the writer must proofread and edit business writing. Proofreading refers to re-reading the piece of writing in order to make sure that all the thoughts are expressed correctly on the paper. For example, no words are omitted, no endings left off, no homonyms are used. Proofreading allows fixing such errors. Editing follows, as it allows fixing and changing the material in order to make it better. Editing also takes care of grammar mistakes. Writers often seek the help of professional editors who know exactly what to do to make business writing sound more professional.
To sum up, business writing must be descriptive with the usage of all the necessary figures of speech and big words.