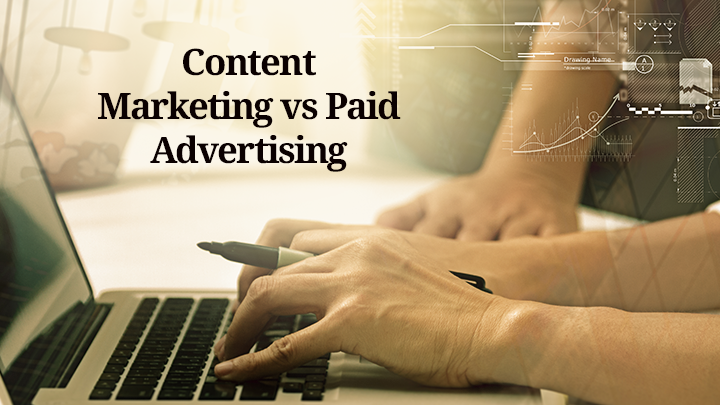 The Difference Between Advertising And Marketing: Content Marketing And Paid Advertising
As a business owner and a blogger, you are most likely struggling between PPC digital marketing and content marketing. Which one is better? Which one increases brand awareness and business coverage more effectively?
The pros and cons of content marketing are not apparent but it is clear that this approach takes a longer time to reap benefits. High-quality leads and conversions come after some subject matter expertise and a collaborative approach.
The benefits of pay per click are short-lived but instantaneous. You – as a business investor/owner – get charged every instance somebody clicks on your SERP listing.
So, what is PPC in marketing? A great way to reach the top in Google. Is it a good way to stay on top of Google though? Possibly yes, if you ooze money (and don't have a decent content campaign).
What Is Content Marketing: Pros And Cons Of Content Marketing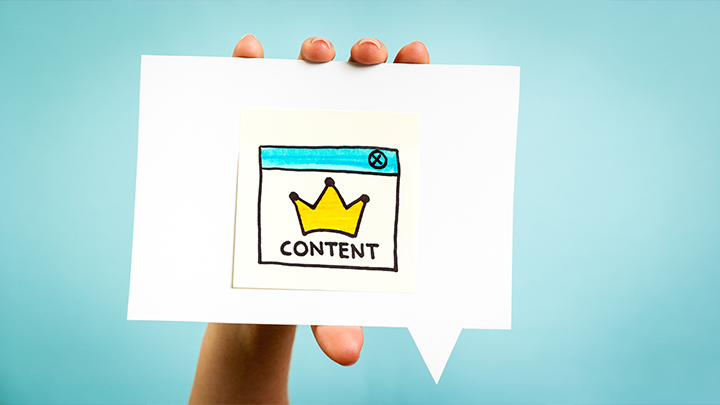 Content marketing advertising takes long to yield benefits. It will take several months at best (with top-notch published content) to increase the ROI rate.
Basically, what is content marketing? It's a form of investment in the future. According to HubSpot, 38% of old blog posts yield website traffic. In other words, organic marketing comes through content marketing but it takes time to build its momentum.
Although, once content advertising has peaked its benefit – it will not stop bringing in organic traffic to the website.
Another shortcoming of the content marketing advertising is mostly unqualified writers out there. Most bloggers are freelancers and it is usually hard to find the right fit. Therefore, it may be a good idea to delegate the writing to a marketing agency. But their services are usually pricey.
Pros Of Content Marketing
Chin up, it's not so bad at all!
The essence of content marketing definition is in its main benefit: better leads dedicated to reading your content. Once the content starts to rank, it will keep up its position for months – even years.
According to Marketing Sherpa, top-quality leads and conversions come from the organic search. And content marketing types of advertising strategies bring the most of such traffic to any site.
Another point in favor for organic marketing is in content pros coming from its cost-effectiveness.
In essence, what is content? It is text. And text is always relevant. You invest once in it and get a lifelong benefit of owning information.
After all, the pros and cons of content marketing are apparent. So, this method of marketing should be chosen based on the business strategy and the readiness to commit to this strategy long-term as well as post quality content constantly.
What Is Advertising That Is Paid? Pros And Cons Of Advertising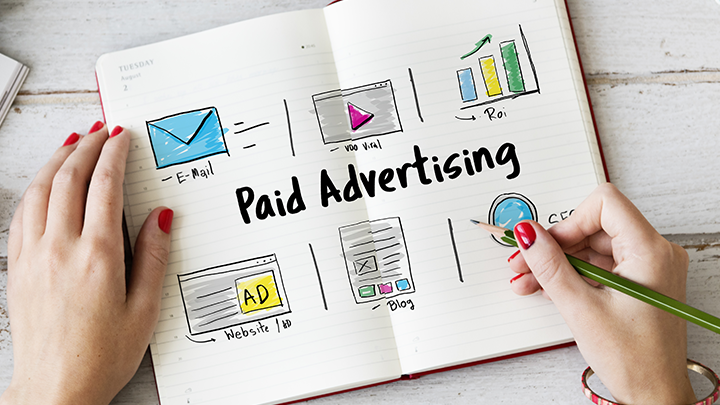 Paid marketing is not a long-term maintenance strategy. But it's a great way to get some attention and appear on top for quite some time.
PPC digital marketing is quite easy. It's about bidding on Google AdWords for a target keyword. With the relevant info on the web page, the source shoots to the top of the search.
There are pros and cons of advertising of this kind but this sure is a great way to get famous quickly.
Cons Of Paid Advertising
Not only does digital PCC look like an obvious ad but it also costs a lot. In fact, the more traffic (clicks) you get – the more you pay. But it is worth it as a short-term strategy.
Paid marketing loses its value once you stop paying for it, which makes sense. You disappear from the visible spot once the investment vanishes.
Poof. No trace of your brand.
This opposes the organic types of content marketing where you earn a SERP spot steadily but slowly over time.
Another difference between advertising and marketing that are content or ad-focused is the time investment. As we know, time is money, and PPC marketing values both.
Pros Of Paid Advertising
So, we have arrived to the pros of types of advertising strategies that require money but value time.
First and foremost, to define advertisement in PPC is the same as to define fast fame. The visibility skyrockets and the popularity shoots through the roof. These types of content marketing pay for themselves in visits and traffic that earn a momentum of fame.
So, what is advertising that gives quick visibility? Of course, PPC. Is it a solid long-term strategy? Yes, if coupled with organic marketing. No – if not.
However, sustaining a lifelong PPC campaign is not only hard on the wallet but also useless due to the harsh competition for every keyword out there.
Paid Marketing And Organic Marketing: Which Channel Wins?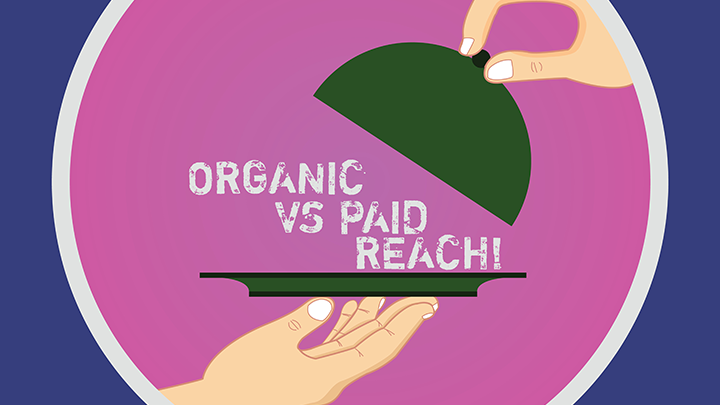 Pros and cons of advertising in paid and organic are apparent. Of course, the best tactic is the combination of both. But this combination has to be timely: there is a time for PPC in marketing, and there is a time for content strategizing.
There are pros and cons of marketing in both approaches but experience shows that they both yield certain results if used with caution.
Let's give them one final classification:
Content marketing is all about establishing authority and building trust among the audience. As an outcome, the audience takes long to respond but becomes loyal to the brand at the end;

Paid marketing involves an investment for a prime position in the search engine. Every time a visitor clicks on your link, you are liable to pay for it.
Advertising vs marketing that is paid or content-focused are situation-specific:
Good content will produce conversions even with the use of PPC; if it appears once in the search, and it has some real value, the audience will stay;

If you want to appear fast and have constant ROI over the years to come, a content strategy is a must, too.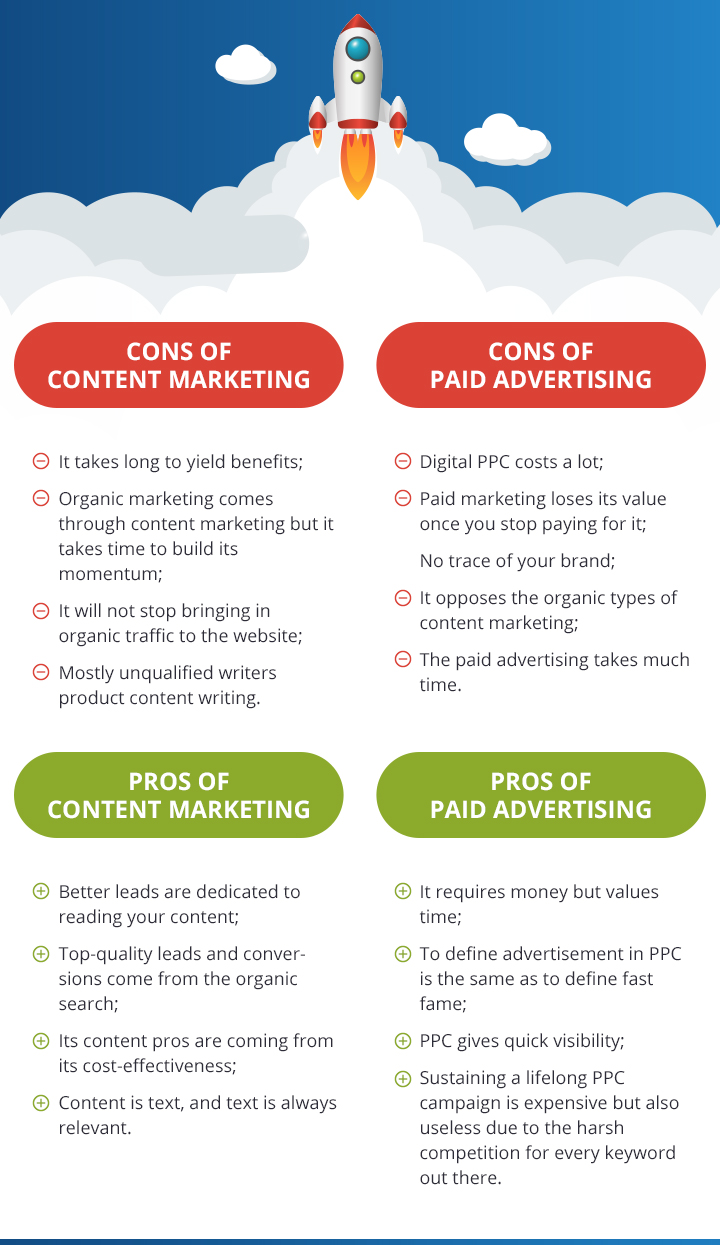 We hope that it has become clear that organic vs paid social media are not really opponents, but on the contrary – they work in unison. To appear in search fast and enjoy the fame for long, both strategies must be combined.
And, after all, they can also be used situationally. If the brand is mature it needs a fresh boost of traffic (PPC), or if the traffic is noticed to leave fast and not stay for long – a more solid content tactic is needed.