Created: December 29, 2016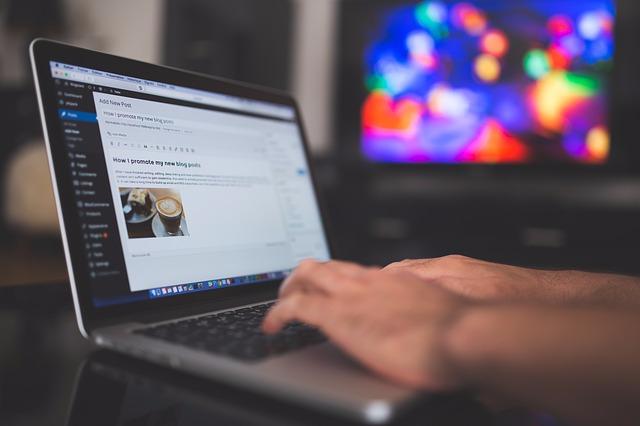 Very often when shopping online we don't buy certain products, sometimes even really good ones, simply because their product descriptions are not compelling enough. They may lack emotional triggers or fail to provide specific details that make this particular product a perfect fit for us. Conversely, effective product descriptions make us forget about common sense and splash out on products that we don't really need.
Any e-commerce business owner sooner or later comes to a point when writing descriptions for his or her products is inevitable. It may be tempting to stick to default descriptions from the manufacturer or simply browse the Internet and find something suitable there. If you want your products to sell, however, you will be pulling out all the stops to craft the most unique product descriptions that do not simply describe your products, but also ignite the desire to own these items as soon as possible.
Of course not everyone knows how to write product descriptions. Keep reading to learn how to describe your products in the most effective way.
1. Identify who you are writing for
Being an owner and creator of the business, you know your products better than any other person in the world. You should also know your potential buyers – who they are and what they are looking for. This knowledge is crucial when creating your product descriptions. Do not try to make them universal. Instead, target your text at people who will actually read it, be it students, stay-at-home moms, or aerospace engineers. It will help you to choose the right style, wording, and format at later stages.
Try to learn as much as you can about people who buy your products. Background, gender, age, profession – all that and even more is important. What is the biggest fear of your ideal customer? Favorite song? What is the first thing he/she does in the morning? Your readers are the most important part of your writing, and the more you know about their needs, the easier it is to satisfy them.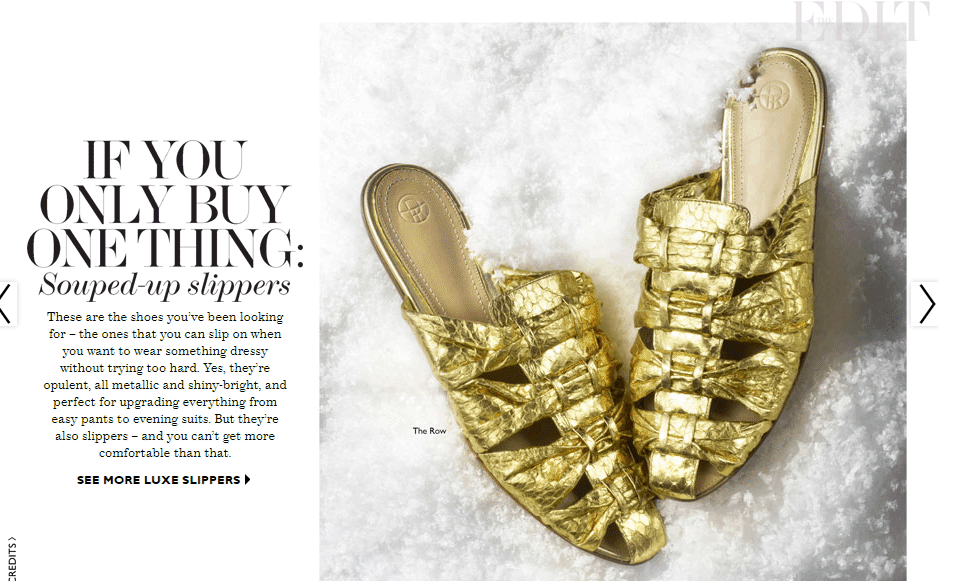 This product description from net-a-porter.com clearly targets classy women who care about their looks and love looking good on any occasion. Phrases like "wear something dressy without trying too hard", "upgrade everything from easy pants to evening suits" touch every fashion lover's heart. Also, check out the catchy headline!
2. Focus on benefits rather than features
Even though it is important to mention a new revolutionary technology of integrated thermostats when writing descriptions for winter boots, chances are high that your customers won't appreciate these specifications unless they know what's in it for them. They will not google it to find out. Most possibly they will simply move on to another website.
Unfortunately, customers are rarely interested in features of the products they are about to purchase. All they want to know is how these features will make them happier, richer, healthier, etc. Therefore, when talking about rechargeable thermo soles, tell them how this technology can keep the foot dry and warm throughout the winter, eliminating risks of getting sick and ensuring comfortable wear.
This is a famous copywriting technique called FAB (Features, Advantages, Benefits). When describing specific features of the product, do not forget to mention benefits that a customer will enjoy if he/she opts for your product. Let's take a look at this piece of product description for a luggage set from Overstock.com.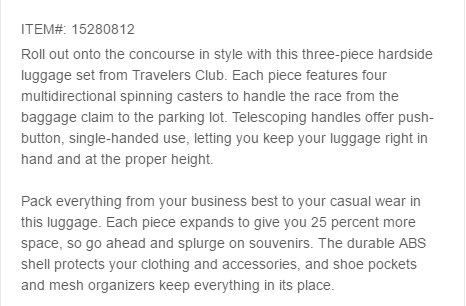 [Feature] Each piece features four multidirectional spinning casters [benefit] to handle the race from the baggage claim to the parking lot.
[Feature]Telescopic handles offer push-button, single-handed use, [benefit] letting you keep your luggage right in hand and at the proper height.
[Feature] Each piece expands [advantage] to give you 25 percent more space, [benefit] so go ahead and splurge on souvenirs.
A general formula for it looks like this: [feature] allows/lets/etc. [benefit].
3. Speak their language
This one naturally flows from identifying your ideal customer and stressing the benefits of your products. Now you need to decide on the tone, word choice, and style of the text. One common mistake made by product owners is writing product descriptions in a language that is understandable only for them. Even though it might be extremely tempting to start describing differences between electric double layer capacitors and pseudocapacitors, it probably helps very little if all your customers need are good batteries for their cameras.
Speak their language; do not overuse specific terminology that only you understand, but use analogies relevant and understandable for your target audience instead. You can borrow specific words from feedbacks that customers give you, spend some time on thematic forums, or simply try to put yourself in your customer's shoes. Compare these two excerpts from the description of a soothing cream:
The cream's active ingredient is glycyrrhetinic acid. It alleviates xerodermia, reduces erythema, and relieves irritation of the epidermis.
Glycyrrhetinic acid as an active ingredient softens and moisturises dry skin, reduces redness, and relieves burning sensations, ensuring instant comfort for your sensitive skin.
The second one is clearly more beneficial, as not every potential buyer is a doctor who knows all these fancy medical terms.
4. Ignite imagination
Online shoppers are deprived of the possibility to test a lipstick, try on sneakers, or sit on a couch to feel how comfortable it is. However, having read a good product description they are able to see, touch, smell and feel the product with no need to leave the house. Moreover, they should envision their future life with your TV on their green wall in a living room, and the stronger the fantasy, the more likely they are to buy.
In order to write such seductive product descriptions, use an UPWORD copywriting technique. UPWORD stands for Universal Picture Words Or Relatable, Descriptive Sentences. This technique implies using sensory adjectives, metaphors, examples, and other literary devices that appeal to emotions and make us picture what is being told. It is a proven fact that we remember images better than words, so do not shy away from telling stories in your product descriptions.
Example: This one-of-a-kind scent is both elegant and bold. A seductive blend of vanilla, jasmine and woodsy notes has the power to make you feel like nothing is impossible. Hop in your cadillac and get ready to conquer the world with this luxurious, sexy, and intoxicating fragrance.
This perfume description creates an image of a beautiful, sexy, and strong woman with the help of sensory adjectives. It makes you believe that just a drop of this perfume will give you all the charm and confidence in the world. You can also start with words like "Imagine" or "Picture" and tell a story where your customer is the main character. Stories are actually another good way to appeal to emotions, as they linger in customer's memory longer than anything. You can tell about how your product came to existence or share some valuable production secrets. Here is an example from mingmingtea.com.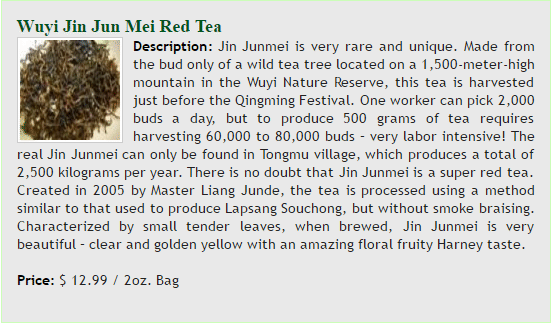 5. Determine the best format
Now that you have written your text, it is important to make it visually appealing, as not all online shoppers have time and desire to read long pieces of information. It is important to highlight the main ideas by breaking down your text into small paragraphs and using bullets to highlight features and specifications.
However, bullets alone usually look indifferent and lack emotional touch. Therefore, mixing paragraphs of prose with bulleted lists is the most effective format for creating convincing product descriptions. Apart from that, do not forget to write a catchy headline, play with colors and fonts, take quality pictures or even videos of the products to demonstrate sizes, colours, etc.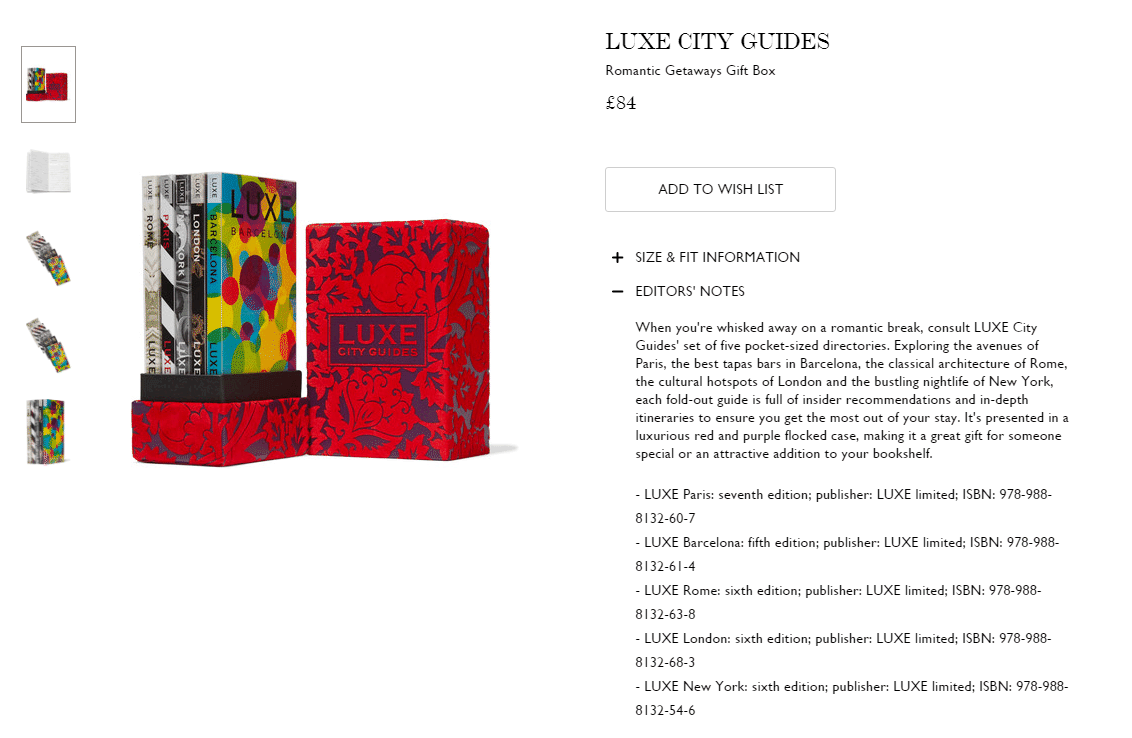 This product description example from net-a-porter.com has clear and scannable design, plenty of white space for an eye to rest, quality pictures, laconic but relevant fotmatting.
So now you know how to write a product description. Yes, it is not a piece of cake, but the result is certainly worth the effort. Apart from numerous happy customers, unique product descriptions also guarantee higher SEO ranking and a good reputation. However, in order to stand out among your competitors being simply good is not enough. Only the best ones win. If you need any professional assistance, ask any reputable product description writing service for help and you'll see how your product stories captivate customers and make your business grow.